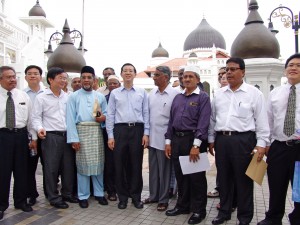 (Photo Archieve, DAP Publicity)
The Federal Government must approve a Rm200Million interest-free loan and Rm5Million grant to preserve and promote George Town which belongs not only to Penang alone but also all Malaysians and the world. On its own the Penang state government will allocate Rm1Million state money to provide education and measures to preserve, protect and promote George Town as a World Heritage Site.
As custodians of this cosmopolitan city that is of outstanding universal value, there are two important ingredients that has ensured us our world heritage status. The first is humanity, or the human values that we celebrate in our everyday life. Multiculturalism is the basis for Penang's success and George Town has been built on non-partisan cooperation.
Continue reading "The Federal Government must approve a Rm200Million interest-free loan and Rm5Million grant to preserve and promote George Town"