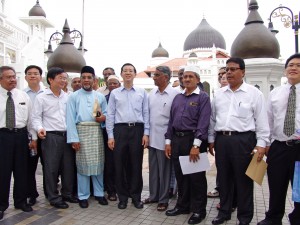 (Photo Archieve, DAP Publicity)
The Federal Government must approve a Rm200Million interest-free loan and Rm5Million grant to preserve and promote George Town which belongs not only to Penang alone but also all Malaysians and the world. On its own the Penang state government will allocate Rm1Million state money to provide education and measures to preserve, protect and promote George Town as a World Heritage Site.
As custodians of this cosmopolitan city that is of outstanding universal value, there are two important ingredients that has ensured us our world heritage status. The first is humanity, or the human values that we celebrate in our everyday life. Multiculturalism is the basis for Penang's success and George Town has been built on non-partisan cooperation.
Secondly, we must work hard to make sure that Penang remains and continues to prosper as an international city. World Heritage Status is the first step towards making us an international destination to outsiders. The more important element is to convince locals that we are deserving of this international recognition.
This is one of the reasons why we have decided to have this advisory committee. My government believes in being inclusive and listening to the many voices that make up the George Town community.
As Sir Richard said the other night when we shared a meal together, a good management plan is about balance. We must acknowledge the reality that there are multiple stakeholders and that this is the forum to make those views heard.
Therefore I have set out five key points that I believe we must pursue if we are to beginning thinking and working in one direction:
• What are the elements that make up a good management plan? In this case, Sir Richard will brief us with a summary of global examples that we can learn from.
• If we are to come up with suggestions, we must also realize that we are the implementers. The State Government is willing to work with the people but the people themselves must want to move as well. Our challenge is how do we convince them and how can we carry them with us?
• You may also want to consider our financial constraints. It is not that the State does not want to move but we are limited by resources not merely financial but also like-minded people who will work towards this common goal. Our challenge is to win them over in the shortest time possible, your challenge is to find creative solutions that can be implemented in the short, medium and longer terms.
• To make the best of our world heritage status, we must include an economic dimension. Developers, some of you are here, can help with new ways of thinking. You share the city with the rest of us, help us create a sustainable development model. The rest can act as watch-dogs, monitor and give constructive feedback.
• Lastly, what are the steps that the State can take to ensure we move forward? Sir Richard will have some ideas that he may want to share with us especially how the Federal level Heritage Commission intends to work with the State and the people of Penang.
The new Penang state government has also decided in the interests of transparency to make public the Heritage Management Plan outlined in the dossier submitted to the UNESCO that achieved success in gaining World Heritage site status.
Finally, the Penang State Government will work tirelessly to ensure that George Town and Penang fulfills the aspirations of UNESCO in this world heritage listing. To succeed in these aspirations requires not only the concerted effort of all parties but the social cohesion from the people of Penang . We hope that the Federal government will put aside their political partisanship and participate in this joint effort with the state government to honour the singular recognition given by UNESCO.
Let this be a grassroots efforts in the form of a "people's initiative" through Heritage Advisory Panel to celebrate George Town as a World Heritage Site. Penang offers to make this effort to promote, preserve and protect George Town to all Malaysians to participate so that George Town can continue to be a enduring symbol of our common history, contribution to multiculturalism, social harmony and the best of a truly cosmopolitan city.