Speech By Penang Chief Minister Lim Guan Eng During The PR Penang Youth Toll Debate At Dewan Besar Sungai Dua Hall in Teluk Air Tawar, Penang On 29.2.2012 Released On 1.3.3012.
I am disappointed that Minister in the Prime Minister's Department Tan Sri Nor Mohamed Yakcop failed to accept a public debate in his constituency tonight on whether the abolition of toll on the North-South Expressway(NSE) and Penang Bridge would bankrupt the nation.
Malaysia would not go bankrupt if PR abolish the NSEW and Penang Bridge toll should we win the next general elections. Malaysia would go bankrupt because of corruption, abuse of power and cronyism.
I had also wanted to ask Tan Sri Nor on the toll revision deal. Why the Federal government victimized Penang by extending the concession period for Penang Bridge by 17 years until 2038 and Butterworth-Kulim Expressway(BKE) by 11 years until 2038, in exchange for a freeze on toll hikes(see table below). For BKE the freeze on toll hikes is until 2015, a toll hike of 5% will have to be paid every 3 years from 2016.
TOLL COMPENSATION WAIVER ~ REVISED CONCESSION TERMS


Abolishing the NSE and Penang Bridge will not bankrupt the nation but is morally and ethically right. What is most unconscionable and unfair to the rakyat is that the toll operators of NSE and Penang Bridge are reaping obscenely high profits where they have more than recouped their original investments of construction cost.
In a written parliamentary reply to me, the toll operator for NSE spent RM 5,945 million to construct the NSE but has received RM 24,266 million in toll receipts and government compensation as at 31.12.2010. In other words the NSE toll operator has recorded a surplus of RM 18,321 million as at 31.12.2010 over his investment outlay.
Is there any need for the NSE toll operator to collect any more tolls from the public much less increase toll fares? By right and in the rakyat's interest, toll collection in the NSE should be stopped immediately in view that the revenue returns of RM 18.3 billion are 3 times more than the original investment of RM 6 billion.
The situation is similar for Penang Bridge which has collected RM 1,859 million but spent RM 944 million on construction cost, enjoying a surplus of RM 924 million. For BKE, toll collection amounts to RM 340 million on construction cost of RM 256 million, recording a surplus of RM 84 million. Instead of paying until 31 December 2038, Penangites should not be paying any toll at all in the Penang Bridge and the BKE.
Maximum RM50 Billon Cost For Abolishing Both NSE And Penang Bridge Will Not Bankrupt Malaysia.
Abolishing both NSE and Penang Bridge costs a maximum of RM50 billion, RM R40 billion for the NSE and RM10 billion for the Penang Bridge. RM50 billion will not bankrupt the nation. It is corruption, abuse of power and cronyism that will bankrupt the nation. After all the new MRT project costs more than RM50 billion.
Malaysia can afford RM 50 billion to abolish tolls in Penang Bridge and NSE but not corruption that costs more than USD100 billion(RM350 billion). The Global Financial Integrity Report highlighted that illicit(black) money secretly taken out of Malaysia during the lost "decade of corruption" from 2000-2009 amounted to RM 1,077 billion.
Tan Sri Nor should also explain how the revision deal of extension of the Penang Bridge toll concession from 2021 to 2038 in exchange for no toll hikes of 10% indeed benefits Penangites. Given a choice, Penangites would be willing to suffer 10% increases in toll hikes every 5 years in exchange for the toll ending on 31.12.2021 than wait until 31.12.2038 even though no toll hikes are imposed.
Similarly for the BKE, Penangites would be willing to pay 15-25% toll hike every 5 years until 27.6.2026 than continue paying until 31.12.2038. BKE is even worse than the Penang Bridge as there will be toll hikes of 5% for every 3 years after 2016 instead of every 5 years.
This revision deal of extension of the toll concession until 2038 in exchange for waiving government compensation of RM6.5 billion was done without consultation with the people and benefits only the toll operators at the expense of Penangites and Malaysians.
—– BM Version—-
Ucapan Ketua Menteri Pulau Pinang Lim Guan Eng semasa Debat PR Pulau Pinang di Dewan Besar Sungai Dua di Teluk Air Tawar, Pulau Pinang pada 29.2.2012 dan disiarkan pada 1.3.2012
Kenapakah Tempoh Konsesi Jambatan Pulau Pinang Dilanjutkan 17 Tahun Dari 2021 Ke 2038 Hanya Untuk Mengelak Daripada Membayar Kenaikan Toll 10% Setiap Lima Tahun?
Saya berasa dukacita bahawa Menteri dalam Jabatan Perdana Menteri Tan Sri Nor Mohamed Yakcop gagal untuk menerima cabaran debat umum di kawasan beliau malam ini atas topik sama ada pemansuhan tol Lebuhraya Utara-Selatan (NSE) dan Jambatan Pulau Pinang akan menjadikan negara kita bankrap.
Malaysia tidak akan bankrap jika PR memansuhkan tol NSE dan Jambatan Pulau Pinang sekiranya kita memenangi Pilihan Raya Umum yang akan datang. Yang akan menjadikan Malaysia bankrap adalah rasuah, penyalahgunaan kuasa dan kronisme.
Saya juga ingin tanya Tan Sri mengenai semakan semula tol. Kenapakah Kerajaan Persekutuan memangsakan Pulau Pinang dengan melanjutkan tempoh konsesi Jambatan Pulau Pinang selama 17 tahun sehingga 2038 dan Lebuhraya Butterworth-Kulim (BKE) selama 11 tahun sehingga 2038, sebagai balasan untuk pembekuan kenaikan tol (lihat rajah di bawah)? Untuk BKE, pembekuan kenaikan tol hanya sampai 2015, dan kadar tol akan dinaikkan 5% setiap 3 tahun dari 2016.
PENGECUALIAN PAMPASAN TOL ~ SEMAKAN SEMULA TERMA KONSESI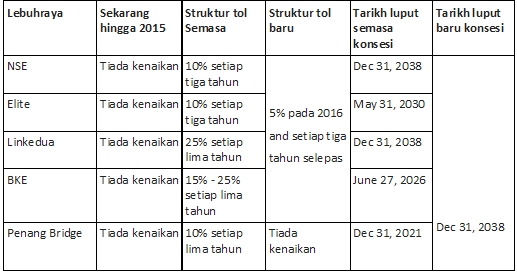 Pemansuhan tol NSE dan Jambatan Pulau Pinang tidak akan menjadikan negara bankrap tetapi adalah betul dari segi moral dan etika. Yang tidak berhati perut dan tidak adil kepada rakyat adalah hakikat bahawa syarikat-syarikat pengendali tol sedang mengaut keuntungan yang sangat tinggi walaupun kos pelaburan asal untuk pembinaan sudah habis dikutip.
Jawapan bertulis Parlimen kepada saya telah menunjukkan bahawa syarikat pengendali tol NSE telah membelanjakan RM5,945 juta untuk pembinaan lebuhraya tersebut, tetapi sudah menerima sebanyak RM24,266 juta daripada kutipan tol dan pampasan kerajaan setakat 31.12.2010. Dalam erti kata lain, syarikat pengendali tol NSE telah mencatat lebihan sebanyak RM18,321 juta setakat 31.12.2010 daripada pelaburan asal.
Adakah perlu lagi untuk syarikat tersebut untuk mengutip lagi banyak tol daripada rakyat apatah lagi untuk menaikkan kadar tol? Sepatutnya, dan jika diambil kira kepentingan rakyat, kutipan tol bagi NSE patut dihentikan serta merta memandangkan hasil kutipannya yang berjumlah RM18.3 bilion sudah pun 3 kali ganda pelaburan asal iaitu RM6 bilion.
Keadaannya serupa untuk Jambatan Pulau Pinang yang telah mengutip sebanyak RM1,859 juta dengan kos pembinaan RM944 juta. Lebihan yang dicatat sebanyak RM924 juta. Bagi BKE, tol yang dikutip berjumlah RM340 juta manakala kos pembinaannya RM256 juta, iaitu lebihan sebanyak RM84 juta. Rakyat Pulau Pinang bukan sahaja tidak sepatutnya terus dibebani tol sehingga 31 Disember 2038, malah tol bagi Jambatan Pulau Pinang dan BKE harus dihentikan serta merta.
Kos Maksimum RM50 Bilion Untuk Pemansuhan NSE dan Jambatan Pulau Pinang Tidak Akan Menjadikan Malaysia Bankrap
Kos maksimum untuk pemansuhan NSE dan Jambatan Pulau Pinang adalah RM50 bilion, iaitu RM40 bilion untuk NSE dan RM10 bilion untuk Jambatan Pulau Pinang. RM50 bilion tidak akan menjadikan negara bankrap. Yang akan menjadikan negara bankrap adalah rasuah, penyalahgunaan kuasa dan kronisme. Lagipun, kos projek MRT baru pun sudah mencecah RM50 bilion.
Malaysia mampu membayar RM50 bilion untuk memansuhkan tol Jambatan Pulau Pinang dan NSE tetapi tidak mampu menanggung rasuah yang berjumlah 100 bilion dolar Amerika (RM350 bilion). Laporan Global Financial Integriti telah menunjukkan bahawa sejumlah RM1,077 bilion wang haram telah dibawa keluar dari Malaysia dalam dekad yang hilang dek korupsi dari tahun 2000-2009.
Tan Sri Nor harus menjelaskan bagaimana semakan semula dan pelanjutan konsesi tol Jambatan Pulau Pinang dari tahun 2021 ke 2038 sebagai balasan untuk pembekuan tol 10% betul-betul boleh membawa manfaat kepada rakyat Pulau Pinang. Sekiranya diberi pilihan, rakyat Pulau Pinang lagi sanggup menerima kenaikan tol 10% setiap 5 tahun jika tol dimansuhkan pada 31.12.2021 daripada menunggu sampai 31.12.2038 walaupun tiada kenaikan tol dikenakan.
Serupa juga untuk BKE, rakyat Pulau Pinang lagi sanggup membayar kenaikan tol 15-25% setiap 5 tahun sampai 27.6.2026 daripada membayar sehingga 31.23.2038. BKE adalah lebih teruk berbanding Jambatan Pulau Pinang kerana bermula dari tahun 2016 kadar tol akan dinaikkan 5% setiap 3 tahun berbanding setiap 5 tahun.
Semakan semula dan pelanjutan tempoh konsesi tol sehingga 2038 sebagai balasan pengecualian pampasan kerajaan sebanyak RM6.5 bilion telah dilakukan tanpa rundingan dengan rakyat dan hanya menguntungkan syarikat-syarikat pengendali tol sementara yang ruginya rakyat Pulau Pinang dan Malaysia.
—Mandarin Version —-
槟州首席部长林冠英于2012年2月29日在直落斗哇大礼堂槟州民联青年团大道收费站辩论会上发表演讲:
为什么槟城大桥的特许经营权在2021年结束后,还要延长17年至2038年,以避免每5年涨价10%?
我感到很失望,因为首相署部长丹斯里诺莫哈末耶谷不愿意出席今晚在其选区的辩论会,那就是:废除南北大道及槟城大桥过路费,是否会导致国家破产?
如果民联赢得选举,废除南北大道及槟城大桥过路费,马来西亚不会因此破产。马来西亚将会因贪污、滥权、朋党而破产。
我要问丹斯里诺莫哈末有关检讨收费站的事项。为什么联邦政府要分别延长槟城大桥特许经营权17年、北海居林高速大道11年,直至2038年,让槟城受苦,以避免过路费涨价(见表)。北海居林大道不起涨至2015年,从2016年开始,过路费将会每三年调高5%。
过路费赔款免除 ~ 重新检讨的特许经营条件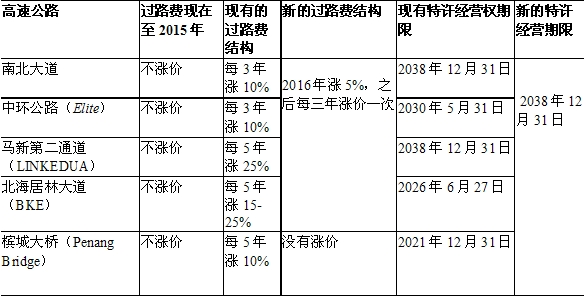 废除南北大道和槟城大桥不会导致国家破产,这是道德及伦理正确的。对人民最不合理及不公平的是,南北大道和槟城大桥已经赚取了比承建费高出许多倍的利润。
在国会给我的回答中,南北大道特许公司花费了59亿4500万令吉来承建南北大道,截至2010年12月31日,它们已经从过路费及政府赔偿当中赚取了242亿6600万令吉。换句话说,南北大道特许公司在2010年12月31日已经赚取了183亿2100万令吉的盈利。
我们还有必要让南北大道特许经营公司继续征收过路费、甚至调高过路费吗?按理说,如果是为了人民的利益,南北大道应该马上停止征收过路费,因为它的回酬已达183亿令吉,是原有投资额60亿令吉的3倍。
同样地,槟城大桥已经收取了18亿5900万令吉的过路费,其承建费为9亿4400万令吉,利润为9亿2400万令吉。北海居林大道所收取的过路费是3亿4000万令吉,其承建费为2亿5600万令吉,利润为8400万令吉。槟城人民根本无需再交过路费给槟城大桥及北海居林大道,而不是继续交到2038年12月31日。
废除南北大道及槟城大桥收费站最多花费500亿令吉,这不会让马来西亚破产。
废除南北大道及槟城大桥收费站将最多花费500亿令吉,即南北大道400亿令吉、槟城大桥100亿令吉。这500亿令吉不会让马来西亚破产。让国家破产的是贪污、滥权及朋党主义。再说,新的捷运工程也花费超过500亿令吉。
马来西亚花得起500亿令吉来废除槟城大桥和南北大道收费站,而不是超出1000亿美元(3500亿令吉)的贪污。全球金融廉正报告也指出,2000年至2009年间,秘密带出马来西亚的黑钱高达1兆770亿令吉。
丹斯里诺应该解释,将槟城大桥特许经营权由2021年延长至2038年,以交换"不涨价10%",到底对槟城人有没有好处?如果有选择,槟城人宁可承受每五年涨10%,直至2021年12月31日停缴过路费为止,而不是在过路费不涨价的情况下,一直交到2038年12月31日。
同样地道理,槟城人宁可每5年承受北海居林大道过路费上涨15-25%,而不是一直交过路费交到2038年12月31日。北海居林大道比槟城大桥更糟的是,2016年过后,每3年(不是每5年)涨价5%。
大道特许经营权期限延长至2038年,以交换政府不需赔款65亿令吉,这项决定并没有经过公众咨询,只让特许经营公司受惠,牺牲槟城人和马来西亚人的利益。
林冠英