Speech of Penang Chief Minister, The Rt. Hon. Lim Guan Eng At An International Conference on "The New Economic Vision for Penang and Malaysia" December 5 & 6, 2008 (Friday & Saturday)Traders Hotel, Penang
1. When I took over the helm of the State Government on March 9, 2008, I made a pledge to the people of Penang that we will be fair, just and not discriminate against anyone. The people of Penang had created history by allowing the opposition parties to form the State Government and we have formed a government based on unity and respect for basic human rights and political equity.
2. The new State Government will not disappoint the people of Penang and we want to turn a new chapter. We were determined to do better in drawing in more investments.
Projects Approved by State, 2008 and 2007 ( Ringgit Malaysia ,RM )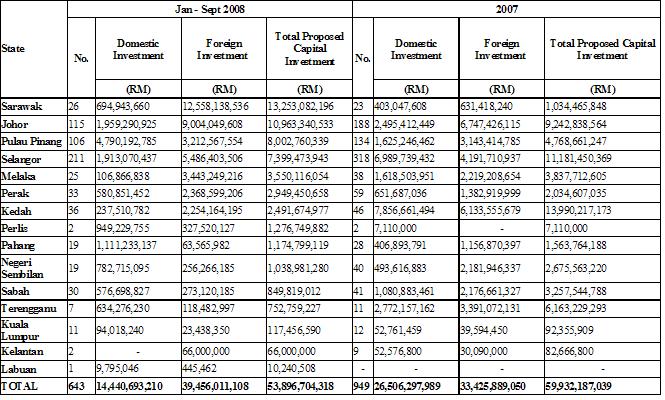 US – USD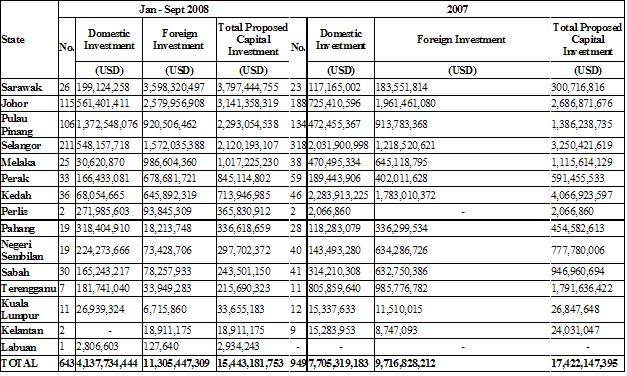 2007 : US$1 = RM3.44 2008 : US$1 = RM3.49
3. For the whole of 2007, Penang drew in RM 4.77 billion in investments comprising RM 3.14 billion in foreign investments and RM 1.63 billion in domestic investments. We have exceeded that figure with RM 8 billion for the first nine months of the year comprising RM 4.8 billion in foreign investments and RM 3.2 billion in domestic investments (MIDA figures). Penang placed third this year as compared to 5 th last year. Were it not for the global financial crisis. I am confident that we would have hit the RM 10 billion mark.
4. As it is Penang has already broken all records in attracting the highest number of foreign investments in history. And these investments are high quality investments focusing on the main high-tech sectors in electrical and electronics industry such as LED and wafer fabrication as well as biotechnology in genetic testing for cancer detection with branded companies such as Honeywell, National Instruments and Ibiden. On top of that we have existing foreign MNCs reinvesting billions of ringgit for expansion purposes.
5. We believe that the quality investments in Penang, whether new or existing ones In this regard we want to pull in investors that are capital intensive, offer high-paying jobs, high-technology focused, centered on knowledge workers in sunrise industries. To help us determine the type of investors we want, there are eight characteristics of highly successful companies we look out for that I describe as the 8S- Standards (in the forefront of creativity innovation and research), Segmentation(diverse products in the marketplace), Scalability, Service, Schedule Adherence, Security of products, Sustainability and Corporate Social Responsibility.
6. We realize that we Penang is a land and resource scarce state, we must focus on our human resources, our strong work ethic and human talents to grow and prosper. We are therefore pleased that software solution companies have made Penang their prime target such as the No. 1 business solution provider SAP through their local franchise holder AXON has decided to to invest RM 100 million to create.250 high paying professional IT engineers in Penang.
7. We will continue such efforts which must be now redesigned and refocused to deal with the oncoming recession brought about by the global financial crisis. The Penang state government is adopting an expansionary budget for 2009 with a higher budget deficit of RM 39.4 million or 8.3% of the total budget as compared with 8.1% for 2008. The three key thrusts are pro-growth, pro-jobs and pro-poor.
8. With increased social programmes and public works, we will try to mitigate the effects of the economic slowdown. For a start, we aim to eradicate poverty in the State of Penang by March 2009, that is, a year after we have taken over the State Government. To achieve this aim, I would like to urge the private companies to join us as "Partners Against Poverty" through your companies' corporate social responsibility (CSR) programmes.
9. However, presently, we have more urgent matters at hand. The global financial system is in shambles and recessions in the United States and Western Europe now seem unavoidable. People will lose their jobs and it is anticipated that additional jobs will not be created even after a few quarters subsequent to the economic recovery.
10. This is indeed a challenging time for economic management in Penang, Malaysia as well as the rest of the world. As we have to identify appropriate short-term measures to offset the coming economic downturn, we should also treat this downturn as a wakeup call for us to reconsider our development strategies to ensure that the forthcoming strategies respond to the desired growth path for Penang.
11. The future economic vision for Penang rests on continuing to develop our human resources, especially the cutting edge high-tech and computer segment. In other words, knowledge workers will be our key contributors of economic growth. This is in line with services sector contributing 57% of Penang GDP followed by 39.5% from the manufacturing sector.
12. If we can transform Penang's economy from being a being a sweat-shop of the world to a smart shop, we have succeeded in moving up the value chain. We need to concentrate on the best knowledge-workers in Penang where we have the best engineers, doctors, nurses, accountants, pharmacists, lawyers, town planners, surveyors and architects. That is why Penang launched our free wireless initiative where we hope that in 2 years time, when you open your notebook or computer you can be connected to the internet, any time, any place, anywhere but only in Penang.
13. Making Penang a smart shop will go a long way towards transforming Penang an international city that is a location of choice for investors, a destination of choice for tourists and a habitat of choice for those who desire sustainable living.
14. For Malaysia to face the challenges of economic recession, we need an expansionary budget that is significant enough to make a difference. China's foreign/international reserves are almost USD 2 trillion and yet they are willing to spend USD4trillion or double their international reserves to revive their economy and perhaps the world economy. In comparison, Malaysia's foreign reserve is USD100 Billion and we are suggesting a USD2 Billion (Rm7Billion) economic stabilization plan which is only 2% of our foreign reserves. Why spend only 2% when China can spend double. Malaysia should spend RM50billion (USD14billion) of fiscal and monetary measures comprising
(1). Financial aid to distressed families of RM6,000 annually for those earning less that RM6,000/month amounting to RM35billion
(2). Monetary measures of cutting the corporate tax rate from 25% to 17% costing RM13billion
(3). RM2billion spending to provide wireless services and facilities to all key towns and cities.
15. We need a strong expansionary budget and economic stimulus program to counter the economic slowdown and also improve our infrastructure and education fundamentals so that we can take advantage of any economic recovery. A bigger expansionary budget is necessary with the latest Bank Negara figures showing a negative portfolio investment outflow of RM41.3 billion for the first 9 months of the year.
16. An expansionary budget must be implemented in a manner that is significant and speedy or else it will help no one.
17. In close, we must look beyond the recession by boldly spending on job retraining, increase the number of knowledge workers, upgrade our ICT infrastructure and strengthen our education structure as a center of excellence. Make Penang the smart shop of Malaysia and the region – that's our future.