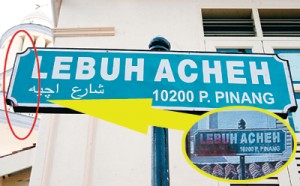 (photo by: Kwong Wah Yit Poh)
I have directed State EXCO member for Local Government, Traffic and Environment Chow Kon Yeow to instruct MPPP to lodge police reports over the vandalisation of the Bahasa Malaysia/ Arabic Road signs in Lebuh Acheh to prevent further sabotage of the 5 Bahasa Malaysia multi-lingual road signs put up by the state government as part of our efforts to promote tourism in the UNESCO world heritage site of Georgetown.
The 2 Bahasa Malaysia/Arabic signboards were vandalised early yesterday morning whilst the other two Bahasa Malaysia/Mandarin and one Bahasa Malaysia/Tamil signboards were not disturbed. Both signboards vandalised by being sprayed with red paint has been cleaned up by MPPP. The police report by MPPP is necessary to indicate the government views such vandalisation seriously as an effort to prevent a repeat of such sabotage by irresponsible elements opposed to national unity within a multi-cultural setting of Georgetown. As a heritage site, Georgetown belongs not only to Penang but also to the world and all Malaysians.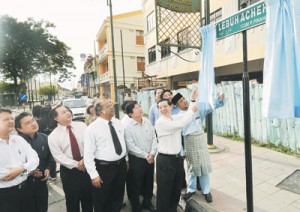 (Photo by: Kwong Wah Yit Poh, taken on 21 Nov 2008)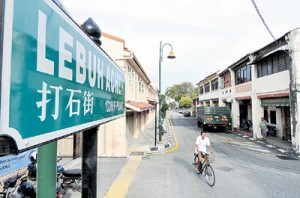 (Photo by: Kwong Wah Yit Poh, taken on 21 Nov 2008 )
I wish to reiterate the Penang state government's firm position of defending the Bahasa Malaysia/Arabic signboards so vandalised and will immediately restore any such signboards taken down. The state government has implemented our assurances that Bahasa Malaysia has not been removed but accorded full prominence in the signboards. Utusan Malaysia and BN led by UMNO should stop their malicious campaign of stirring up racial sentiments based on lies.
The Federal government should stop practising double standards by allowing Arabic road signs in Kuala Lumpur and Jawi road signs in Johor but opposing Penang government's road signs in either Arabic or Mandarin or Tamil or English in addition to Bahasa Malaysia in the heritage area of Georgetown.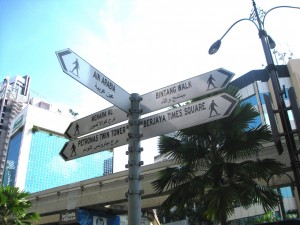 (photo taken by DAP Cheras)
This issue is only played up by Utusan Malaysia which has a political agenda of helping UMNO to regain its political supremacy and racist agenda against non-Malays.
How can such actions be unconstitutional or as being disrespectful to the national language when no Bahasa Malaysia road signs are being taken down? Only roads in the heritage area will be added Mandarin or Arabic or Tamil or English. And yet UMNO and Utusan Malaysia plays on the fears of hatred by implying that the official language road signs will be replaced by other languages.
If Utusan is sincere about upholding Bahasa Malaysia, why did they support the teaching of Science and Maths in English which replaces Bahasa Malaysia completely However when Penang does not replace but only adds on to Bahasa Malaysia, Utusan goes on a hate campaign. That is why all Malaysians who love democracy and treat each other as fellow citizens with respect and justice should boycott this racist newspaper that pits Malay against non-Malay.
There is a critical lack of direction and purpose if our country's leaders only know how to blindly follow Utusan Malaysia's leadership in setting the country's agenda. We should have confidence in our national language by allowing other languages as can be seen in Arabic countries or even China which has English road signs. As I have repeatedly emphasised, "Sekiranya Utusan hendak menjadi katak di bawah tempurung, mereka boleh terus menjadi katak tetapi rakyat Malaysia tidak mahu terus ditempurungkan."
Let no one doubt that both the Penang state government and DAP respects and upholds Bahasa Malaysia as the official language and has even amended DAP's party constitution in 2006 to reflect this status.
Let no one doubt that rule of law is observed, as confirmed by university law professors, in accordance to Article 152 of the Federal Constitution as follows:
(1) The national language shall be the Malay language and shall be in such script as Parliament may by law provide:
Provided that—
(a) no person shall be prohibited or prevented from using (otherwise than for official purposes), or from teaching or learning, any other language; and

Let also no one doubt our resolve to press ahead with the multi-lingual road signs in addition to Bahasa Malaysia which is befitting Penang's international status as a Unesco World Heritage site.
If putting road signs in Jawi/Arabic, Mandarin, English or Tamil in addition to Bahasa Malaysia is wrong, then why the double-standards when Johor was allowed to put up road signs in Jawi 30 years ago and Arabic road signs in Kuala Lumpur. UMNO leaders such as Melaka Chief Minister Datuk Mohd Ali Rustam is desperately using racial issues to divide the nation and distract attention from their failure to stop corruption, failure to ensure the price of petrol falls to RM 1.52 per liter in line with declining fuel prices and failure to manage the global financial crisis.