Domestic Trade and Consumer Affairs Minister Datuk Shahrir Abdul Samad's revelation that the government no longer need to subsidise petrol with the drastic fall in global oil prices highlights BN's lack of responsibility in refusing to further reduce petrol prices from RM 2 to RM 1.62 per litre.
Shahrir said that at US$65 (RM235) per barrel or at RM 2 per litre the Government would not be paying subsidies and the price can return to RM 1.92 per litre. Instead of paying subsidies, the government will save more than RM 10 billion if prices remained stable. At current prices, the government is making about 30 sen per litre.
With RM 10 billion in savings, the government must further reduce the price of petrol to RM 1.62 per litre to reflect the present international price of oil of USD 55 per barrel. According to a chart published in http://anilnetto.com,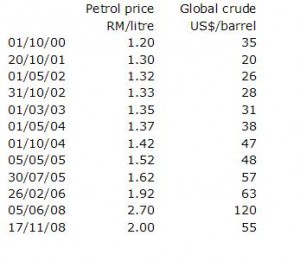 This was also suggested by economics professor from Universiti Utara Malaysia Professor Madya Abdul Rahim Anuar on 13 November 2008 of a price at RM 1.62 per liter, so that the people need not pay extra at the expense of ordinary Malaysians. The failure to further reduce petrol prices will only raise further questions why prices are raised quickly but find it difficult to reduce it.
Malaysians are already suffering from paying high prices such as electricity tariffs and gas prices despite the drop in world prices. Only a daily revision of petrol prices is a fairer mechanism that can reflect the declining oil market. Deputy Prime Minister Datuk Seri Najib Tun Razak should allow the people to benefit from the RM 10 billion in fuel subsidy savings, by further reducing the price of petrol from RM 2 to RM 1.62 per litre to reflect current declining fuel price.