Press Statement By DAP Secretary-General And MP For Bagan Lim Guan Eng In Kuala Lumpur On 9.5.2013.
DAP is not surprised that MCA and Gerakan are behaving in a childish manner by petulantly closing down their service centers in retaliation for the devastating defeats in the recent general elections. MCA was left with 7 parliamentary seats whilst Gerakan had only 1 parliamentary seat. Such a reaction by Gerakan and MCA losing in the general elections is akin to a child throwing tantrum for not getting what he or she wants.
Carrying out threats of closing down service centers will not impress voters, whether Chinese, Indians or Malays who had already dismissed them as irrelevant and had already made up their minds to reject BN. This is indicated by PR winning the popular vote of 51% compared to BN's 47.4%, the first time that an opposition coalition had won more than 50% of the popular vote(see below).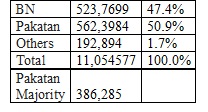 (Not including spoilt votes)
PR won 5.6 million votes compared to 5.2 million for BN, a clear lead of 386,000 votes. PR winning 51% of the popular vote yet only 40% of the parliamentary seats cries out for genuine polls reforms that respects the "one-man, one-vote" principle to save democracy.
Malaysians who voted by a clear majority for PR over BN would see the results as perverse in that BN that lost the popular vote won government whilst PR won the popular vote lost power. This is black becoming white and black becoming white.

A Saturday DAP Conference In KL For All 38 Elected MPs and 107 Elected State Assemblymen On Plans To Serve The Nation And Voters As Well As To Replace MCA And Gerakan Which Has Closed Shop On Its Own Following Their Total Rejection By Voters In The 13th General Elections.
MCA and Gerakan grossly underestimated the people's yearning for change if they think closing down service centers or their offices in retaliation for losing the general elections can frighten the voters. DAP did not close down our offices or service centers when we lost in every general election from 1966 to 2008 but continued our struggle for the people.
The people are sick and tired of these childish games. If MCA and Gerakan can close down service centers, why has MCA and Gerakan not announced that they will close down completely?
DAP shall be organizing a special national conference this Saturday in Kuala Lumpur for all 38 elected MPs and 107 elected state assemblymen on plans to serve the nation and voters as well as to replace MCA and Gerakan which has closed shop on its own following their total rejection by voters in the 13th general elections.
Lim Guan Eng
—-BM Version —-
Kenyataan Media oleh Setiausaha Agung DAP merangkap Ahli Parlimen Bagan, Lim Guan Eng di Kuala Lumpur pada 9 Mei 2013.

Pakatan Rakyat Menang 51% Undi Popular Namun Hanya 40% Kerusi Parlimen Menuntut Reformasi Pilihanraya Yang Tulen Yang Menghormati Prinsip Satu Orang Satu Undi Demi Menyelamatkan Demokrasi.

DAP tidak terkejut dengan perangai kebudak-budakan MCA dan Gerakan yang seolah-olah merajuk sehingga menutup pusat-pusat khidmat mereka sebagai balasan kepada kekalahan teruk yang dialami dalam pilihanraya umum yang baru berakhir. MCA hanya berhasil mendapat 7 kerusi Parlimen manakala Gerakan hanya mendapat 1 kerusi. Reaksi oleh Gerakan dan MCA setelah kalah dalam pilihanraya samalah seperti seorang budak kecil yang mengamuk kerana tidak mendapat apa yang dia mahukan.
Mengancam untuk menutup pusat khidmat tidak akan menarik minat pengundi, tidak kira Cina, India mahupun Melayu yang telah memutuskan mereka sebagai tidak lagi relevan dan telah membuat keputusan untuk menolak BN. Ini ditunjukkan apabila Pakatan Rakyat memenangi 51% undi popular berbanding undi popular BN sebanyak 47.4%; kali pertama dalam sejarah sebuah pakatan oposisi memenangi lebih daripada separuh undi popular. (lihat bawah)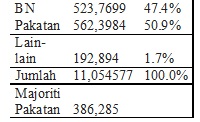 (Tidak termasuk undi rosak)
Pakatan Rakyat memenangi 5.6 juta undi berbanding 5.2 juta undi oleh BN, perbezaan ketara sebanyak 386,000 undi. Pakatan Rakyat menang 51% undi popular namun hanya 40% kerusi Parlimen menuntut reformasi pilihanraya yang tulen yang menghormati prinsip satu orang satu undi demi menyelamatkan demokrasi.
Rakyat Malaysia yang telah mengundi Pakatan Rakyat berbanding BN dengan majoriti jelas melihat keputusan pilihanraya sebagai sesuatu yang pelik kerana BN yang kalah undi popular dapat menjadi kerajaan, manakala Pakatan Rakyat yang menang undi popular tidak mendapat kuasa. Inilah namanya hitam jadi putih, putih jadi hitam.
Persidangan DAP Di Kuala Lumpur Pada Hari Sabtu Untuk Kesemua 38 Ahli Parlimen Dan 107 ADUN Yang Telah Dipilih, Bagi Merangka Pelan Bagi Berkhidmat Kepada Negara Dan Pengundi Serta Untuk Menggantikan MCA Dan Gerakan Yang Telah 'Tutup Kedai' Dengan Sendirinya Berikutan Penolakan Total Terhadap Mereka Oleh Pengundi Dalam PRU Ke-13.
MCA dan Gerakan telah memandang rendah kehendak rakyat untuk perubahan seandainya mereka berfikir bahawa dengan menutup pusat khidmat dan pejabat mereka sebagai balasan kekalahan pilihanraya akan menakutkan para pengundi. DAP tidak pernah menutup pejabat dan pusat khidmatnya apabila kita kalah dalam setiap pilihanraya sejak tahun 1966 sehingga 2008 tetapi terus berjuang demi rakyat.
Rakyat sudah muak dan menyampah dengan permainan yang kebudak-budakan ini. Jika MCA dan Gerakan boleh menutup pusat khidmat mereka, kenapa tidak MCA dan Gerakan umumkan sahaja yang mereka akan 'tutup kedai' terus?
DAP akan mengadakan persidangan khas di Kuala Lumpur pada hari Sabtu untuk kesemua 38 Ahli Parlimen dan 107 ADUN yang telah dipilih, bagi merangka pelan bagi berkhidmat kepada negara dan pengundi serta untuk menggantikan MCA dan Gerakan yang telah 'tutup kedai' dengan sendirinya berikutan penolakan total terhadap mereka oleh pengundi dalam PRU ke-13.
LIM GUAN ENG
—-Mandarin Version —-
民主行动党秘书长兼峇眼区国会议员林冠英于2013年5月9日在吉隆坡发表声明:
民联获得51%的得票率,却只获得40%的国会议席,激起人民大声疾呼要求选举改革,尊重一人一票原则,拯救民主。
行动党一点也不惊讶,马华和民政党在输了大选后,幼稚、暴躁地关闭他们的服务中心,做为报复。马华只剩7个国会议席、民政党只剩一个国会议席。马华和民政党在输了选举后的动作,就好像小孩子得不到自己要的东西发脾气那样。
他们威胁关闭服务中心不会让选民留下什么印象,不论是华人、印度人或马来人都已经视他们为"无关紧要",他们也已经下定决心拒绝国阵。这从民联获得51%的得票率,而国阵获得47.4%可以看出,第一次反对党赢得超过50%的得票率(如下表)。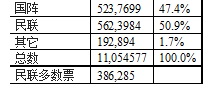 (不包括废票)
民联赢得560万张选票,而国阵只获得520万张选票,很明显地,民联领先38万6000张选票。民联赢得51%,却只获得40%的国会议席,激起人们大声疾呼要求选举改革,尊重"一人一票"原则,拯救民主。
大多数投选了民联的马来西亚人会看到不成正比成绩,那就是国阵输了选票,却赢得政府,而民联赢了选票,却输了政权。这就是黑的变白,白的变黑。
民主行动党将于星期六在吉隆坡召开会议,与中选的38个国会议员及107年州议员,一起商讨如何服务国家及选民,取代在第13届大选被选民拒绝后已经"关店"的马华及民政党。
如果马华与民政在输了大选便关闭服务中心做为报复手段,那么,他们真的低估了人民求变的渴望。民主行动党从1966年至2008年开始,在每一次败选后,并没有关闭我们的办公室及服务中心,而是继续为人民斗争。
人民对于这种幼稚的游戏感到厌烦及疲累。如果马华及民政党可以关闭服务中心,那么他们为何不干脆宣布他们已经"关店"?
行动党将在来临星期六举行特别全国大会, 与中选的38个国会议员及107年州议员,一起商讨如何服务国家及选民,取代在第13届大选被选民拒绝后已经"关店"的马华及民政党。
林冠英