Penang Ports 24% Container Traffic Decline In The 2nd Quarter Of 2009 When All Other Ports In Malaysia Recorded Increases Is A Warning For The Ministry Of Finance(MOF) To Inject Fresh Funds And New Ideas Into Penang Port Sdn Bhd(PPSB) To Save Penang Port.
Penang Ports 24% container traffic decline in the 2nd quarter of this year when all other ports in Malaysia recorded increases is a warning for the MOF to inject fresh funds and new ideas into PPSB to save Penang Port. The Marine Department revealed that Malaysian ports handled 10 per cent more containers in the second quarter of the year compared to the first, reflecting a recovery in both domestic and transhipment cargo.
Container traffic at the 10 major ports rose to 3.79 million TEUs (20-foot equivalent units) from 3.44 million in the periods reviewed. However Penang Port declined by 24% from 199,391 TEUs to 151,165 TEUs as shown by the figures below.
Container Throughput at Malaysian Ports
(January – June 2009) (TEU)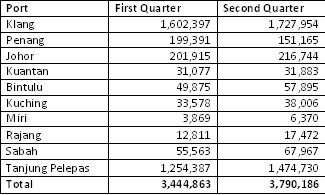 source : Ports, Marine Department
In the first quarter, Penang volume was only 2,000 TEUs less than Johor. However in the 2nd quarter, Johor increased by 7% whilst Penang declined by a shocking 24%. These dismal figures show that Penang Port now lies a distant fourth busiest port in Malaysia, when in the first quarter it was only slightly behind Johor.
Penang has spiralled down steadily to the bottom, a long way from its status as a premier port in the region during the British colonial days, to such a depressing state. Questions are being asked at the role taken by regulatory body Penang Port Commission(PPC) to revitalise Penang Port and reverse this downward trend. The Penang state government is even more concerned at this failure of Penang Port when all ports in Malaysia recorded healthy volume increase with Penang being the only port to "sink" in performance.
The time has come to take bold steps to introduce creativity and innovative methodology and management to revive Penang Port. The Penang state government has offered its co-operation and co-ordination with a new found focus for halal port in line with the state government's emphasis on the halal industry. However attention is required from the Federal government.
With PPC's promised completion of the Swettenham Pier by September 2009 remaining unfulfilled, the Ministry of Finance should intervene and actively engage in the activities at Penang Port. The Federal Government should seriously consider restoring Penang's free port status to revive Penang port as the pride of the nation.