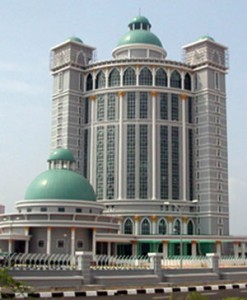 Details of Seberang Perai Municipal Council's (MPSP) shocking RM 223.7 million losses in reserve funds over nine years from 2000 to 2008 are revealed together with significant development expenditures. The public shall judge whether such expenditures benefited public interest or is just another sad example of BN's cronyism, mismanagement and money politics. From an accumulated surplus of RM 230.1 million at 1.1.2000 to only a budgeted surplus of only RM 6.4 mllion at 31.12.2008, RM 223.7 million has been lost over 9 years.
Penang Gerakan chairman Datuk Dr Teng Hock Nan. who is also former state local government and traffic management committee chairman, claimed that the money was used for major and small local community projects to benefit the people such as:
· cleanliness campaigns, anti-mosquitoe programmes and landscaping,
· building of two big markets in Kepala Batas and Kampung Baru, Bukit Mertajam,
· multi-purpose hall in Butterworth, two modern sports complexes in Kepala Batas and Jalan Betik, Bukit Mertajam,
· acquisition of land for infrastructure development, building sanitary landfill in Pulau Burung, Seberang Perai Selatan (SPS) due to closing of dumping site at Ampang Jajar; and
· extra expenditure on house-to-house collection of solid wastes from thrice weekly to four times a week.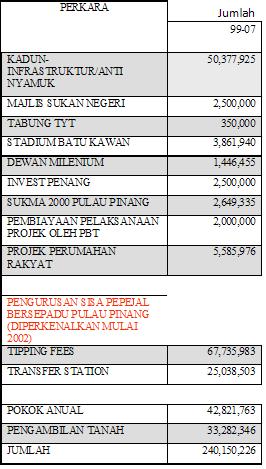 The public shall judge whether MPSP spent its money prudently and built according to specifications, whether these projects were necessary and if so whether they achieved their purpose. More importantly, is the question whether a cheaper alternative could be found such as the RM 84.3 million spent on building the new MPSP headquarters in Bandar Perda despite the state government having allocated to MPSP a 30 acre site in Ampang Jajar.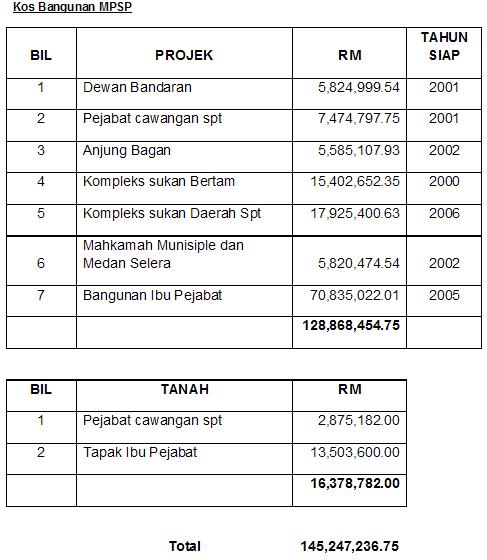 Other contentious items are the "constituency funding" of RM 50.3 million ( RM 300,000 yearly given to each BN ADUN in Seberang Perai) and MPSP councillors(RM 8.6 million) amounting to RM 59 million which is no different from money politics as the roads are still filled with potholes and drains blocked. Also the RM 70,000 per month or over RM 800,000 spent per year on air-conditioning charges of the MPSP HQ to a company given without open public tender.

Clearly MPSP's coffers were depleted by wasteful and irresponsible spending that only benefited the few cronies of BN at the expense of the general public. If Datuk Dr Teng Hock Nan is willing to support the Penang state government principles of CAT(Competence,Accountability and Transparency), he should explain the necessity of these contentious items such as the expensive MPSP headquarters and other buildings, the cost-effectiveness and benefits of RM 59 million in funds used at the discretion of BN ADUNs and MPSP Councillors as well as the over-priced bills for air-condtioning of the MPSP HQ.