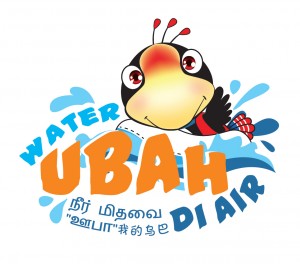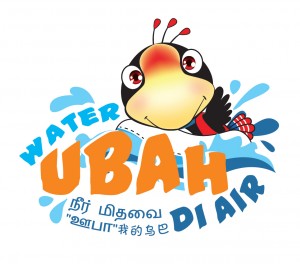 Facts about UBAH inflatable bird (Water Ubah)
Burung kenyalang or the hornbill is a native bird from Sarawak and one of the most recognisable local animals. DAP had adopted this bird as a symbol of change both for its unique characteristics, hardiness and representation of the integration of both East Malaysia and Peninsular Malaysia into a Malaysian nation. Designed by Ooi Leng Hang for the general elections, Ubah has moved beyond the political realm and became a very well-loved for all Malaysians.
The UBAH bird is inflatable is made of high quality PVC and weighs about 250kg. It's body thickness is 0.35mm while the life buoy is 0.7mm thick. This 25ft high and 36ft wide UBAH bird and was conceptualised by DAP supporters and sponsors after the success of the world famous yellow rubber duck in Hong Kong. This is a small contribution towards Penang and hopefully will be well-received by both tourists and locals.
From its inception to the final unveiling of the UBAH bird on 13 July 2013, it was not an easy task to complete this project in 2 months. Those involved in both the creative design and its construction should be proud of their efforts. Their wish is not just in the sheer joy of creating this unique attraction but to share it with everyone – it is also something very unique to be called our own.
With an estimated cost of RM 60,000, this UBAH bird will be temporarily docked at IJM Promenade until 31 August 2013.
Fakta Mengenai Burung UBAH Terapung (Ubah di Air)
Burung Kenyalang atau Enggang adalah burung yang berasal dari Sarawak dan adalah diantara haiwan tempatan yang paling dikenali. DAP telah memperkenalkan burung ini sebagai simbol harapan perubahan kerana sifatnya yang unik, ketabahan dan merupakan lambang perpaduan Malaysia Timur dan Semenanjung Malaysia. Direka oleh Ooi Leng Hang untuk pilihan raya umum, kini UBAH telah melangkaui ranah politik dan menjadi kesayangan rakyat Malaysia.
Burung UBAH terapung ini dibuat daripada PVC berkualiti tinggi dengan berat kira-kira 250kg. Ketebalan badannya 0.35mm manakala ketebalan pelampung yang digunakan ialah 0.7mm. Burung UBAH setinggi 25 kaki dan 36 kaki lebar ini diilhamkan oleh penyokong DAP dan para penaja berdasarkan itik getah berwarna kuning yang mahsyur di Hong Kong. Usaha ini adalah sumbangan kecil kepada Pulau Pinang dan diharapkan akan diterima dengan baik oleh para pelancong dan penduduk tempatan.
Sejak permulaan sehingga tarikh pelancarannya pada 13 Julai 2013, ia bukan satu tugas yang mudah untuk menyiapkan projek ini dalam masa 2 bulan. Mereka yang terlibat dalam reka bentuk kreatif dan pembinaannya harus berbangga dengan usaha mereka. Hasrat mereka bukan hanya untuk kepuasan dan kegembiraan peribadi semata-mata malah ia juga unik dan boleh dikongsi bersama.
Dengan anggaran kos bernilai RM60,000, burung UBAH akan berlabuh sementara di dermaga IJM Promenade sehingga 31 Ogos 2013.
有关《我的乌巴》– 乌巴充气鸟的资料
犀鸟是一种来自砂拉越的本土鸟类,也是当地最容易让人辨识的动物之一。民主行动党将犀鸟纳为改变的象征,出自于它的独特特性、坚韧及代表着东西马整合成马来西亚这个国家的象征。由黄隆汉设计、作为大选用途的犀鸟,乌巴已经超越了政治,成为了深受马来西亚人喜爱的代号。
这只《我的乌巴》充气鸟,是以高素质的PVC制造,重量约250公斤。乌巴充气鸟的厚度为0.35毫米,而救生圈的厚度则是0.7毫米。这个身高25尺、宽36尺的乌巴鸟概念,是继闻名世界的香港大黄鸭成功后,由行动党支持者及赞助商想出的概念。这项努力是给予槟城的小小贡献,并希望能够获得本地人及游客的欢迎。
从设立之初到在2013年7月13日正式揭幕,《我的乌巴》充气鸟只用了短短的两个月时间完成,确是一项不简单的任务。 那些参与创意设计及建造过程的人士,肯定为他们本身的努力感到骄傲。他们的愿意不只是在于创造这个独特的吸引力,而是要跟大家一起分享– 这是非常独特的。
《我的乌巴》估计制作成本为6万令吉,将会暂时停靠在新新关仔角(IJM Promenade)直至2013年8月31日为止。