Press Statement By Penang Chief Minister Lim Guan Eng In Komtar, George Town On 23.8.2015.
Both new Education Minister Datuk Seri Mahdzhir Khalid and his deputy Senator Datuk Chong Sin Woon must be rapped for reversing former Deputy Prime Minister Tan Sri Muhyiddin Yassin's education policies immediately upon assuming their new posts. First, Mahdzhir Khalid reiterated that the directive banning Penang schools from participating in the 58th Merdeka Day celebrations organised by the state government remains.
Madhzhir has continued the reversal of Tan Sri Muhyiddin's education policies when he said that the Malaysian Examination Board (MEB) delayed the implementation of a mandatory pass in English in Sijil Pelajaran Malaysia (SPM) as the teachers and students were unprepared. The Education Ministry had postponed the mandatory pass in English in SPM, which was scheduled to be in force from next year, which was adopted by Tan Sri Muhyiddin Yassin in 2013. By de-emphasizing the importance of English, will only further erode the competitiveness of Malaysia's economy in a global trading environment where English is the international lingua franca of commerce.
Playing political games should not sacrifice our economic competitiveness or innocent schoolchildren who had participated in the yearly Merdeka celebrations. The Penang Education Department had issued a circular directing all schools in the state to refrain from participating in any 58th Merdeka celebration or parade because the state government had selected our Merdeka theme of "Bersih, Cekap Amanah"(BCA).
This is clearly a reversal of Tan Sri Muhyiddin's previous approach of allowing the Penang state government to choose their own Merdeka's themes without any ban on school children participating being imposed. Penang had its own Merdeka theme since 2010(see table) without any problems.
TEMA HARI KEMERDEKAAN: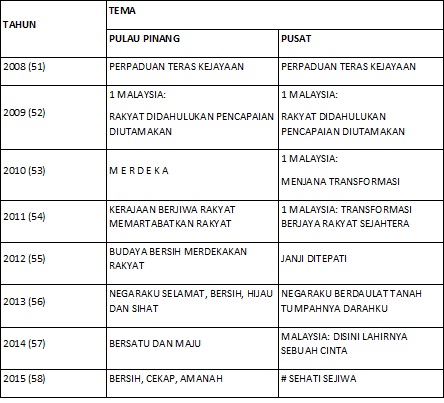 Why was no ban imposed since 2010 but only now. This is politically motivated to sabotage Penang state government's Merdeka celebrations. Clearly the Education Ministry is trying to link the word Bersih with the peaceful protests organised on 29-30 August to protest against corruption and the RM2.6 billion deposited in the Prime Minister's personal account. This is an immature act of petty politics merely because the word "Bersih" in BCA is used. Is "Bersih" now a dirty, vulgar and obscene word that must also be declared illegal?
Mahdzhir Khalid said it was not appropriate in the interests of national unity, for the state government to have a different Merdeka Day theme than that decided by the federal government for the country and that the ban would only be lifted if the state government adopted the BN federal government's theme of "Sehati sejiwa"(one heart, one soul). MCA President Liow Tiong Lai said that I had dishonoured Merdeka by choosing BCA whilst Deputy Education Minister P. Kamalanathan even said that BCA was against national interests.
Such a ban is illogical, irrational and even irresponsible when the BCA theme originated from former Prime Minister Tun Dr Mahathir Mohamad when he first took office in 1981. BCA is even widely used in government letterheads as a reminder to be clean and not be corrupt. Perhaps that was why there was no RM2.6 billion donation deposited in Mahathir's personal account. Is Mahdzhir and the Education Ministry now saying that Tun Dr Mahathir is anti-national?
The Federal government is unreasonable and bullying the Penang state government because of the Bersih rallies, by banning their own 1980s BN government's theme of "Bersih, Cekap, Amanah" when there were no problems with the Penang state government choosing our own themes every year since 2010. In the process Penang school children are to be needlessly sacrificed and prevented from participating in the 58th Merdeka celebrations because of the dangerous words "Bersih, Cekap Amanah" that is now considered unfit for children.
—–BM Version —
Kenyataan Akhbar oleh Ketua Menteri Pulau Pinang Lim Guan Eng di Komtar, George Town Pada 23.8.2015.
———————————————————————————————————————
Kerajaan Persekutuan Tidak Munasabah Dan Membuli Kerajaan Negeri Pulau Pinang Kerana Perhimpunan Bersih Dengan Mengharamkan Tema Kerajaan BN Sendiri Pada Tahun 1980an, Iaitu "Bersih, Cekap, Amanah" Walaupun Tidak Pernah Bermasalah Dengan Tema Berlainan Kerajaan Negeri Pulau Pinang Sejak Tahun 2010.
———————————————————————————————————————
Kedua-dua Menteri Pendidikan baru Datuk Seri Mahdzhir Khalid dan timbalannya Senator Datuk Chong Sin Woon harus dikutuk kerana menterbalikkan dasar pendidikan bekas Timbalan Perdana Menteri, Tan Sri Muhyiddin Yassin dengan serta-merta apabila menjawat jawatan baru mereka. Pertamanya, Mahdzhir Khalid mengulangi amaran bahawa arahan pengharaman sekolah Pulau Pinang daripada mengambil bahagian dalam sambutan Hari Merdeka ke-58 yang dianjurkan oleh kerajaan negeri akan kekal.
Madhzhir meneruskan penterbalikan dasar pendidikan Tan Sri Muhyiddin apabila beliau berkata bahawa Majlis Peperiksaan Malaysia (MPM) menangguhkan pelaksanaan syarat wajib lulus bahasa Inggeris dalam Sijil Pelajaran Malaysia (SPM) kerana guru dan pelajar tidak bersedia. Kementerian Pendidikan telah menangguhkan syarat wajib lulus bahasa Inggeris di peringkat SPM yang dijadualkan berkuat kuasa mulai tahun depan, iaitu dasar yang diputuskan oleh Tan Sri Muhyiddin Yassin pada tahun 2013. Jika kepentingan bahasa Inggeris tidak ditekankan, ia hanya akan terus menghakis daya saing ekonomi Malaysia dalam persekitaran perdagangan global di mana bahasa Inggeris adalah lingua franca perniagaan antarabangsa.
Permainan politik tidak wajar mengorbankan daya saing ekonomi kita atau kanak-kanak sekolah yang tidak bersalah yang sudah biasa mengambil bahagian dalam sambutan Hari Merdeka setiap tahun. Jabatan Pendidikan Negeri Pulau Pinang telah mengeluarkan pekeliling mengarahkan semua sekolah di negeri ini untuk tidak mengambil bahagian dalam apa-apa perayaan atau perarakan Merdeka ke-58 kerana kerajaan negeri telah memilih tema Merdeka, "Bersih, Cekap Amanah" (BCA).
Ini jelas perubahan daripada arah pendekatan Tan Sri Muhyiddin yang sebelum ini membenarkan kerajaan negeri Pulau Pinang untuk memilih tema Merdeka mereka sendiri tanpa apa-apa larangan kepada kanak-kanak sekolah yang mengambil bahagian. Pulau Pinang mempunyai tema Merdeka tersendiri sejak tahun 2010 (lihat jadual) tanpa sebarang masalah.
TEMA HARI KEMERDEKAAN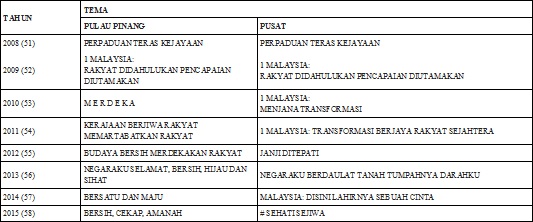 Mengapa tiada larangan dikenakan sejak 2010 tetapi hanya sekarang? Ini adalah sabotaj bermotifkan politik terhadap sambutan Merdeka oleh kerajaan negeri Pulau Pinang. Jelas, Kementerian Pendidikan sedang cuba untuk menghubungkan perkataan Bersih dengan protes aman yang dianjurkan pada 29-30 Ogos untuk membantah rasuah dan RM2.6 bilion yang disimpan dalam akaun peribadi Perdana Menteri. Ini merupakan semata-mata satu tindakan politik remeh yang tidak matang kerana perkataan "Bersih" digunakan dalam BCA. Adakah "Bersih" kini satu perkataan yang kotor, kesat dan lucah yang juga mesti diisytiharkan haram?
Mahdzhir Khalid berkata adalah tidak wajar bagi kepentingan perpaduan negara sekiranya kerajaan negeri mempunyai tema Hari Merdeka yang berbeza daripada yang telah diputuskan oleh kerajaan pusat, dan larangan itu hanya akan ditarik balik jika kerajaan negeri menerima pakai tema kerajaan pusat- BN iaitu "Sehati Sejiwa". Presiden MCA Datuk Seri Liow Tiong Lai berkata saya telah mengkhianati Merdeka dengan memilih BCA manakala Timbalan Menteri Pendidikan P. Kamalanathan juga berkata bahawa BCA adalah bertentangan dengan kepentingan negara.
Pengharaman seperti ini adalah tidak logik, tidak rasional dan juga tidak bertanggungjawab memandangkan tema BCA berasal daripada bekas Perdana Menteri, Tun Dr Mahathir Mohamad semasa beliau mula mengambil alih jawatan pada tahun 1981. BCA juga digunakan secara meluas dalam kepala surat kerajaan sebagai peringatan untuk menjadi bersih dan tidak rasuah. Mungkin sebab itu tidak ada sumbangan RM2.6 bilion yang disimpan di akaun peribadi Mahathir. Apakah Mahdzhir dan Kementerian Pendidikan kini mengatakan bahawa Tun Dr Mahathir adalah anti-nasional?
Kerajaan Persekutuan bersikap tidak munasabah dan membuli Kerajaan Negeri Pulau Pinang kerana perhimpunan Bersih dengan mengharamkan tema Kerajaan BN sendiri pada tahun 1980an, iaitu "Bersih, Cekap, Amanah" walaupun tidak pernah bermasalah dengan tema berlainan Kerajaan Negeri Pulau Pinang sejak tahun 2010. Justeru, murid sekolah Pulau Pinang akan dikorbankan secara sia-sia dan dilarang daripada mengambil bahagian dalam sambutan Merdeka ke-58 hanya kerana perkataan bahaya "Bersih, Cekap, Amanah" kini dianggap tidak sesuai untuk kanak-kanak.
—–Mandarin Version —-
槟州首席部长林冠英于2015年8月23日在乔治市光大发表文告:
槟州政府自2010年以来就自选国庆主题,这一举动从来不构成问题,如今,却遭联邦政府无理欺压。后者因忌惮净选盟大集会,连自己在80年代推出的国阵国庆主题,即廉洁(干净)、效率、诚信,也一并全盘推翻。
教育部的两位新部长,即部长拿督斯里玛哈兹卡力及副部长拿督张盛闻,两人一上位旋即推翻前副首相丹斯里慕尤丁的教育政策,理应被谴责。第一,玛哈兹卡力重申,槟城学生禁止参与州政府举办的第58届国庆庆典的指示仍然生效,州内学子不得出席这项盛典。
接下来,玛哈兹逐步推翻丹斯里慕尤丁的教育政策,包括在师生毫无准备下,宣布马来西亚考试委员会展延实施大马教育文凭考试中,英文必须及格的政策。慕尤丁原本在2013年制定有关政策,并计划在明年强制实行,如今新任教长宣布延迟,漠视英语的重要性,势必削弱我国的国际经济及经商环境竞争力。
槟州教育部已发出指示,要求州内学校不能出席州政府所举办的国庆庆典,因为州政府采用了"干净、效率、诚信"作为今年国庆的自选主题。我们认为,玩弄政治不应牺牲我们的经济竞争力,以及牵连每年参与国庆庆典的无辜学子。
丹斯里慕尤丁过去容许槟州政府自选国庆主题,从未发出禁令阻止学生参与我们的庆典,自2010年(见表)一向如此,不见任何问题。现在,明显有人在倒退,并推翻慕尤丁的所做所为。
国庆日主题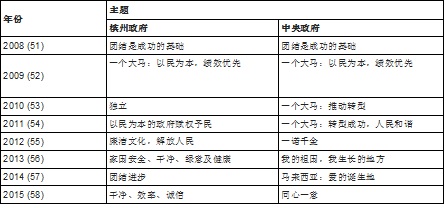 为何自2010年起都没有这问题,如今教育却对学生发出禁令?这俨然是一项政治操作,用以破坏州政府的国庆庆典。明显的,教育企图想要把"Bersih"(廉洁/干净)的字眼,和即将在8月29日及30日举行的净选盟大集会连结在一起,而有关大集会志在反对贪污腐败,以及首相个人户头内的26亿令吉问题。这项举动是不成熟的,"干净"这个字眼现在竟然变成了污浊、粗俗及下流的意思,是不是该立法禁用?
玛哈兹卡力认为,州政府在采联邦政府制定的"同心一意"以外的主题,对国家团结的利益之上并不恰当。若要解除禁令,除非沿用国阵联邦政府的"同心一意"主题。马华总会长廖中莱说,我因为采用"干净、效率、诚信"为主题,玷污了国庆日。副教育部长卡玛拉纳登则说,"干净、效率、诚信"违反了国家利益。
这样的说辞无疑是不合逻辑、不理性甚至是不负责任的。事缘有关主题创始于前首相敦马哈迪医生在1981年执政之际。当时,干净、效率及诚信三字,常见于政府的来往信件之上,用来提醒各位时时谨记保持廉洁及不可贪腐。也许正因如此,那时候马哈迪的个人户头并未出现26亿令吉的捐款。现在,玛哈兹带领的教育部,是不是在指明敦马哈迪医生叛国?
槟州政府自2010年以来就自选国庆主题,这一举动从不构成任何问题,如今,却遭联邦政府的无理欺压。后者因忌惮净选盟大集会,连自己在80年代推出的国阵国庆主题,即廉洁(干净)、效率、诚信,也一并全盘推翻。对莘莘学子而言,"干净、效率、诚信"这三字不再适用予孩子,所以他们被迫不得参与第58届国庆庆典。
林冠英