Press Statement By Pennag Chief Minister Lim Guan Eng In Komtar, George Town On 28.10.2013.
The Penang state government welcomes the 2014 Federal Budget's proposal of limiting the purchases of property by foreigners to RM1 million and above to cool down property speculation so that houses remain affordable for middle-income earners. This RM1 million limit announced by Prime Minister Datuk Seri Najib Tun Razak on purchases of properties by foreigners is nothing new to Penang as Penang had implemented this ruling much earlier in 1 July 2012.
Foreigners are only allowed to purchase properties above RM 1 million whereas for landed property on Penang island the limit is RM2 million and above. The Penang state government is proposing additional steps to curb any foreign speculation of property by imposing a levy of 3% on the transacted price of property in Penang by foreigners beginning 2014. Penang State EXCO for housing Jagdeep Singh will hold public consultations by engaging with the stakeholders from REHDA Penang to the Housebuyers Association.
Based the second quarter of 2013, Penang had amongst the lowest property overhang for unsold shops, residential and industrial units in the country. Property overhang is defined as property that remains unsold 9 months after the sales launch. There were only 40 shop units valued at RM 17.11 million unsold, 163 residential units unsold at RM 63.4 million and only 25 industrial lots unsold at RM6.34 million in the second quarter of 2013.(see graph below)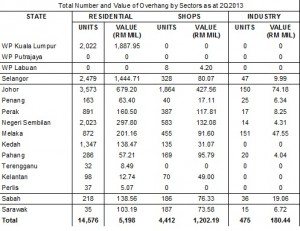 Other cities that may suffer a glut of office space, but Penang is not facing this problem and may even face a shortage. The low property overhang in shops in Malaysia highlights the growing success of building up Penang and fulfilling KPMG's predictions as one of the 31 future global Business Process Outsourcing(BPO) hubs in the world.
The efforts started 2 years ago by the Penang state government in focusing on the services sector,as they employ almost 100% local workers with high paying jobs, is beginning to show results. By leveraging on the existing advantages of Penang as a world-class manufacturing sector, has helped to catalyze the growth of the IT and services industry in Penang.
In order not to affect the industrial development as well as efforts at convergence of the manufacturing, services and public sector there will be exemptions provided for those involved in these sectors. The proposed foreigners' levy shall apply only to properties that are residential, commercial or agricultural in nature. However appeals will be entertained if the foreign buyers are working here for an extended period, contributes towards Penang's industrical development or efforts to be a BPO hub or possesses unique skills required by Malaysia and Penang.
Lim Guan Eng
—–Mandarin Version —-
槟州首席部长林冠英于2013年10月28日在光大乔治市发表声明:
槟州政府提议2014年起向在槟城购置产业的外国人征收成交价3%税务,我们将征询公众意见。
槟州政府欢迎2014年财政预算案提议限制外国人只能购置100万令吉以上的本国产业,以减少市场投机,让中等收入者也能拥有可负担房屋。
首相宣布外国人只能购置100万令吉的产业,在槟城不算新闻,因为槟城已经在2012年7月1日实施这项措施。
在槟城,外国人只能购置100万令吉的产业,以及槟岛200万令吉以上的有地产业。槟州政府提议2014年起,采取额外措施来控制外国人的投机行为,在他们的成交价上附加3%的税务。槟州行政议员加佳日星将举行公众咨询会,以让所有受影响的人包括槟城房地产发展商会及房屋买主协会都能表达看法。
2013年第二季度,槟城过剩的产业包括商店、住屋及工业单位数量为全国最低之一。产业过剩的定义是推介销售后9个月都还没有出售出的产业。槟城只有40个总值1711万令吉的未售商店、163个总值6340万令吉的未售住屋,25个总值634万令吉未售工业单位。(见图表)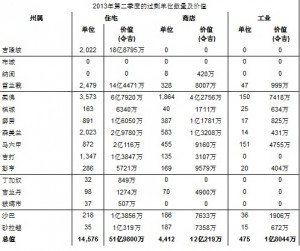 其它城市可能面对办公室供过于求的问题,但是槟城没有这个问题,反而面对短缺。商业地产过剩不多突显了槟城成功建设成长,并验证了毕马威(KPMG)之前所估计槟城将成为的未来31个全球商务流程外包(Business Process Outsourcing)中心之一。
两年前槟州政府开始注重在服务业的努力开始奏效,服务业几乎100%高薪聘请本地员工。我们善用槟城现有的世界级制造业的优势,成功地催化了槟城科技及服务业的成长。
为了不影响工业发展以及制造业、服务业及公共服务的融合,在这些领域工作的人都能豁免。建议中的外国人购屋税只针对住宅、商业或农业。但是,如果有关外国买家在这里延长工作,对槟州的工业发展或商务流程外包或拥有我国及槟城需要的特定技能,他们的上诉将会受理。
林冠英