Press Statement By Pennag Chief Minister Lim Guan Eng In Komtar, George Town On 22.10.2013.
According to THE EDGE MALAYSIA EDITION of 21 OCTOBER 2013, for the second quarter of 2013, Penang had amongst the lowest property overhang for unsold shops, residential and industrial units in the country. There were only 40 shop units valued at RM 17.11 million unsold, 163 residential units unsold at RM 63.4 million and only 25 industrial lots unsold at RM6.34 million in the second quarter of 2013.(see graph below)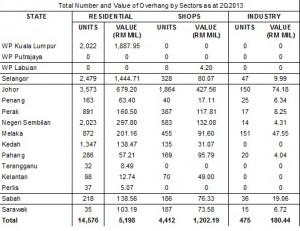 Other cities that may suffer a glut of office space, but Penang is not facing this problem and may even face a shortage. The low property overhang in shops in Malaysia highlights the growing success of building up Penang and fulfilling KPMG's predictions as one of the 31 future global Business Process Outsourcing(BPO) hubs in the world.
The efforts started 2 years ago by the Penang state government in focusing on the services sector,as they employ almost 100% local workers with high paying jobs, is beginning to show results. By leveraging on the existing advantages of Penang as a world-class manufacturing sector, has helped to catalyze the growth of the IT and services industry in Penang.
Today, many Multi-National companies in the electronics industries have made Penang their administrative and manufacturing hub, with Shared Service Outsourcing(SSO) operations in human resources, procurement, data processing, credit transactions, finance and accounting as well as IT in Penang.
To stimulate future growth, the Penang State Government has set aside 17 acres of land in Bayan Baru and Bayan Lepas to be the Penang BPO Hub. Bayan Baru (Phase 1) & Bayan Lepas (Phase 2) are to offer at least 1.7 million sq. ft. of exterior space within the next three to five years. The Penang BPO hub will be Penang's biggest BPO project.
Top companies which recently opened this year include Air Asia which moved their IT, procurement and human resources shared services from Bangkok to Penang. Wilmar, the global edible food giant with revenues of USD 45 billion and market leader in cooking oil in Indonesia, India and China has just opened their shared services hub in Penang.
Global financial services firm Citibank Bhd is partnering InvestPenang to further promote Penang and Malaysia as a strategic centre for treasury management activities. Opening their Citigroup Transaction Services (M) Sdn Bhd (CTSM) in Penang, is the largest regional trade and cash processing centre for the transaction services business. Employing more than 1,000 local employees here to service the interests of Citi's clients in Asia, North America, Europe, Middle East and Africa with an annual volume of 20 million transactions worth USD 5.8 trillion!
All these initiatives is transforming both Penang and Malaysia into an attractive destination for investors to integrate their regional or global businesses to realise better cost and operational efficiency. The setting up of BPO hub will help the State to attract and retain talent in Penang. This is in line with Penang's economic development and investment strategy and I am confident that BPO's success in Penang will also be Penang's and Malaysia's success.
—–BM Version —
Kenyataan Akhbar oleh Ketua Menteri Pulau Pinang Lim Guan Eng di Komtar, George Town Pada 22.10.2013.
Hartanah tidak terjual yang rendah di kedai-kedai di Malaysia menonjolkan kejayaan dan kemajuan Pulau Pinang dan menepati ramalan KPMG bahawa Pulau Pinang salah satu daripada 31 global Business Process Outsourcing (BPO) masa depan di dunia.
Menurut THE EDGE MALAYSIA EDITION pada 21 Oktober 2013, bagi suku kedua 2013, Pulau Pinang mempunyai antara hartanah yang paling rendah tidak terjual untuk unit kedai, unit industri dan kediaman di negara ini. Terdapat hanya 40 unit kedai bernilai RM 17.11 juta tidak terjual,163 unit kediaman tidak terjual bernilai RM 63.4 juta dan hanya 25 lot industri yang tidak terjual bernilai RM6.34 juta pada suku kedua 2013. (Lihat graf di bawah)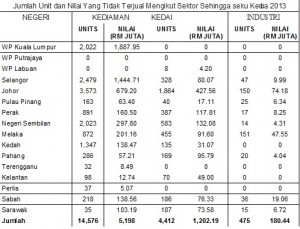 Bandar-bandar lain yang mungkin mengalami lebihan ruang pejabat, tetapi Pulau Pinang tidak menghadapi masalah ini malahan mungkin menghadapi kekurangan. Hartanah tidak terjual yang rendah di kedai-kedai di Malaysia menonjolkan kejayaan dan kemajuan Pulau Pinang dan menepati ramalan KPMG bahawa Pulau Pinang salah satu daripada 31 global Business Process Outsourcing (BPO) masa depan di dunia.
Usaha yang bermula 2 tahun lalu oleh kerajaan negeri Pulau Pinang dalam memberi tumpuan kepada sektor perkhidmatan, kerana mengambil hampir 100% pekerja tempatan dengan bayaran gaji yang lebih tinggi, mula menunjukkan hasil. Dengan memanfaatkan kelebihan yang sedia ada di Pulau Pinang sebagai sektor pembuatan bertaraf dunia, telah membantu untuk menjadi pemangkin kepada pertumbuhan IT dan perkhidmatan industri di Pulau Pinang.
Hari ini, banyak syarikat-syarikat Multi-Nasional dalam industri elektronik telah menjadikan Pulau Pinang hab pentadbiran dan pengeluaran mereka, dengan operasi Shared Service Outsourcing (SSO) dalam sumber manusia, perolehan, pemprosesan data, urus niaga kredit, kewangan dan perakaunan serta IT di Pulau Pinang.
Bagi merangsang pertumbuhan masa depan, Kerajaan Negeri Pulau Pinang telah memperuntukkan 17 ekar tanah di Bayan Baru dan Bayan Lepas untuk menjadi Hub BPO Pulau Pinang. Bayan Baru (Fasa 1) & Bayan Lepas (Fasa 2) menawarkan sekurang-kurangnya 1.7 juta kaki persegi ruang luar dalam tempoh tiga hingga lima tahun akan datang. Hab BPO Pulau Pinang akan menjadi projek BPO terbesar Pulau Pinang.
Syarikat-syarikat terkemuka yang baru dibuka tahun ini termasuk Air Asia yang memindahkan operasi IT, pemerolehan dan perkhidmatan perkongsian sumber manusia mereka dari Bangkok ke Pulau Pinang. Wilmar, gergasi makanan global dengan pendapatan sebanyak US $ 45 bilion dan peneraju pasaran dalam minyak masak di Indonesia, India dan China baru sahaja membuka pusat perkhidmatan perkongsian mereka di Pulau Pinang.
Firma perkhidmatan kewangan global, Citibank Bhd bekerjasama dengan InvestPenang untuk memajukan lagi Pulau Pinang dan Malaysia sebagai pusat strategik untuk aktiviti pengurusan perbendaharaan. Citibank baru membuka Citigroup Transaction Services (M) Sdn Bhd (CTSM) di Pulau Pinang, yang merupakan perdagangan terbesar serantau dan pusat pemprosesan tunai bagi perniagaan perkhidmatan transaksi. Mempunyai lebih daripada 1,000 pekerja tempatan di sini untuk memberi perkhidmatan kepada pelanggan Citi di seluruh Asia, Amerika Utara, Eropah, Timur Tengah dan Afrika dengan jumlah tahunan sebanyak 20 juta urus niaga bernilai USD 5.8 trillion!
Semua inisiatif ini akan mengubah Pulau Pinang dan Malaysia keseluruhannya untuk menjadi destinasi yang menarik bagi pelabur bagi mengintegrasikan perniagaan serantau atau global mereka berikutan kos yang lebih baik dan kecekapan operasi. Penubuhan hab BPO akan membantu negeri ini untuk menarik dan mengekalkan bakat di Pulau Pinang. Ini adalah selaras dengan pembangunan ekonomi Pulau Pinang dan strategi pelaburan dan saya yakin bahawa kejayaan BPO di Pulau Pinang juga akan menjadi kejayaan Pulau Pinang dan kejayaan Malaysia.
LIM GUAN ENG
—–Mandarin Version—
槟州首席部长林冠英于2013年10月22日在光大乔治市发表声明:
商业地产过剩不多突显了槟城成功建设成长,并验证了毕马威(KPMG)之前所估计槟城将成为的未来31个全球商务流程外包(Business Process Outsourcing)中心之一。
根据马来西亚The Edge Malaysia2013年10月21日版周刊,2013年第二季度,槟城过剩的产业包括商店、住屋及工业单位数量为全国最低之一,槟城只有40个总值1711万令吉的未售商店、163个总值6340万令吉的未售住屋,25个总值634万令吉未售工业单位。(见图表)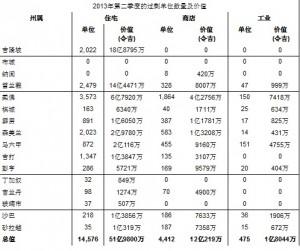 其它城市可能面对办公室供过于求的问题,但是槟城没有这个问题,反而面对短缺。商业地产过剩不多突显了槟城成功建设成长,并验证了毕马威(KPMG)之前所估计槟城将成为的未来31个全球商务流程外包(Business Process Outsourcing)中心之一。
两年前槟州政府开始注重在服务业的努力开始奏效,服务业几乎100%高薪聘请本地员工。我们善用槟城现有的世界级制造业的优势,成功地催化了槟城科技及服务业的成长。
今天,很多电子电气领域的国际公司已经选择槟城成为行政及制造中心,在人力资源、采购、数据生产、赊购交易、金融及会计、电脑科技方面采用共享服务外包(SSO)。
为了刺激未来的成长,槟州政府已经把峇央峇巴及峇六拜17英亩的土地列为槟城商务流程中心。峇央峇鲁(第一阶段)及峇六拜(第二阶段)将在未来3到5年内提供至少170万平方尺外部空间。槟城商务流程外包中心将会是槟城最大的商务流程外包计划。
今年很多型公司亚航将他们的科技、采购及人力资源共享服务从曼谷迁移至槟城。Wilmar这家全球食品业者也在槟城开投共享服务中心,他们的收入达450亿美元,在印尼、印度及中国为食用油的市场龙头企业。
全球金融服务公司花旗银行也与投资槟城合作,进一步推广槟城及马来西亚成为财务管理活动的策略中心。他们在槟城设立花旗交易服务私人有限公司,是交易服务业最大的区域性贸易及现金处理中心。聘请了1000多名本地员工以服务亚洲、北美洲、欧洲、中东及非洲的花旗顾客,每年2000万多宗交易,交易额达5万8000亿美元。
上述措施都是将槟城及马来西亚转型成为投资者的首选地,以结合他们的区域或全球生意,让成本及营运更有效率。商务流程外包中心将协助州政府吸引及留住人才。这也与槟州经济发展及投资策略一致,我有信心,商务流程外包中心若成功设立于槟城,这也是槟城及马来西亚的成功。
林冠英