47th DAP Anniversary Statement By DAP Secretary-General Lim Guan Eng Released In DAP Headquarters, Kuala Lumpur on 18 March 2013
DAP celebrates the 47th anniversary of the birth of our party on 18.3.1966 for the first time in Johor, the critical new frontier that PR must win to bring about Ubah or Change. Inikalilah! It is now or never!
For the first time in our nation's 56-year history, change is possible.
For the first time ever, Malaysians have a real alternative.
For the first time ever, there is now a clear and tangible choice between a regime that is undemocratic, corrupt, racist and bankrupt, versus one that is clean, practices integrity, values freedom and human rights and is proven to be competent, accountable and transparent.
But one thing for sure, change will not come easy. In the last few weeks we have already seen cases of hooliganism by BN thugs, when even the Chief Minister's Office in Penang can be attacked by an unruly mob and Dato' Seri Anwar Ibrahim's bus was stoned and pelted when he was inside the bus, resulting in injury to a few people. This is only the beginning – BN's desperate tricks will only get worse.
DAP and PR's biggest challenge is still electoral fraud by BN and biasedness by a partisan Election Comission in the coming general elections. The electoral rolls are still not cleaned up with the astonishing 28% unidentifiable voters or 140,000 unaccounted for voters in Selangor. Is this the 28% "handicap" built in to the electoral process in benefit BN?
Further the constituency delineation is gerrymandered in an undemocratic manner to benefit BN. The smallest parliament seat in Malaysia, P125 Putrajaya, has 15,308 voters as of Quarter 3, 2012 while the largest seat, P109 Kapar, has 142,419 voters. The number of voters in the largest seat is 9 times that of the smallest seat.
In other words, one vote in P125 Putrajaya is roughly equal to 9 votes in P109 Kapar. This is a gross violation of the 'One Man One Vote' principle where one person's vote should have the same weightage and power as another person's vote.
For this reason PR is starting at a disadvantage as we have to win more than our fair share of the popular vote to win 50% of the seats, or else BN will steal the election. The disparity between votes received by BN and seats won by BN at every election is clearly shown below.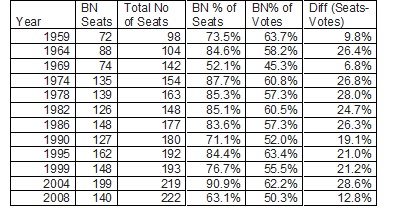 In other words PR has to win more than 51% of the popular votes,not 50% of the votes to win Putrajaya. It is therefore extremely important that we now put aside whatever minor differences we may have and rally united behind our party, and behind the Pakatan Rakyat coalition.
As Mahatma Gandhi once said, "There is enough in this world for everyone's need, but there is not enough in this world for one man's greed." Corruption by BN is deeply entrenched in Malaysia. Whilst making corruption history is amongst the highest priority of PR, the most difficult task is to give our young hope of a brighter future. In other words, the greatest responsibility of Ubah is to both prepare the future for the young and prepare the young for the future
An education system that is available, accessible and affordable must also inculcate a culture of excellence. Instead we have increasing mediocrity with the drop in Malaysia's ranking in the Trends in International Math and Science Study (TIMSS) 2011 from 20th to 26th in the Mathematics and from 21st to 32nd in Science. This confirms the 2009 Programme for International Student Assessment (PISA) that the competency of 15-year olds in Malaysia was 3 years behind the international average.
Malaysians as a nation face a talent cliff that can hamper economic growth and cripple our efforts to transform ourselves into a high-income, knowledge-based developed country. Unless we grow and build human talent, retrain and retain them as well as attract new talent, we face the risk of not just falling behind from new developed economies like Singapore and South Korea but also being overtaken by neighbours like Indonesia and Thailand.
PR offers not just free education but will abandon political connections in favour of choosing the the best and brightest. At the same time, PR will build learning centres to give tuition to academically weak students so that we do not only focus on the best but can create a rising tide of supporting talents of high standards.
To succeed, Malaysia needs to be freed from the shackles on our mind imposed by a BN that refused to let us think. The greatest gift a government can bestow on its population is not cash handouts but knowledge and freedom from fear. Plato said, "We can forgive a child who is afraid of the dark, the real tragedy is when men and women are afraid of the light".
Let us UBAH and Change to shine the light on all four corners of Malaysia!
Lim Guan Eng
—-BM Version —
Kenyataan Media Ulangtahun ke-47 DAP oleh Setiausaha Agung DAP, Lim Guan Eng di Ibu Pejabat DAP, Kuala Lumpur pada 18 Mac 2013.
Tanggungjawab Terbesar UBAH Adalah Untuk Menyediakan Masa Depan Untuk Anak Muda Dan Mempersiapkan Anak Muda Untuk Masa Depan.
DAP meraikan ulang tahun ke-47 parti pada 18 Mac 1966 buat pertama kalinya di Johor, sebuah medan pertempuran baru yang kritikal yang mesti dimenangi PR untuk membawa Per'UBAH'an. Ini kalilah! It is now or never!
Untuk pertama kalinya dalam sejarah 56 tahun negara kita, terdapat peluang untuk perubahan.
Untuk pertama kalinya, rakyat Malaysia mempunyai pilihan yang nyata.
Untuk pertama kalinya, wujud pilihan yang jelas dan ketara di antara rejim yang tidak demokratik, korup, mengamalkan politik perkauman dan bankrap, berbanding alternatifnya yang lebih bersih, mengamalkan integriti, nilai-nilai kebebasan dan hak asasi manusia serta terbukti Cekap, Akauntabel dan Telus.
Tetapi satu perkara yang pasti, perubahan tidak akan datang dengan mudah. Dalam beberapa hari lalu kita telah pun melihat karenah ganas oleh samseng BN, apabila Pejabat Ketua Menteri Pulau Pinang pun boleh diserang oleh gerombolan yang tidak terkawal dan bas Dato' Seri Anwar Ibrahim dibaling dengan batu ketika beliau berada di dalam bas dan menyebabkan kecederaan kepada beberapa orang. Ini adalah hanya permulaan – tindakan terdesak BN akan bertambah buruk.
Cabaran terbesar DAP bersama PR adalah masih lagi wujudnya penyelewengan pilihan raya oleh BN dan sifat tidak adil Suruhanjaya Pilihanraya yang partisan dalam pilihan raya umum akan datang. Daftar pemilih masih tidak dibersihkan. Di Selangor, terdapat hakikat yang mengejutkan bahawa 28% atau 140,000 pengundi baru tidak dapat dikenalpasti. Adakah 28% ini kelebihan yang sengaja diwujudkan dalam proses pilihan raya untuk manfaat BN?
Tambahan pula persempadanan semula kawasan pilihan raya atau 'gerrymandering' dilakukan dengan cara yang tidak demokratik serta memberi manfaat kepada BN. Kawasan Parlimen terkecil di Malaysia, P125 Putrajaya, mempunyai 15,308 pengundi pada Suku ke-3 tahun 2012, manakala kawasan terbesar, P109 Kapar, mempunyai 142,419 pengundi. Bilangan pengundi di kawasan parlimen yang terbesar adalah 9 kali jumlah kawasan parlimen terkecil.
Dalam erti kata lain, satu undi di P125 Putrajaya adalah lebih kurang sama dengan 9 undi di P109 Kapar. Ini merupakan pelanggaran kasar prinsip 'Satu Orang Satu Undi' di mana undi seorang harus mempunyai wajaran yang sama dan kuasa berbanding undi orang lain.
Atas sebab ini PR akan bermula dengan handikap kerana kita perlu memenangi lebih banyak undi popular untuk memenangi 50% kerusi, jika tidak BN akan memenangi pilihan raya. Perbezaan antara undi yang diterima oleh BN dan kerusi yang dimenangi oleh BN pada setiap pilihan raya ditunjukkan di bawah dengan jelas: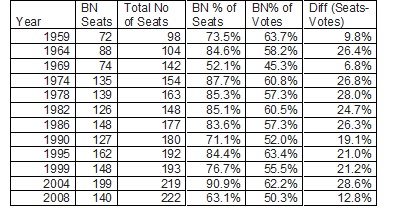 Seperti yang pernah disebutkan Mahatma Gandhi, "Khazanah bumi ini cukup untuk keperluan setiap orang, tetapi tidak akan mencukupi untuk ketamakan walau seorang manusia." Rasuah oleh BN berakar umbi di Malaysia. Meskipun menghapuskan rasuah adalah antara keutamaan tertinggi PR, tugas yang paling sukar adalah untuk memberi harapan masa depan yang lebih cerah untuk anak-anak kita . Dalam kata lain, tanggungjawab terbesar UBAH adalah menyediakan masa depan untuk anak muda dan mempersiapkan anak muda untuk masa depan.
Sebuah sistem pendidikan yang tersedia, mudah didapati dan berpatutan harganya mestilah juga memupuk budaya kecemerlangan. Namun sebaliknya kita hanya berjaya meningkatkan budaya kesederhanaan dengan penurunan kedudukan Malaysia dalam Trends in International Mathematics and Science Study (TIMSS) pada tahun 2011 dari tangga ke-20 turun sehingga 26 dalam Matematik, manakala dari tangga ke-21 jatuh hingga 32 dalam bidang Sains. Ini mengesahkan Program Penilaian Pelajar Antarabangsa (PISA) tahun 2009 bahawa kecekapan pelajar berusia 15 tahun di Malaysia adalah 3 tahun terkebelakang berbanding purata antarabangsa.
Rakyat Malaysia keseluruhannya sebagai sebuah negara sedang berdepan dengan jurang kemerosotan bakat dan tenaga kerja yang boleh menjejaskan pertumbuhan ekonomi dan melumpuhkan usaha untuk berubah menjadi sebuah negara berpendapatan tinggi, dan sebuah negara maju berasaskan pengetahuan. Kecuali dengan membangun dan membina bakat manusia, melatih semula dan mengekalkan mereka serta menarik bakat-bakat baru, kita akan berhadapan risiko untuk bukan sahaja ketinggalan berbanding ekonomi negara maju baru seperti Singapura dan Korea Selatan tetapi juga akan dipintas oleh negara-negara jiran seperti Indonesia dan Thailand.
PR tidak hanya menawarkan pendidikan percuma malah akan mengabaikan perkaitan politik demi memilih yang terbaik dan yang cemerlang. Pada masa yang sama, PR akan membina pusat kecemerlangan untuk memberi tuisyen kepada pelajar lemah akademik supaya kita tidak hanya memberi tumpuan kepada yang terbaik tetapi turut mewujudkan sebuah arus bakat sokongan dengan standard yang tinggi.
Untuk berjaya, Malaysia perlu dibebaskan daripada jerat belenggu minda oleh BN yang enggan membiarkan kita berfikir. Hadiah terbesar yang boleh diberikan kerajaan kepada penduduknya bukanlah pemberian wang tunai tetapi ilmu pengetahuan dan kebebasan daripada ketakutan. Plato pernah menyebut, "Kita boleh memaafkan kanak-kanak yang takut kepada kegelapan, tragedi yang sebenar adalah apabila lelaki dan wanita dewasa takut kepada cahaya".
Mari kita UBAH dan membawa pencerahan kepada semua empat penjuru Malaysia!
Lim Guan Eng
—Mandarin Version —-
民主行动党秘书长林冠英于2013年3月18日在吉隆坡行动党总部发表民主行动党成立47周年纪念献词:
改朝换代,告别腐败的重大任务在于,为年轻一代的未来做准备,为了未来,让年轻一代做好准备。
今天是民主行动党自1966年3月18日创党以来第47周年纪念。我们将在柔佛州庆祝党庆, 这也是我们在柔佛州这个重要的前线州庆祝党庆,这是民联必须赢下的州属,告别贪腐,改朝换代。
这是马来西亚立国56年以来,第一次改朝换代的机会。
这是我国历史上第一次,马来西亚人民有真正的替代选择。
第一次,我们拥有清楚、切实的选择,究竟人民要一个不民主、贪污、种族主义及导致国家破产的政权,还是一个廉洁、重视自由及人权、能干、有公信力及透明的政府。
肯定的是,改朝换代不容易。过去几个星期我们已经看过国阵流氓的下三烂手段,就连槟州首长也无法免于暴徒的攻击,而拿督斯里安华坐在巴士内时也被人抛石头及投掷物品,结果数人被砸伤。这只是开始,国阵的阴招将会越来越多。
来届大选,民主行动党及民联最大的挑战依然是选举舞弊, 这是国阵及具政治偏见的选委会所导致的。我们的选民册还没有清理干净,在雪州。选民册上还有28%或14万名无法辩识的选民,这28%选民是不是加插进去选举过程,以让国阵得利?
还有,选区划分也是在不民主的情况下,为己党利益擅改选区,让国阵得利。 截至2012年第三季,我国最小的国会选区是P125布城,选民人数为1万5308人,而最大的国会选区为P109加埔区,14万2419人。最大选区的选民人数是最小选区的9倍。
换句话说,一个布城国会选民相等于加埔9个选民。这严重违反"一人一票"原则,每一个人的票应该同等重要。
因此,民联已经输在起跑点上,我们还得赢得更多选票,才能获得超过50% 的议席,否则,国会就会窃取选举。每一次的大选中,国阵所获选票及议席的差距如下: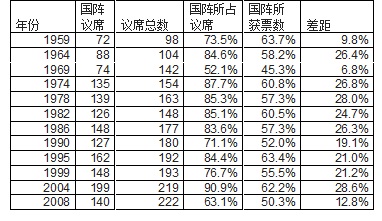 换句话说,民联要入主布城,必须获得多过51%的多数票,而不是50%的选票。因此,在这个时候,我们应该放下任何不重要的歧见和差异,在党内、民联团结一致,迎战大选。
印席圣雄甘地说过:"这个世界足以满足每个人的需要,但不足以填满每个人的欲望。"国阵的贪腐已经根深蒂固。我们要告别腐败,最困难的任务就是让我们的年轻一代对光明的前程充满希望。换句话说,改朝换代,告别腐败的重大任务在于,为年轻一代的未来做准备,为未来让年轻一代做好准备。
一个可近、可用、可获得的教育制度也能培育追求卓越的文化。我国数理科水平下跌,显示出我们越来越平庸。2011年国际数理水平评估(TIMSS)中,我国数学成绩排位从20名滑落26名,理科成绩从21名滑落至32名。这确定了2009年国际学生评估(PISA)的结果,那就是我国15岁的学生水平比国际水平落后3年。
马来西亚面对的"人才悬崖",足以摧毁我们的经济成长及转型成为高收入、知识型经济体的努力。除非我们栽培人才、再培训及留住他们,并且吸引新人才,我们面对的风险不只是落后于发达经济体如新加坡、韩国,我们也将落后于印尼及泰国。
民联不只将提供免费教育,我们也将摒弃政治联系,选择最好的、最优秀的。同时,民联也会兴建学习中心,协助学业成绩较弱的学生,让我们不只注重最好的学生,也创造一个支持人才进步提升的环境。
如果要成功,马来西亚必须免于国阵加诸于我们的思想镣铐,我们必须思考。一个政府能给予它的国民最好的礼物,不是现金,而是知识及免于恐惧。柏拉图说,"孩子怕黑暗是情有可原的,人生真正的悲剧是成人害怕光明。"
让我们改朝换代,让改变的光明照亮全马各个角落!
林冠英