Press Statement By DAP Secretary-General And MP For Bagan Lim Guan Eng In Penang On 24 May 2011.
Despite the Government Transformation Programme (GTP) and Economic Transformation Programme (ETP), Malaysia has dropped six places from 10th in 2010 to 16th in the Institute of Management Development's (IMD) 2011 World Competitive Rankings. This downtrend is in tandem with the findings of the World Economic Forum's (WEF) Global Competitiveness Index for 2010-2011 as well, which saw Malaysia slipping from 24th (down from 21st the year before) to 26th now.
According to the Switzerland-based Institute of Management Development (IMD), Malaysia had performed badly in two out of the four main factors of the survey – government efficiency and business efficiency, falling from 9th and 4th in 2010 to 17th and 14th respectively in 2011. The other two factors are economic performance and infrastructure.
On the other hand WEF pointed out that Malaysia's lack of competitiveness stems from poor institutional capacity, with two of the most telling problems listed as 'irregular payments and bribes' as well as the lack of 'judicial independence'. Clearly WEF is addressing the problem of corruption and cronyism just as the IMD report listed business efficacy and government efficiency hampered lack of open tenders and transparency.
Malaysia is seen to be running a budget deficit that is fast spiralling out of control in proportion to its growth. Household debt to gross domestic product (GDP) is highest in Asia after Japan, from approximately 64% in 2008 to close to 76% or RM581 billion in 2010. In other words, our budget balance and debt control is deemed to be unsustainable in the long run.
Other factors include poor infrastructure, education (low secondary and tertiary enrolment rate) and labour market efficiency. It would be safe to say that we are displaying the classic case of an export-led low wages low productivity economy that is struggling to come to terms with today's realities.
Whilst subsidies cuts may improve competitiveness, DAP questions the rationale, logic and justice of subsidy cuts for small items like sugar and diesel that saves hundreds of millions but not big-ticket items like gas subsidies to independent power producers (IPPs) and the commercial power sector that costs RM 19 billion a year. In other words, if the Prime Minister claims that subsidies are akin to 'opium', then why not first remove the 'Big Opium' in the form of subsidies to independent power producers (IPPs) before removing the 'Small Opium' of subsidies in sugar, diesel and petrol which hurt the masses directly.
The Malaysian economy is in a state of stagnation. Just like other post-manufacturing economies, we are struggling to overcome the effects of inflation due to a very low growth in income levels. The purchasing power of the average Malaysian is weakening by the day, being now only 40% of the average New Yorker.
Kuala Lumpur residents have to work four times more than New Yorkers in order to afford 1kg of rice, while the working time required to purchase 1kg of bread is double what a New Yorker has to put in.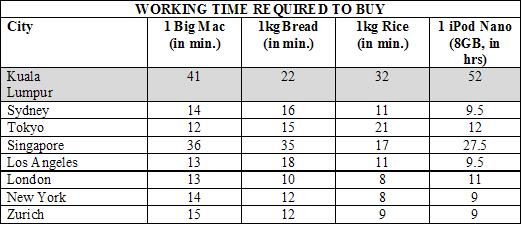 Source: UBS AG / TMI
Unless the BN government address the problems of rampant corruption, rising inflation, stagnant income growth and socio-economic injustice facing Malaysians today, the proposed subsidy cuts in June 2011 will only worsen these problems with subsidy cuts that targets the poor but spares the rich companies.
LIM GUAN ENG
———- BM Translation ————-
Kenyataan Akhbar oleh Setiausaha Agung DAP dan Ahli Parlimen Bagan, Lim Guan Eng pada 24 Mei 2011 di Pulau Pinang.
Walaupun mempunyai Program Transformasi Kerajaan (GTP) dan Program Transformasi Ekonomi (ETP), kedudukan daya saing Malaysia di bawah Institut Pembangunan Pengurusan (IMD) dalam daya saing antarabangsa 2011 telah jatuh enam anak tangga dari tangga ke -10 pada tahun 2010 ke tangga ke- 16 pada tahun 2011. Perkara ini turut disokong dengan pendedahan laporan World Economic Forum (WEF) Global Competitiveness Index (GCI) untuk tahun 2010- 2011 di mana menunjukkan Malaysia kini jatuh dari tangga 24 (berada di tangga ke 21 untuk tahun sebelumnya) ke tangga 26.
Menurut Institut Pembangunan Pengurusan (IMD) di Switzerland, Malaysia menunjukkan prestasi yang teruk dalam 2 daripada 4 faktor utama kajian – kecekapan kerajaan dan kecekapan pengurusan, jatuh dari tangga ke 9 dan tangga ke 4 pada tahun 2010 ke tangga 17 dan tangga 14 masing-masing pada tahun 2011. Dua faktor lain adalah prestasi ekonomi dan infrastruktur.
Selain itu, WEF menunjukkan bahawa Malaysia mempunyai kurang daya saing di kalangan kapasiti masyarakat miskin, dengan dua permasalahan utama mengatakan bahawa sistem pembayaran yang tidak teratur dan rasuah serta kurangnya kebebasan dalam sistem penghakiman. Jelas sekali WEF merujuk kepada masalah rasuah dan kroni seperti mana yang dilaporkan oleh IMD bahawa kecekapan pengurusan dan kecekapan kerajaan terjejas kerana kurangnya sistem tender terbuka dan ketelusan.
Malaysia dilihat mempunyai perbelanjaan defisit di luar kawalan yang cepat dan tidak berkadar terus dengan pertumbuhan. Hutang isi rumah terhadap Keluaran Dalam Negara Kasar (KDNK) adalah yang tertinggi di Asia selepas Jepun- daripada 64 peratus pada tahun 2009 kepada hampir 76 peratus atau RM581 bilion pada tahun 2010. Dalam erti kata lain, anggaran perbelanjaan dan kawalan hutang dianggap tidak berterusan untuk jangka masa panjang.
Faktor lain termasuklah infrastruktur yang lemah, pendidikan ( rendah dan kemasukan ke peringkat menengah ) dan kurangnya kecekapan dalam pasaran tenaga kerja. Ia boleh diungkap bahawa kita berdepan dengan kes yang klasik- ekonomi rendah, produktivi rendah di mana kita berjuang untuk menghadapi realiti hidup ketika ini,
Berhubung dengan pemotongan subsidi dalam usaha untuk meningkatkan daya saing, DAP mempersoalkan tentang rasional, logik dan keadilan daripada pemotongan subsidi untuk barangan kecil seperti gula dan diesel yang boleh menjimatkan beratus- ratus juta tetapi bukan barangan besar seperti pemberian subsidi gas kepada penjana tenaga bebas (IPP) dan sektor kuasa komersial yang menelan perbelanjaan sebanyak RM19 bilion setahun. Dalam erti kata lain, sekiranya Perdana Menteri mengatakan bahawa subsidi adalah seperti 'candu', jadi kenapa tidak menghapuskan 'candu besar' iaitu pemberian subsidi kepada IPP sebelum menghapuskan 'candu kecil' melibatkan subsidi gula, petrol dan diesel yang nyata telah membebankan masyarakat umum secara langsung.
Ekonomi Malaysia berada dalam stagna (tidak baik). Sama seperti ekonomi sektor pasca pembuatan, kita berusaha keras untuk mengatasi kesan inflasi akibat pertumbuhan yang sangat rendah dari segi pendapatan. Keupayaan membeli rakyat Malaysia semakin lemah dari hari ke hari, di mana sekarang hanya 40 peratus dari keseluruhan penduduk New York.
Warga Kuala Lumpur harus bekerja empat kali melebihi warga New York untuk mampu membeli 1kilogram beras, dan masa bekerja yang diperlukan untuk membeli 1kilogram roti adalah dua kali ganda daripada apa yang warga New York perlu lakukan.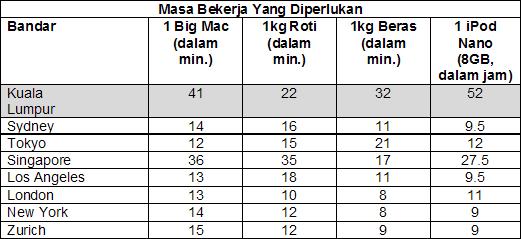 Sumber: UBS AG / TMI
Melainkan jika Kerajaan BN mengatasi masalah rasuah yang bermaharajalela, peningkatan inflasi, memperbaiki pertumbuhan pendapatan dan ketidakadilan sosio-ekonomi yang dihadapi rakyat Malaysia hari ini, pemotongan subsidi yang dicadangkan pada Jun 2011 hanya akan memburukkan lagi masalah di mana pemotongan subsidi ini akan menjadikan golongan miskin sebagai sasaran tetapi menyelamatkan syarikat- syarikat kaya.
———– Chinese Translation —————-
民主行动党秘书长兼峇眼区国会议员林冠英于2011年5月24日在槟城发表声明:
尽管我国推出政府转型计划(GTP)及经济转型计划(ETP),马来西亚还是在洛桑国际管理发展学院(IMD)世界竞争排名中,从2010年第10名,滑落到2011年第16名。这项退步的成绩与世界经济论坛(WEF)2010-2011全球竞争力指数的结果一致,有关指数指我国竞争力不断下滑,从之前21名、滑跌到24名、现居26名。
瑞典洛桑国际管理发展学院指出,在四大调查要素中,我国其中两项要素表现逊色:政府效率和商业效率,分别从2010年排名第9、第4,滑落到2011年排名第17、第14。另外两个要素是经济表现和基础建设。
另一方面,世界经济论坛指出马来西亚缺乏竞争力,源自表现不佳的机构能力,最常发生的问题就是"不寻常的支出和贿赂"以及"司法不独立"。很明显地,世界经济论坛点出的问题就是贪污与朋党,正如洛桑国际管理学院所指出,政府效率和商业效率因没有公开招标及透明制度而被拖累。
马来西亚看来一直处于财政赤字,与它的成长相比形成失控的局面。我国的家庭债务占国内生产总值的比率,在亚洲仅次于日本,从2008年64%,增加到2010年76%或5亿8100万令吉。换句话说,我们的预算平衡与债务控制长远来说是不可持续的。
其它要素包括基础建设不佳、教育程度(中学低年级和高等教育入学率)以及劳工市场效率。可以说,我们的市场正是典型的出口导向低工资、低生产率经济,才会出现今天这种窘境。
虽然削减津贴可能可以提升竞争力,行动党却要质问:为什么政府不从那些大笔津贴着手,比如每年给予独立发电厂及商用发电领域的190亿令吉津贴,反而削减像白糖、柴油这种只能省下区区几亿令吉津贴,这算合理、符合逻辑和公正吗?换句话说,如果首相将津贴比喻为"鸦片",那么,在取消老百姓的白糖、柴油、汽油津贴之前,为何不首先撤除像独立发电厂津贴的"大鸦片"?
马来西亚的经济正停滞不前。与其它后制造业经济体一样,我们正在挣扎克服通货膨胀的影响,因为我们的薪水起幅很小。国人的购买能力越来越差,只是纽约人的40%。
吉隆坡的居民必须比纽约人多付出四倍的努力,来换取1公斤白米;在工作时间 方面,也要比纽约人多劳动双倍的时间,才能买到1公斤的面包。
除非国阵政府正视国人面对的贪污、通货膨胀、薪金没有调升、社会经济不公义问题,否则,2011年6月起削减津贴的做法只会让上述问题恶化,最后苦的是贫穷老百姓、乐的是富有的公司企业。
林冠英