In this holy Easter celebration to mark the crucifixion of Jesus Christ and the Lord Jesus resurrection, is also an occasion to to renew Christians' vows of faith in truth, hope and love. Christians regardless of skin colour have prayed for peace and prosperity. Christians have also prayed for wisdom and compassion in our leaders. Most important of all Christians pray for truth to guide Malaysians in our daily affairs.
All religions celebrate these common values of truth, unity in diversity, freedom of choice and peace. We must seek truth from facts and not allow sentiments to be ruled by blind emotion.
Those fanning racial sentiments by accusing DAP of playing racial politics should cease immediately. The results of the 2011 Sarawak Election have proven that the desire and movement for change is not confined to one community alone but spread across the various communities of Sarawak.

The Pakatan Rakyat's success, and the DAP's in particular, would not have been possible without the increase in support from all communities in Sarawak. This is especially evident in semi-rural seats such as Kidurong, Piasau, Batu Kawah and Meradong, all of which were won by the DAP. Even PKR's narrow loss in Senadin exemplifies this point. For a clearer perspective, refer to the table below.


Source: Bridget Welsh/MKini
As Prof Bridget Welsh has stated in her detailed analysis of the election results, increase in Opposition gains is most obvious in mixed constituencies and semi-rural areas. In addition, it would appear that in many areas, the Opposition swing is even more obvious in non-Chinese communities, as the following table illustrates.


Source: Bridget Welsh/MKini
However, it is important to note that the swing is not uniform across the state. There are pockets in which the BN managed to achieve swings in their favour. This applies to Chinese-majority seats as well, such as Bawang Assan, in which our candidate lost by an increased margin compared to 2006. This is to be expected in a state as large as Sarawak, and where the divide between Chinese and non-Chinese but more between rural and urban.
Factors such as access to information, local issues and candidate choice played key roles as well. The BN was able to mitigate their losses by replacing many unwanted incumbents with new faces. However, as the results have shown, there was not enough effort put in. Many of the old guard were shown the exit, most notably Deputy Chief Minister Tan Sri Dr George Chan.
Prof Bridget's hypothesis is supported by Dr Ong Kian Ming's analysis, which shows that 23 non-Muslim Bumiputra-majority seats experienced an increase in support for the Opposition. Again, while this pattern did not propagate itself across the board, the level of shift is enough to concur with Prof Bridget's view that the Ibans, Bidayuhs and in particular the Orang Ulus, have indeed moved towards Pakatan Rakyat.
In addition, it would also appear that our Pakatan Rakyat coalition managed to increase gains in 13 Malay/Melanau-majority seats, as compared to gains in 8 seats for the BN. According to Dr Ong, this would not have been possible without an increase in Bumiputra support for the Opposition.
In other words, if there is any generalisation of the Sarawak general elections is to be done it should not be based on demographic trends based on race but geographical trends based on location. PR won more votes or more seats because PR won the urban votes regardless whether they were Chinese, Dayak or Bidayuh. BN managed to retain their seats because they still retained or did not lose sufficient rural support whether they were Chinese, Dayak or Bidayuh.
Hence, those trying to twist the result into a racial issue are acting irresponsibly. What is crystal clear is that the voter rejection of Barisan Nasional has less to do with racial considerations but more to do with the issues afflicting them. Sarawakians have declared in a loud voice that they have had enough of Chief Minister Tan Sri Abdul Taib Mahmud and his brand of monopolistic politics. They have rejected his brother-in-law George Chan and by voting in 15 Pakatan Rakyat assemblymen, they have sent a clear signal that Taib must leave immediately.
The results also mean that Sarawak is no longer BN's 'fixed deposit'. The shift in voting pattern not only in urban areas, but also in semi-rural and rural areas such as Ba'kelalan and Krian is proof that there is widespread discontentment with the BN Government.
The rakyat of Sarawak are tired of the widespread abuse of power, corruption, cronyism and lack of infrastructural development while the political elite manage to accumulate massive wealth for themselves. If Taib Mahmud still does not go now, then the swing towards PR will be more pronounced in the coming parliamentary general elections.
Press Statement By DAP Secretary-General And MP For Bagan Lim Guan Eng In Kuala Lumpur On 23.4.2011.
——
民主行动党秘书长兼巴眼区国会议员林冠英于2011年4月23日在吉隆坡发表声明:
如果要概括砂州选举,那不应该以人口统计、也不是以种族为根基,而是地域性的地理趋势。
这是纪念耶稣基督被钉死在十字架上以及复活的神圣日子,也是一个重订基督徒对真理、希望及博爱的誓约的场合。不论什么肤色的基督徒都祷告世界和平及昌盛。基督徒也祈祷我们的领袖拥有智慧及怜悯之心。最重要的是,基督徒祈祷全民每天都得到真理的指引。
所有的宗教所提倡普世价值观:真理、多元团结、选择的自由及和平。我们必须找出真相,不要让感情被盲目的情绪凌驾。
那些指责民主行动党玩弄种族情绪的煽动性种族情绪应该马上停止。2011年砂州选举成绩已经证明不只一个社群渴望求变及要改变,而是整个砂州各个社群的共同愿望。
要不是砂州各个社群的支持率上升,民联,特别是行动党不可能取得成功。特别是在半城乡区如基杜弄、卑尔骚、石角及马拉端,这些都是行动党胜出的议席。就连公正党在史纳汀区微差败阵也可以证明这一点。下表可以说明:


资料来源: Bridget Welsh/当今大马
正如Bridget Welsh教授在她的选举分析中指出,在野党在混合选区及半城乡区取得的支持率明显地增加。很多地区,非华裔社群的反风也更加明显,见表如下: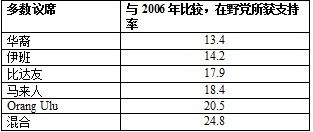 资料来源: Bridget Welsh/当今大马
但是,我们要注意,反风并没有在全砂吹起,国阵依然在一些地区保住支持度。这种情况也出现在华裔人口多数地区,例如:巴旺阿山,我们的候选人比2006年输得更多。这种情况在砂拉越这样大的州属是正常的,存在着华人区或非华人区的分割,而更多的是乡区和城区的分割。
其它因素如资讯的获得、地方议题及候选人的选择也扮演重要角色。 国阵以新面孔来取代许多已经被人民厌弃的议员,从而减轻了他们的失败程度。但是,也有很多老将落马,最明显就是砂州副首长丹斯里陈康南。
Bridget教授的假设获得王建明博士的分析支持, 他指出有23个非回教土著多数的议席对在野党的支持度增加。同样地,这种情况也不能一概而论,但是这种反风已经与Bridget教授的看法一致,后者认为伊班人、比达友人及Orang Ulus的支持率已经转向民联。
同样的,民联也在13年马来人/马拉诺占多数的选区获得更高的支持度,国阵只在8个议席的支持率增加。王建明博士指出,如果不是因为土著对在野党的支持率增加,上述情况根本不可能发生。
换句话说,如果要概括砂州选举,那不应该以人口统计为根基,也不是以种族为根基,而是地域性的地理趋势。民联获得更多选票及更多议席,是因为民联获得乡区人民的支持,不论他们是华人、达雅人或是比达友人。国阵成功地保住议席,因为他们还保持或没有失去足够的乡区支持率,不论他们是华人、达雅人还是比达友人。
因此,那些企图将砂州选举成绩变成种族课题的人士是不负责任的。很显然地,选民唾弃国阵,并不是因为种族考量,而是因为那些影响他们的议题。砂州人民已经大声地表达出他们受够了砂州首长丹斯里阿都泰益玛目及他的垄断政治。他们也拒绝了泰益的妹夫陈康南,因此他们投选了15名民联代议士,他们已经发出明确的讯息,那就是泰益必须马上下台。
选举成绩证明砂州已经不再是国阵的"定期存款"。投票趋势的改变不只发生在城市地区,也同样发生在半城乡区及乡区,例如:峇加拉兰及克瑞案区,这些都证明人民普遍上不满国阵政府。
砂州人民已经厌倦国阵政府滥权、腐败、朋党及基建不完善,但是政治精英却不停地为本身积累财富的局面。如果泰益玛目现在还不下台,那么人民肯定将会在来届的全国大选更加明确地表态支持民联。