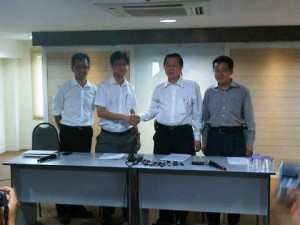 Sukacita saya mengumumkan perlantikan Zairil Khir Johari sebagai Setiausaha Politik saya selaku Setiausaha Agung parti DAP. Perlantikan ini akan berkuatkuasa dengan serta merta.
Tugas Zairil adalah untuk membantu saya dalam urusan politik baik dalam parti mahupun pada peringkat kebangsaan. Beliau akan berpusat di Sekretariat DAP di Kuala Lumpur.
Zairil mempunyai latar belakang dalam pelbagai bidang. Beliau berkelulusan Sarjana dalam Pengajian Antarabangsa dan Diplomasi daripada School of Oriental and African Studies, University of London dan juga Sarjana Muda dalam Kejuruteraan Sistem Maklumat. Beliau juga merupakan usahawan dalam industri cokolat tempatan, di mana beliau telah memperkenalkan teknologi percetakan penuh warna di atas cokolat yang pertama di Malaysia.
Saya yakin dengan pengalamannya yang luas dan pelbagai, Zairil akan memberi sumbangan yang positif kepada parti dalam perjuangan kita untuk menongkah arus demi mencapai matlamat kenegaraan yang adil dan saksama untuk setiap warga Malaysia.