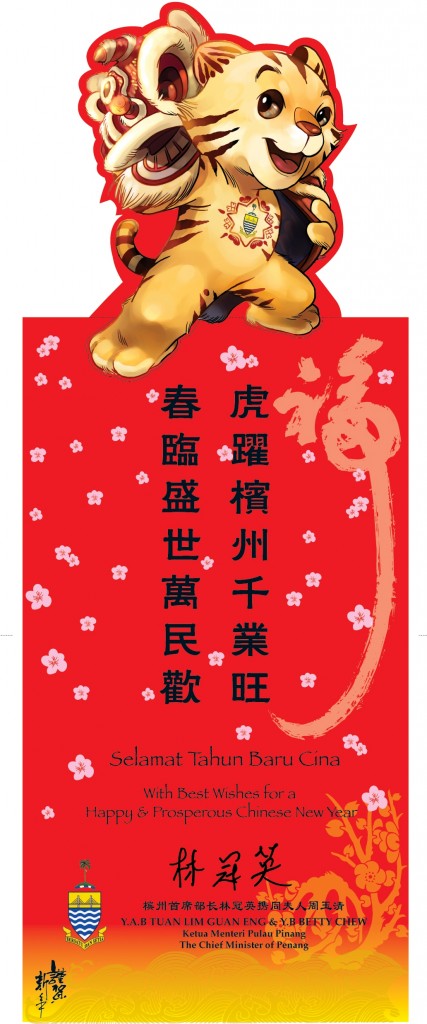 CAT Governance Especially In Education, Economy And Social Welfare Will Determine The Success Of Penang's Efforts To Transform Itself Into An International City For All.
The Penang Pakatan Rakyat state government wishes all Penangnites a Happy Chinese New Year in the Year of the Tiger. Just as a tiger is part of the cat family, Penang PR government has adopted the CAT philosophy of Competency, Accountability and Transparency. CAT is an integrity and performance-based mechanism to drive the identified sectors of education, economy and social welfare, which will determine the success of transforming Penang into an international city for all.
To establish a clean government, the Penang state government is willing to pay any price including losing friends and attracting more foes. We will not compromise to so-called friends with selfish private interests that want to awards tens of millions of ringgit of contract to a RM 2 company or want special favours over a shophouse. The promise that the Penang state government will be clean must be kept.
We want to build a caring society. Penang is proud to be the first state in Malaysia that wipes out hard-core poverty by ensuring that every family will get at least RM 500 a month. We will appreciate the contributions of senior citizens by giving every Penangnite above 60 years old, RM 100 every year.
We seek to unite, build, learn and share the fruits of our success. Let us unite around our common values of peace, compassion. We should not allow ourselves to be divided by the colour of our skin, the gods we pray or our social status. The content of our character is more important than the colour of our skin. Rule of law applies to everyone.
Let us build a future based on institutions that respect democracy, freedom, justice, truth, common welfare and moral values. We must not permit the extremist forces of hate, lies and violence to destroy the religious and social harmony as well as cultural diversity built up over 200 hundred years. It is this respect for diversity and individual dignity that won George Town the UNESCO World Heritage status by UNESCO on 7 July 2008.
Let us continue to learn and share knowledge to further develop human capital. Penang's economic progress will be determined by the energy, enterprise and expertise of our people. We have faith in the people of Penang to establish a good government. A government can only be as good as its people. If the people is good, the government must be good. If there is no good governance, then the fault lies not with the people but with the government.
Confucious said that "a cruel government is even more fearsome than a ferocious tiger". Penang Let us prove that the Penang state government is a friendly "Menang CAT" government that is people-centric with the 3Es of enabling the people with knowledge and educational skills, empower the people with rights, freedoms and responsibilities and enrich the people by allowing them to share in the economic fruits of success.