Introduction
UMNO and Barisan Nasional have been making various false accusations against the Penang state government and Chief Minister Lim Guan Eng over the sale of Taman Manggis land and the Chief Minister's house. Through the BN-controlled mainstream media, the state government and the CM have been continuously attacked with false accusations. The following is the true story behind the issue.
Background of Taman Manggis Land
Taman Manggis land is located at the junction of Jalan Zainal Abidin and Jalan Burmah in George Town, Penang. According to a 2001 layout plan submitted by the National Housing Department (under the Housing Ministry) Taman Manggis was designated "for future development". A declassified Penang state EXCO minutes in 2005 shows that the BN state government had wanted to tender out the land to private developers for mixed-development projects with shop houses and government quarters.
Another EXCO minutes in 2007 shows that the BN state government rejected the federal government's application to build public housing in Taman Manggis.
In 2010, Kuala Lumpur International Dental Centre (KLIDC) had purchased the 1-acre land which was earmarked as "future development" via open tender to build a hospital to promote medical tourism.
For public and affordable housing, the Penang state government has allocated another 11-acre piece of land in Jalan S.P. Chelliah.
Open tender means awarding to the company that paid the highest price per square foot. KLIDC was the highest bidder in the open tender exercise.
The Penang State Tender Board that granted the bid to KLIDC is chaired by the Penang State Secretary. The Penang Chief Minister is not a member of the Tender Board.
Accusation by BN against the Penang state government on the Taman Manggis land sale is not new. In 2012, Penang UMNO Youth Chief Shaik Hussein Mydin had accused Chief Minister Lim Guan Eng of corrupt practices in relation to the sale of Taman Manggis land to KLIDC, but he later apologised before a High Court Judicial Commissioner in his chambers and withdrew the accusation against Lim Guan Eng in open court.
Background of Lim Guan Eng's Bungalow House
1) In 2008, Phang Li Koon bought a bungalow house built in the 80s at No. 25, Pinhorn Road, Penang for RM 2.5 million.
2) On 1 July 2009, a 3-year tenancy agreement was entered with Chief Minister Lim Guan Eng and signed at RM5,000 rental per month. The tenure was later extended for another 3 years to 30 June 2015.
3) Because the renting of her house to Lim Guan Eng had resulted in BN and BN-friendly NGOs making false allegations against Phang, it had caused her undue stress. Thus, in early 2012, she gave a verbal agreement to CM's wife, Betty Chew to sell them the house at RM2.8 million. Betty Chew then verbally requested Phang to give her more time to which Phang agreed.
4) In 2014, Lim Guan Eng and Phang executed an agreement dated 23 June 2014 whereby she agreed to grant him a 5-year option tenure to purchase the said property at RM2.8 million with a deposit of RM100,000.
5) Shortly before the extension tenancy expired on 30 June 2015, Phang decided to dispose off the property for good based on the understanding pursuant to the Option Agreement in 2014 pertaining to the agreed sale price of RM2.8 million. Lim financed the purchase through a bank loan of RM2.1 million and RM700,000 cash down payment.
6) Phang felt uneasy about the demonstrations and funeral rites held in front of the house by pro-BN NGOs as well as Molotov cocktail thrown inside. The sale & purchase agreement was signed on 28 July 2015. The valuation for stamp duty by the federal government was for 27 August 2015 and was set at RM4.27 million.
7) There was a claim that the Chief Minister said he did not know the value of his house. That was taken out of context. The Chief Minister was asked what he thought of an allegation by UMNO that his house was worth RM6.5 million. It was in response to that question that he said he did not know.
In Phang's statutory declaration dated 22 March 2016, she emphasised that she was not pressured or forced by the CM or any party to sell her house at RM2.8 million, a price she agreed to in 2012 and subsequently confirmed in the option agreement in 2014. She sold it at her own free will on a willing buyer and willing seller basis. There was no special benefit gained by her for selling the house to him.
False accusation 1
On 17 March 2016, UMNO MP for Tasek Gelugor, Shabudin Yahya accused in Parliament that Lim Guan Eng had bought his house cheaply and this was connected to the sale of government land in Taman Manggis to KLIDC.
Facts:
Phang Li Koon has never been a shareholder nor a director of KLIDC. Her companies are not subsidiaries of KLIDC and KLIDC is not a subsidiary of her companies. Phang through a statutory declaration dated 22 March 2016 stated very clearly that she is "not a director nor shareholder of KLIDC……also not involved in the management of the company."
False Accusation 2:
Gerakan claimed that Taman Manggis land was sold cheap at RM11 million and the land could easily fetch RM22.4 million.
Facts:
The Taman Manggis land was sold to KLIDC in 2010 by open tender for RM11.5 million. Two years later, in 2012, Gerakan claimed that the price was RM22.4 million and agreed to buy at that price. Gerakan created a "special purpose vehicle", Taman Manggis Phase Two Sdn. Bhd which it claimed had the RM22.4 million from unnamed sources to purchase the said land.
The company then paid 1% earnest deposit of RM224,000.00 to the state government but finally could not raise the 99% balance of the purchase price to pay the remainder RM22 million. The RM224,000.00 deposit paid by the Gerakan-owned company was forfeited by Penang state government at the end of 2012.
So far no one knows what happened to the RM22 million which Gerakan claimed to have raised for the purchase.
False Accusation 3
Now in 2016, Gerakan claimed that the Taman Manggis land was worth RM45.3 million in 2010 based on private valuation comparisons and that the government lost RM 33.8 million from selling the land at only RM 11.5 million.
Facts:
The federal government's Valuation Department in 2009 valued the Taman Manggis land at RM 8.5 million. It is impossible for the value of the land to increase by 500% in just one year from RM 8.5 million to RM 45.3 million in 2010.
If Gerakan doubts the federal government's valuation then they should question the federal government instead of targeting the state government.
However, the best objective test of valuation is by open tenders. Unlike the federal government that does not practice open tenders, Taman Manggis was sold by open tender to the highest bid, which was RM 11.5 million.
False Accusation 4
The previous BN state government accused the present state government of having sold the land that was planned for low cost housing (PPR) and why the land can be used for hospital but not for PPR.
Facts:
One of the earliest documents is a plan by the National Housing Department (Jabatan Perumahan Negara) in 2001 which marked the Taman Manggis land as "Future development". In other words, there was no specific low-cost PPR project planned.
However, minutes of Penang State EXCO meeting on 28 September 2005 shows that the BN state government wanted the land tendered out to private developers for a mixed development project with shop houses and government quarters.
According to the 2005 EXCO minutes, the then EXCO from Gerakan, Teng Chang Yeow proposed that the Taman Manggis land be allocated for a mixed development project with "shop houses and government quarters". The Chief Minister at that time, Koh Tsu Koon agreed and called for the land to be tendered out to private developers so that the state government did not have to bear the high construction cost.
Finally, on 28 March 2007, during an EXCO meeting, the BN state government officially rejected the federal government's application to build public housing in Taman Manggis.
The density for commercial development is always higher compared to housing, not just in Penang but throughout Malaysia. Former federal Minister for Housing and Local Government Chor Chee Heung said the minimum size of land for public housing should be at least 2 acres. Hence, it is normal that commercial development such as hospitals enjoy higher density and height limit not available to housing schemes.
False Accusation 5
UMNO/BN claimed that the DAP-led state government has neglected building public housing in Taman Manggis.
Facts:
There was no plan for public housing in the 1-acre Taman Manggis land even by the previous BN administration. In 2013, an 11-acre land at Jalan SP Chelliah was provided by the present state government to build 2,093 units of affordable housing (following federal government guidelines). It is about 10 times the size of the Taman Manggis land. Construction started in March 2015 and it is already 20% completed as of March 2016.
The following are the units that will be built in Jalan SP Chelliah:


Under Pakatan Harapan state government, more than three times the number of public housing was built compared to the previous Barisan Nasional state government in Penang.

False Accusation 6
On 23 March 2016, Minister of Urban Wellbeing, Housing and Local Government, Abdul Rahman Dahlan claimed that there is a sub-sale of the Taman Manggis land by KLIDC to "flip" it to a third party for profit.
Facts:
The land search title shows that the land title is still registered to KLIDC. If there is any attempt to sell the land to a third party, KLIDC has to get consent from the state government. Not only was no such consent given, there was no application by KLIDC to the state government.
False Accusation 7
On 5 April 2016 Abdul Rahman Dahlan changed his stance and now says that it was not the Taman Manggis land which was sold to a third party but rather the owner of KLIDC sold his shares in the company to a third party.
Facts:
Companies Commission of Malaysia (CCM) record shows that there is no change in KLIDC shareholding.
False Accusation 8
Abdul Rahman Dahlan also claimed that the state government has changed the Taman Manggis development to 30% hospital and 70% commercial purpose.
Facts:
The land title clearly states the expressed condition as only for development of hospital (66%) and service suites/hotel (34%) to cater for patients and their families, which can only be rented out and not to be sold.
Penang is currently the top medical tourism destination in Malaysia, catering to about 50% of medical tourists in the whole country. According to the federal government, about 1,000 patients a day come to Penang to seek medical treatments. Hence, there is a need to expand medical tourism facilities in the state.
Conclusion
This is clearly an attempt to smear the impeccable reputation and run down the clean administration in Penang which has received praise by the annual Auditor-General Reports for its yearly budget surpluses and reduction in the state debts by 90%. Penang owes the least debt to the federal government, at RM69 million, compared for example, to Pahang's RM2.9 billion. Furthermore, Penang is the only state government in Malaysian history to be praised by Transparency International in 2009 for practicing open tenders.
—– BM Version —
Kisah sebenar tentang penjualan tanah Taman Manggis dan kontroversi rumah banglow
Pengenalan
UMNO dan Barisan Nasional (BN) telah membuat pelbagai tuduhan palsu terhadap kerajaan negeri Pulau Pinang dan Ketua Menteri Lim Guan Eng berhubung penjualan tanah Taman Manggis dan rumah Ketua Menteri. Melalui media arus perdana yang dikawal oleh BN, kerajaan negeri dan Ketua Menteri telah difitnah dan diserang berhabis-habisan.
Berikut adalah cerita sebenar di sebalik isu-isu tersebut.
Latarbelakang isu tanah Taman Manggis
Tanah Taman Manggis terletak di persimpangan Jalan Zainal Abidin dan Jalan Burmah di George Town, Pulau Pinang. Menurut pelan susun atur tahun 2001 yang dikemukakan oleh Jabatan Perumahan Negara (di bawah Kementerian Perumahan) Taman Manggis telah ditandakan sebagai "pembangunan masa depan." Minit Mesyuarat EXCO Negeri Pulau Pinang pada 2005 mendedahkan bahawa kerajaan negeri BN ketika itu mahu menawarkan tanah tersebut kepada pemaju swasta bagi projek pembangunan bercampur untuk membina rumah-rumah kedai dan kuarters kerajaan.
Satu lagi minit Mesyuarat EXCO pada tahun 2007 menunjukkan bahawa permohonan kerajaan persekutuan untuk membina perumahan awam telah ditolak oleh kerajaan negeri BN.
Pada tahun 2010, Kuala Lumpur International Dental Centre (KLIDC) telah membeli tanah seluas satu ekar yang dikenalpasti untuk "pembangunan masa depan" tersebut melalui tender terbuka untuk membina sebuah hospital bagi tujuan menggalakkan pelancongan perubatan di negeri Pulau Pinang.
Bagi tujuan perumahan awam dan mampu milik pula, kerajaan negeri Pulau Pinang telah memperuntukkan sebidang lagi tanah di Jalan S.P. Chelliah yang berkeluasan 11 ekar.
Tender terbuka bermakna tawaran diberi kepada syarikat yang membayar harga tertinggi bagi setiap kaki persegi. KLIDC adalah pembida tertinggi dalam tender terbuka tersebut.
Lembaga Tender Negeri Pulau Pinang yang menganugerahkan bidaan kepada KLIDC pula dipengerusikan oleh Setiausaha Kerajaan Negeri Pulau Pinang. Ketua Menteri Pulau Pinang bukan ahli Lembaga Tender.
Tuduhan oleh BN terhadap kerajaan negeri Pulau Pinang tentang penjualan tanah Taman Manggis bukan baru. Pada tahun 2012, Ketua Pemuda UMNO Pulau Pinang Shaik Hussein Mydin telah menfitnah Ketua Menteri Lim Guan Eng bahawa ada unsur rasuah dalam penjualan tanah Taman Manggis kepada KLIDC. Shaik Hussein Mydin kemudiannya meminta maaf kepada Ketua Menteri di hadapan Pesuruhjaya Kehakiman Mahkamah Tinggi dalam kamar dan menarik balik tuduhan tersebut dalam mahkamah terbuka.
Latarbelakang isu rumah banglow Lim Guan Eng
1) Pada tahun 2008, Phang Li Koon membeli sebuah rumah banglo yang dibina pada awal 1980-an di No. 25, Jalan Pinhorn, Pulau Pinang dengan harga RM 2.5 juta.
2) Pada 1 Julai 2009, satu perjanjian penyewaan 3 tahun dimeterai dengan Ketua Menteri Lim Guan Eng dengan sewa RM5,000 sebulan. Tempoh itu kemudian dilanjutkan selama 3 tahun lagi sehingga 30 Jun 2015.
3) Oleh sebab beliau menyewa rumah kepada Lim Guan Eng, Phang telah menghadapi pelbagai serangan daripada BN dan NGO pro-BN, mengakibatkan tekanan yang tidak wajar terhadap dirinya. Justeru, pada awal 2012, Phang telah memberikan perjanjian lisan kepada isteri Ketua Menteri, Betty Chew untuk menjual rumah tersebut kepada mereka pada nilai RM2.8 juta. Betty Chew ketika itu meminta Phang untuk memberi lebih banyak masa untuk pertimbangan dan Phang setuju.
4) Pada tahun 2014, Lim Guan Eng dan Phang menandatangani perjanjian bertarikh 23 Jun 2014 di mana Phang bersetuju untuk memberi Lim Guan Eng tempoh sewaan opsyen 5 tahun untuk membeli rumah tersebut pada RM2.8 juta dengan deposit sebanyak RM100,000.
5) Sebelum tempoh penyewaan lanjutan tamat pada 30 Jun 2015, Phang membuat keputusan untuk melupuskan hartanah itu berdasarkan persefahaman menurut perjanjian pada tahun 2014 dengan harga yang telah dipersetujui sebanyak RM2.8 juta. Lim telah membeli rumah tersebut dengan pinjaman bank sebanyak RM2.1 juta dan bayaran tunai RM700,00
6) Phang berasa kurang senang hati tentang demonstrasi dan upacara pengkebumian yang dijalankan di depan rumah oleh NGO-NGO pro-BN serta bom api yang dilontarkan ke dalam rumah. Pada 28 Julai 2015, perjanjian jual-beli rumah telah ditandatangani. Penilaian untuk duti setem oleh kerajaan persekutuan pada 27 Ogos 2015 telah menetapkan nilai rumah pada RM4.27 juta.
7) Berkenaan fitnah bahawa Ketua Menteri berkata beliau tidak tahu nilai rumah tersebut, sebenarnya, Ketua Menteri menjawab soalan tentang dakwaan UMNO bahawa rumah tersebut bernilai RM6.5 juta. Beliau menjawab bahawa beliau tidak tahu tentang dakwaan UMNO tersebut.
Dalam akuan berkanun Phang Li Koon bertarikh 22 Mac 2016, beliau menegaskan bahawa beliau tidak dipaksa atau ditekan oleh Ketua Menteri atau mana-mana pihak untuk menjual rumahnya pada nilai RM2.8 juta, iaitu harga yang beliau persetujui pada tahun 2012 dan kemudiannya disahkan dalam perjanjian pada tahun 2014. Beliau menjualnya atas kehendak bebas sendiri atas dasar kesanggupan pembeli dan penjual. Beliau juga tidak mendapat apa-apa habuan luar biasa hasil daripada penjualan rumah tersebut kepada Ketua Menteri.
Fitnah 1
Pada 17 Mac 2016, Ahli Parlimen UMNO Tasek Gelugor, Shabudin Yahaya menuduh di Parlimen bahawa Lim Guan Eng telah membeli rumahnya dengan harga murah dan ini adalah berkaitan dengan penjualan tanah kerajaan di Taman Manggis kepada KLIDC.
Fakta:
Phang Li Koon tidak mempunyai kaitan dengan KLIDC sama ada sebagai pengarah mahupun pemegang saham. Syarikat beliau bukan anak syarikat KLIDC dan KLIDC juga bukan anak syarikat kepada syarikat beliau. Dalam akuan berkanun Phang bertarikh 22 Mac 2016, beliau menyatakan dengan jelas bahawa beliau "bukan pengarah atau pemegang saham KLIDC…juga tidak terlibat dalam pengurusan syarikat tersebut."
Fitnah 2:
Gerakan mendakwa tanah Taman Manggis dijual pada harga murah, RM11 juta sedangkan harga tanah itu boleh mencecah sekurang-kurangnya RM22.4 juta.
Fakta:
Tanah Taman Manggis dijual kepada KLIDC pada tahun 2010 melalui tender terbuka pada harga RM11.5 juta. Dua tahun kemudian, pada tahun 2012, Gerakan mendakwa bahawa harganya adalah RM22.4 juta dan menawar untuk membeli pada harga itu. Gerakan menubuhkan sebuah "syarikat tujuan khas", Taman Manggis Fasa Dua Sdn. Bhd yang didakwa mempunyai RM22.4 juta daripada sumber yang tidak dinamakan untuk membeli tanah tersebut.
Syarikat itu kemudian membayar 1% deposit sebanyak RM224,000.00 kepada kerajaan negeri tetapi akhirnya gagal untuk membayar baki 99% harga belian tersebut sebanyak RM22 juta. RM 224,000.00 deposit yang dibayar oleh syarikat milik Gerakan telah disita oleh kerajaan negeri Pulau Pinang pada akhir tahun 2012.
Sehingga kini tiada siapa yang tahu apa yang telah berlaku kepada RM22 juta yang didakwa oleh Gerakan dikumpulkan oleh mereka bagi tujuan pembelian tanah Taman Manggis.
Fitnah 3
Kini pada tahun 2016, Gerakan pula mendakwa bahawa tanah Taman Manggis bernilai RM45.3 juta pada tahun 2010 berdasarkan perbandingan penilaian swasta dan kerajaan telah kerugian RM33.8 juta daripada penjualan tanah dengan hanya RM11.5 juta.
Fakta
Pada tahun 2009, Jabatan Penilaian kerajaan persekutuan menilai tanah Taman Manggis pada harga RM8.5 juta. Adalah mustahil untuk nilai tanah itu meningkat sebanyak 500% dalam masa satu tahun sahaja daripada RM8.5 juta kepada RM45.3 juta.
Jika Gerakan meragui penilaian kerajaan persekutuan maka mereka harus mempersoalkan kerajaan persekutuan dan bukannya menuduh sebarangan terhadap kerajaan negeri.
Walau bagaimanapun, ujian yang terbaik untuk sesuatu penilaian adalah dengan tender terbuka. Berbeza dengan kerajaan persekutuan yang tidak mengamalkan tender terbuka, tanah Taman Manggis telah dijual melalui tender terbuka kepada tawaran tertinggi, iaitu RM11.5 juta.
Fitnah 4
Kerajaan negeri BN sebelumnya mendakwa kerajaan negeri kini telah menjual tanah yang telah dirancang untuk Projek Perumahan Rakyat (PPR) dan menyoal mengapa tanah tersebut boleh digunakan untuk membina hospital tetapi tidak boleh membina PPR.
Fakta:
Salah satu dokumen yang terawal adalah pelan oleh Jabatan Perumahan Negara pada tahun 2001 yang menandakan tanah Taman Manggis sebagai "pembangunan masa depan". Dalam erti kata lain, tidak ada projek PPR khusus yang telah dirancang untuk tanah tersebut.
Walau bagaimanapun, minit Mesyuarat Exco Pulau Pinang pada 28 September 2005 menunjukkan bahawa kerajaan negeri BN mahukan tanah tersebut ditender kepada pemaju swasta untuk projek pembangunan bercampur bagi membina rumah-rumah kedai dan kuarters Kerajaan.
Menurut minit Mesyuarat EXCO tersebut, Ahli EXCO dari Gerakan, Teng Chang Yeow mencadangkan agar tanah Taman Manggis digunakan untuk projek pembangunan bercampur bagi membina "rumah kedai dan kuarters kerajaan". Ketua Menteri pada masa itu, Koh Tsu Koon bersetuju dan menyaran agar tanah tersebut ditawarkan kepada pemaju swasta supaya kerajaan negeri tidak perlu menanggung kos pembinaan yang tinggi.
Akhirnya, pada 28 Mac 2007, semasa mesyuarat EXCO, kerajaan negeri BN secara rasmi menolak permohonan kerajaan persekutuan untuk membina perumahan awam di Taman Manggis.
Kepadatan untuk pembangunan komersil adalah lebih tinggi berbanding untuk perumahan, bukan sahaja di Pulau Pinang malah di seluruh negara. Bekas Menteri Perumahan dan Kerajaan Tempatan Chor Chee Heung berkata bahawa keluasan minima tanah untuk perumahan awam mestilah sekurang-kurangnya 2 ekar. Justeru, pembangunan komersil seperti hospital boleh dibangunkan di atas tanah yang lebih sempit kerana dibenarkan mempunyai kepadatan serta had ketinggian yang lebih daripada pembangunan jenis perumahan.
Fitnah 5
UMNO / BN mendakwa kerajaan negeri pimpinan DAP telah mengabaikan untuk membina perumahan awam di Taman Manggis.
Fakta:
Tidak ada rancangan untuk perumahan awam di tanah seluas satu ekar Taman Manggis tersebut, walaupun oleh pentadbiran BN dahulu. Pada tahun 2013, sebidang tanah 11 ekar di Jalan SP Chelliah telah diperuntukkan oleh kerajaan negeri sekarang untuk membina 2,093 unit perumahan mampu milik (mengikut garispanduan kerajaan persekutuan
). Keluasan tanah tersebut 10 kali ganda keluasan tanah Taman Manggis. Pembinaan telah bermula sejak Mac 2015 dan setakat Mac 2016, ia sudahpun siap 20%.
Berikut merupakan unit-unit perumahan yang akan dibina di Jalan SP Chelliah: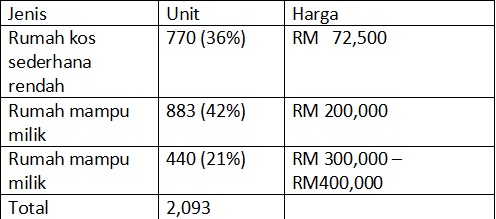 Kerajaan negeri Pakatan Harapan telah membina lebih tiga kali ganda jumlah perumahan awam berbanding kerajaan negeri Barisan Nasional sebelum ini:


Fitnah 6
Pada 23 Mac 2016, Menteri Kesejahteraan Bandar, Perumahan dan Kerajaan Tempatan, Abdul Rahman Dahlan mendakwa bahawa terdapat satu sub-sale tanah Taman Manggis oleh KLIDC kepada pihak ketiga untuk keuntungan segera.
Fakta:
Carian tanah menunjukkan bahawa hakmilik tanah masih berdaftar kepada KLIDC. Jika ada apa-apa percubaan untuk menjual tanah tersebut kepada pihak ketiga, KLIDC perlu mendapatkan kebenaran terlebih dahulu daripada kerajaan negeri. Kerajaan negeri bukan sahaja tidak pernah memberi kebenaran tersebut, malah tiada sebarang permohonan seumpamanya telah dibuat oleh KLIDC kepada kerajaan negeri.
Fitnah 7
Pada 5 April 2016, Abdul Rahman Dahlan telah menukar dakwaan beliau dan kini berkata bahawa yang dijual kepada pihak ketiga bukan tanah Taman Manggis, tetapi pemilik syarikat KLIDC telah menjualkan saham beliau dalam syarikat tersebut kepada pihak ketiga.
Fakta:
Rekod Suruhanjaya Syarikat Malaysia (SSM) menunjukkan bahawa tiada pertukaran pemilikan saham dalam KLIDC.
Fitnah 8
Abdul Rahman Dahlan juga mendakwa bahawa kerajaan negeri telah mengubah pembangunan Taman Manggis kepada 30% hospital dan 70% tujuan komersial.
Fakta:
Syarat nyata hakmilik tanah dengan jelas menyatakan bahawa tanah tersebut hanya boleh dibangunkan untuk tujuan hospital (66%) serta servis suite dan hotel (34%) bagi menampung pesakit dan keluarga mereka.
Pulau Pinang kini merupakan destinasi pelancongan perubatan utama di Malaysia, meliputi lebih kurang 50% daripada pelancong perubatan di seluruh negara. Menurut kerajaan persekutuan, kira-kira 1000 pesakit sehari berkunjung ke Pulau Pinang untuk mendapatkan rawatan perubatan. Oleh itu, ada keperluan untuk mempertingkatkan kemudahan pelancongan perubatan di negeri ini.
Kesimpulan
Kempen fitnah UMNO/BN ini jelas merupakan satu percubaan untuk mencemar reputasi cemerlang pentadbiran bersih kerajaan negeri Pulau Pinang yang telah menerima pujian Laporan Ketua Audit Negara untuk lebihan belanjawan setiap tahun dan pengurangan hutang negeri sebanyak 90%. Hutang Pulau Pinang kepada kerajaan persekutuan, adalah yang terendah, dengan nilai RM69 juta, berbanding, sebagai contoh, Pahang sebanyak RM2.9 billion. Tambahan pula, Pulau Pinang adalah satu-satunya kerajaan negeri dalam sejarah Malaysia yang dipuji oleh Transparency International pada tahun 2009 kerana mengamalkan tender terbuka.
—–Mandarin Version—
山竹园与洋房冲突背后的真相
简介

巫统及国阵在山竹园土地出售及首长私邸作出不少对槟城州政府及首席部长的虚假指控。透过国阵控制的主流媒体,国阵持续以虚假指控攻击州政府及首席部长。请看以下针对这项课题的真相。
山竹园地段的背景
山竹园地段是位于槟城乔治市再纳阿比丁路与车水路交界。根据2001年呈交给当时房屋部国家房屋署所拟的图测山竹园地段是列明"用以未来发展"。解密的2005年槟州行政会议记录显示当时国阵州政府要将该地段招标出售给私人发展商作为店屋与政府员工住宿的综合发展计划。
另一份解密的2007年行政会议记录显示国阵州政府早已经反对联邦政府在山竹园兴建公共组屋。
2010年,州政府为了推广医药旅游兴建医院,公开招标山竹园地段,KLIDC(Kuala Lumpur International Dental Centre)成功获标购得此1英亩的地段。
至于公共组屋及可负担房屋,州政府已经拨出了11英亩位于S.P齐来也的地段兴建。
公开招标意味着透过竞标,参与竞标的公司谁提出每方尺最高的标价将价高者得。KLIDC是公开招标中出价最高的竞标者。
槟城州政府招标委员会主席是槟城州秘书,并由该公开招标委员会颁发获标予KLIDC。槟城州首席部长不是公开招标委员里的成员。
国阵针对山竹园课题指控槟州政府已经不是新鲜事。早在2012年,槟巫青团主席赛胡先麦丁就虚假指控首长在售卖山竹园地段予KLIDC时贪污,但是他较后在高庭道歉并在法庭内收回对林冠英的虚假指控。
林冠英私邸的背景
1) 2008年,彭丽君以250万令吉购得80年代所建的宾鸿路25号独立洋房。
2) 2009年7月1日,她与首长林冠英以每月5000令吉的租金签了3年的租约。接下来他们又延续3年租约至2015年6月30日。
3) 彭丽君因为放租其房屋予首长,已经遭致国阵及亲国阵非政府团体各种虚假指控,让她倍受压力烦不胜烦。因此她于2012年初向首长夫人周玉清提出一项口头协议,愿意以280万令吉售予他们。周玉清则口头要求彭丽君再多给予她多一些时间筹措,也获得彭丽君的同意。
4) 2014年,林冠英与彭丽君执行了志期2014年6月23日的合约,合约允许他在5年内以280万令吉保有购买该产业,并以10万令吉作为订金。
5) 彭丽君对于亲国阵非政府组织一直在这件屋子前示威、送棺材甚至投汽油弹感到非常困扰。于是,在2015年6月30日租约到期前不久,彭丽君决定在基于之前2014年所达至的谅解协议以280万令吉出售她的产业。林冠英则向银行贷款210万令吉并付现70万令吉购下这房屋。
6) 房屋买卖合约于2015年7月28日签署。2015年8月27日联邦政府的买卖印花税估价是427万令吉。
7) 有人指控首长竟然并不知道其房屋估价,这是断章取义的指控。当时首长被问及巫统指控他的房屋价值高达650万令吉有何看法,首长是针对这项问题回答他并不知道巫统所指控高达650万令吉的房价。
彭丽君在2016年3月22日的法定声明中强调她并没有遭到首长或任何一方的压力或逼迫以280万令吉售卖其所拥有的房屋,一项2012年同意并在2014年签署优先购买合约的价格。她是基以愿买愿卖原则,自愿出售。售予首长房屋并没有获得任何特别利益。
虚假指控一
2016年3月17日,巫统打昔牛茹莪区国会议员沙布丁在国会指控林冠英低价购入其房屋是与政府出售山竹园地段给KLIDC有关。
真相:
彭丽君不是也不曾是KLIDC的股东或董事。她的公司也不是KLIDC的子公司,KLIDC也不是她的子公司。彭丽君在她志期2016年3月22日的法定声明中非常清楚说明她"不是KLIDC的董事或股东…更没有参与该公司的管理。"
虚假指控二
民政党宣称山竹园1100万令吉的售价过低,此地段可轻易达到2240万令吉的售价。
真相:
山竹园是于2010年透过公开招标以1150万令吉售予KLIDC。两年后的2012年,民政党宣称该地是2240万令吉并同意以这价钱购买该地。民政党为此设立了一家公司"Taman Manggis Phase Two Sdn Bhd",并宣称已经准备好注资来源不明的2240万令吉,准备购买此地段。
该民政党公司较后缴付了22万4千令吉的1%订金予州政府,但最终他们无法缴付所余2200万令吉的99%余额。民政党所拥有公司缴付的22万4千令吉,在2012年年终因为无法按期缴付余额而被悉数充公。
至今,没有人知道民政党宣称用以购买山竹园的2200万令吉到底是去了哪里。
虚假指控三
如今,2016年,民政党改宣称山竹园基于2010年的私人市价比对应该是4530万令吉,指控政府以1150万令吉售卖该地损失了3380万令吉。
真相:
联邦政府估价局在2009年对山竹园的估价是850万令吉。要在一年之内地价从850万令吉调涨500%至4530万令吉是不可能的事情。
如果民政党质疑联邦政府的估价他们应该质问联邦政府而不是反过来对准州政府。
无论如何,最佳的市场价格检验就是通过公开招标,有别于联邦政府没有进行公开招标,山竹园是透过公开招标后以最高价格的1150万令吉出售。
虚假指控四
前朝国阵州政府指控现任州政府为何出售原本用以兴建公共廉价组屋(PPR)的地段,而且为何用以兴建医院而不是公共廉价组屋。
真相:
其中一项志期2001年的最早文件来自呈交予国家房屋署(Jabatan Perumahan Negara) 的图测,图中标示山竹园是"用以未来发展"。 换句话说,根本没有所谓的公共廉价组屋计划在此地段。
无论如何,在2005年9月28日的槟州行政会议记录显示当时国阵州政府要将该地段招标出售给私人发展商作为店屋与政府员工住宿的综合发展计划。
根据2005年的行政会议记录,当时民政党的行政议员邓章耀建议山竹园可以拨出来作为"店屋及政府员工住宿"的综合性发展。时任首席部长的许子根同意,并要求将该地段招标出去给私人发展商,如此州政府可不必负担高昂的建筑费。
最终,在2007年3月28日,在行政会议中,国阵州政府正式反对联邦政府在山竹园兴建公共组屋。
不只槟城,即使是全马的商用发展建筑密度一直都高于房屋发展。前联邦房屋、地方部长曹智雄说过,公共房屋的土地面积至少得在2英亩以上,因此唯有像医院的商用发展才能在此地段使用更高密度及高楼层的建筑发展,但却不适宜用以公共房屋计划。
虚假指控五
巫统/国阵宣称以行动党为首的州政府忽视在山竹园兴建公共房屋。
真相:
即便是前朝州政府,山竹园占地只有1英亩的土地根本就没有任何要兴建公共组屋的计划。2013年,州政府拨出位于SP齐来也路的11英亩土地兴建2093间可负担房屋(依据联邦政府准绳),这是山竹园土地的十倍大,已经于2015年3月动工,2016年3月已经完成20%。
SP 齐来也路兴建的单位


在现任希望联盟州政府比前朝国阵治理时期,在槟城兴建了多出三倍的公共房屋。


虚假指控六
2016年3月23日,城乡发展、房屋及地方政府部长阿都拉曼达兰指称山竹园已经被KLIDC转售第三方牟利。
真相:
该土地地契仍旧注册在KLIDC名下。若KLIDC要转售该土地予第三方,他们得获得州政府的同意。不只州政府不曾同意过,州政府也不曾接到来自KLIDC的申请。
虚假指控七
阿都拉曼达兰2016年4月5日由在转换其说法,如今他不再说山竹园地段卖给第三方,而是指控KLIDC出售公司的股份给第三方。
真相:
大马公司注册局的记录显示KLIDC的股权没异动。
虚假指控八
城乡发展、房屋与地方政府部长阿都拉曼达兰指称州政府已经将山竹园发展计划改为30%作为医院及70%作为商业用途。
真相:
地契清楚列明其条件66%必须只是用作医院,34%作为让病患及其家属求医时住宿而且只租不售的服务公寓或酒店。
槟城是马来西亚最顶级的医药旅游目的地,占了全国50%的市场份额。根据联邦政府的数据,每天有1000名病患到槟城来求医。因此,州内的医药旅游措施有必要扩充。
结论
很明显这是对于无可挑剔的廉洁名声所做的抹黑行动,目的是要推翻槟城廉洁的政府。须知槟城每年的盈余及成功减少90%债务甚至受到总稽查司的赞扬。槟城是13州当中欠联邦政府最少债务的州属,共欠债6900万令吉,相比较欠债最高的彭亨州则是29亿令吉。甚且,槟城因为公开招标,在2009年成为马来西亚史上唯一获得国际透明组织赞扬的州属。