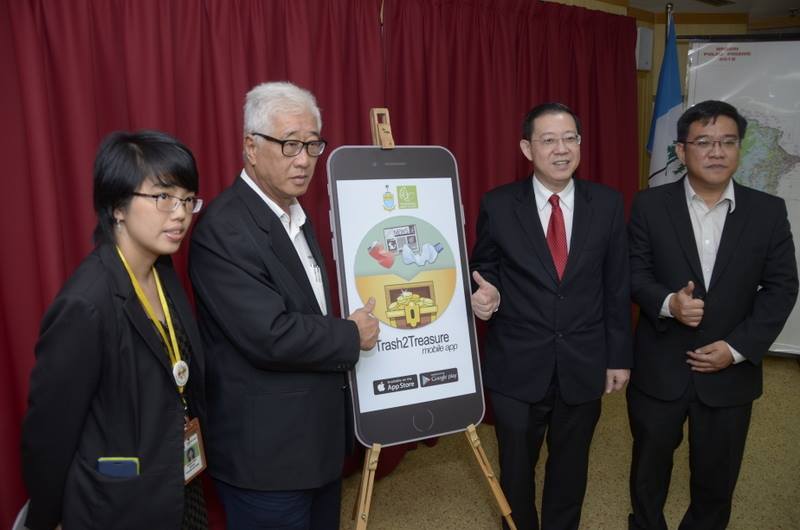 Turn Your Trash to Cash or Valuable Items! Download Today!
In moving towards Zero Waste society, Penang Green Council has developed a mobile application -Trash2Treasure. This application supports Penang State Government's vision to increase the efficiency of recycling and recyclables-buyback processes.
The Federal government has implemented the mandatory waste segregation at source in six states and two Federal Territories since 1 September 2015. Critics have pointed out the lack of publicity and information on the new policy, and many people are still unaware of the mechanism. Penang state government will make sure the general public are well-informed and embrace the waste segregation at source policy in June 2016.
In our quest to make Penang the first green state of Malaysia, Penang is the first state to ban free plastic bags at shopping centers, ban polystyrene food containers and achieve the highest recycling rate of 32% in 2014. This 32% recycling rate achieved far exceeds the current national recycling rate 10.5% and national target of 22% recycling rate by 2020. Penang is hoping to achieve the international standard of 40% recycling rate by 2020.
Through the mobile app Trash2Treasure, Penang residents will easily find locations of recycling centres. You can also find new owners or buyers for your used items through a core function "Trade In Your Ex" of the mobile app. Since the Federal government is not subsidizing the mega waste facilities in Penang, we solely rely on private initiatives to divert the waste from the only landfill in Penang- Pulau Burung. We also need everyone of you to play a role to save our cost on waste management.
In Penang, a total of 656,090 Tonnes of waste was generated in 2014 and an average of 1,700 – 1,800 Tonnes of waste being sent to Pulau Burung landfill every day. It costs between RM100 and RM120 to collect, transport and treat a tonne of waste. The estimated landfill life span is 42 years if it is equipped with the Material Recovery Facilities (MRF) and could last for 60 years if food waste converter is equipped as well.

The waste generated has been successfully reduced in 2013 to 646,212 Tonnes from 816,625 Tonnes in 2012, before increasing to 659,090 Tonnes in 2014.This is a success of our recycling efforts so far.
By converting waste into useful materials or products, we can create a Zero-Waste Economy. Successful source separation will contribute to the financial and environmental sustainability of the waste sector.
Public may download the app from Google Play Store and Apple App Store today.
Let us make a difference and become engaged in sustainable living. Think Globally! Act Locally! Join the local Zero-Waste network in Penang. We can make Penang a Cleaner, Greener, Safer, and Healthier state together.
For more information, please contact Penang Green Council at 04-250 3321/ 3322 or visit www.pgc.com.my.
Lim Guan Eng
—BM Version —
Kenyataan Akhbar oleh Ketua Menteri Pulau Pinang merangkap Pengerusi Penang Green Council, Lim Guan Eng pada 22 September 2015 semasa Sidang Akhbar untuk "Pelancaran Aplikasi Mudah Alih Trash2Treasure" di Tingkat 28, KOMTAR:
Tukar Sampah Anda Kepada Wang Tunai Atau Barangan Berharga! Muat Turun Hari Ini!
Dalam usaha menuju ke arah masyarakat Sisa Sifar, Penang Green Council telah mewujudkan satu aplikasi mudah alih Trash2Treasure. Aplikasi ini diwujudkan sejajar dengan visi Kerajaan Negeri Pulau Pinang bagi meningkatkan kecekapan proses kitar semula dan pembelian balik kitar semula.
Kerajaan Persekutuan telah melaksanakan dasar pengasingan sisa di punca secara mandatori di enam buah negeri dan dua buah Wilayah Persekutuan bermula 1 September 2015. Pengenalan dasar baru ini telah mendapat kritikan ramai kerana kekurangan publisiti dan maklumat malahan juga majoriti penduduk masih tidak mengetahui tentang mekanisma yang dilancarkan. Kerajaan Negeri Pulau Pinang akan memastikan semua penduduk mendapat maklumat yang tepat serta mengamalkan dasar pengasingan sisa bermula Jun 2016.
Dalam usaha menjadikan Pulau Pinang sebuah negeri hijau pertama di Malaysia, Pulau Pinang merupakan negeri pertama yang mengharamkan beg plastik percuma di pusat membeli-belah dan diikuti dengan larangan bekas makanan polisterin. Kita juga telah mencapai kadar kitar semula yang paling tinggi sebanyak 32%, jauh melebihi kadar kitar semula seluruh negara 10.5% dan sasaran nasional iaitu 22% menjelang tahun 2020. Pulau Pinang berharap untuk mencapai kadar kitar semula piawaian antarabangsa sebanyak 40% menjelang tahun 2020.
Melalui aplikasi mudah alih Trash2Treasure ini, penduduk Pulau Pinang dapat mencari lokasi pusat kitar semula secara lebih mudah. Selain itu, penduduk juga boleh mencari pemilik baru atau pembeli bagi barangan terpakai melalui fungsi teras "Trade in Your Ex" aplikasi mudah alih ini. Oleh kerana Kerajaan Persekutuan tidak memberi subsidi untuk kemudahan sisa mega di Pulau Pinang, maka kita perlu bergantung sepenuhnya kepada inisiatif pihak swasta untuk mengalihkan penghantaran sisa ke satu-satunya tapak pelupusan sampah di Pulau Pinang – Pulau Burung. Justeru, setiap individu perlu memainkan peranan masing-masing dalam penjimatan kos pengurusan sisa.
Di Pulau Pinang, sebanyak 656,090 tan sisa telah dijana pada tahun 2014 dan secara purata 1,700-1,800 tan sisa telah dihantar ke tapak pelupusan sampah Pulau Burung setiap hari. Kos pengumpulan, penghantaran dan rawatan sisa adalah di antara RM100 dan RM120. Anggaran jangka hayat tapak pelupusan adalah 42 tahun sekiranya ia dilengkapi dengan Kemudahan Pemulihan Bahan (Material Recovery Facilities) dan ia boleh bertahan selama 60 tahun jika ia turut dilengkapi dengan mesin penukaran sisa makanan.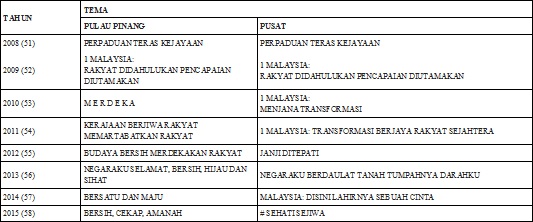 Sisa yang dihasilkan telah berjaya dikurangkan pada tahun 2013 kepada 646,212 tan daripada 816,625 tan pada tahun 2012, sebelum ia meningkat kepada 659,090 pada tahun 2014. Sehingga kini, ianya merupakan satu kejayaan dalam usaha mengamalkan kitar semula.
Kita boleh menwujudkan Ekonomi Sisa Sifar dengan menukarkan sisa kepada bahan yang berguna atau produk baru. Kejayaan dalam pengasingan sisa di punca akan menyumbang kepada kemampanan ekonomi dan alam sekitar dalam sektor sisa.
Orang ramai boleh memuat turun aplikasi ini dari Google Play Store dan Apple App Store hari ini.
Mari kita lakukan perubahan dan melibatkan diri dalam kehidupan lestari. Think Globally! Act Locally! Sertai rangkaian Sisa Sifar tempatan di Pulau Pinang. Kita boleh sama-sama menjadikan Pulau Pinang sebuah negeri yang lebih bersih, hijau, selamat dan sihat.
Untuk maklumat lanjut, sila hubungi Penang Green Council di talian 04-250 3321/ 3322 atau layari laman web www.pgc.com.my.
Lim Guan Eng
—–Mandarin Version ——
槟州首长兼槟州绿色机构主席林冠英于2015年9月22日,在光大28楼推介"垃圾变宝"(Trash2Treasure)手机应用程式记者会所发表的文告:
将你的垃圾转换成现金或珍贵物品!今天就下载!
为迈向零废料社会,槟州绿色机构设立了 "垃圾变宝"(Trash2Treasure)的手机应用程序。这手机应用程序也响应槟州政府的愿景,即提高再循环运动及"回购再循环物"过程的效率。
自2015年9月1日开始,联邦政府已在6个州属及2个联邦直辖区强制性落实固体废料分类政策,但有批评指出这项新政策缺乏宣传及详细讯息,导致许多人民不知道这项政策的存在。槟州政府将确保民众在2016年6月,针对固体废料分类政策已充分知情并采纳。
为了将槟城打造成马来西亚首个绿色州属,槟城是首个落实禁止购物中心使用免费塑料袋及禁用保丽龙的州属。我们也在2015年达致32%的再循环率,这32%再循环率已远超目前全国再循环率10.5%及国家2020宏愿的22%再循环率目标。槟城希望在2020年达致40%的国际再循环率指标。
通过"垃圾变宝"(Trash2Treasure)手机应用程序,槟州子民将可容易搜索再循环中心的地点。民众也可通过该应用程序的主要功能"Trade In Your Ex",为二手物品寻找新物主或买家。由于联邦政府没津贴槟州大型废物处理设施,那么槟州政府只好依靠私人界主动积极出资来转移送往槟州唯一垃圾土埋场 – 浮罗武隆的废料。我们也需要你们每一个人都扮演好角色,来节省废料管理成本。
槟城在2014年所制造的废料数量达65万6090吨,而每天多达1700至1800吨的废料被运往浮罗武隆垃圾土埋场。每吨废料的收集、运输及处理成本介于100至120令吉。如果垃圾土埋场具备物资回收设施(Material Recovery Facilities),那么该土埋场预料将有42年寿命;如果兼具食物废料转换机的话,那么该土埋场将拥有60年的寿命。
至今,在推广再循环方面,我们成功在2013年将2012年制造的81万6,625吨废料减少至64万6,212吨。2014年,槟州每人平均制造了65万6,090吨废料,略为增加。
我们可通过废料转换成有用的材料或产品来打造"零废料经济"。成功的废料分类可为废料领域带来财务及环境永续性发展。
民众今天就可通过 Google Play Store及 Apple App Store来下载这应用程序。
让我们一起改变并参与永续性生活。放眼国际,在地行动!加入槟城在地的零废料网络。我们可携手把槟城打造为更干净、绿意、安全及健康的州属。
预知详情,请联络槟州绿色机构(04-250 3321/ 3322)或浏览www.pgc.com.my。
林冠英