Press Statement By Penang Chief Minister Lim Guan Eng In Komtar, George Town On 8.2.2015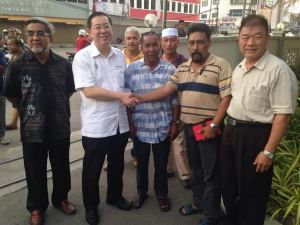 The Jalan Telaga Air Mosque congregation(Ahli Qariah) in Butterworth should be held up as a sterling model for religious harmony and goodwill, in their patient wait to nab the man involved in the act of desecrating a mosque by throwing a package believed to contain pork into the compound of the Telaga Air Mosque two days ago. When I visited the mosque yesterday evening, I was surprised to be informed that this was not the first time but there were repeated incidents previously.
The state government reiterates its strong condemnation of such criminal attacks as barbaric. Obviously the man had mental problems because he did not target other mosques in the same area, but only the Jalan Telaga Air Mosque and that the incidents did not only happen at night but also in the daytime. The ahli qariah had patiently waited for the man by staking out the area with police.

Finally they caught the mentally unsound man in the act of throwing the package, and with the police gave chase. One of the congregation members, Mohd Nasri bin Hassim, bravely chased him down on his motorbicycle and then handed him to the police following behind. What is praiseworthy is that the mosque was very patient in waiting for the culprit and did not want to raise the matter publicly because of their concern for religious sensitivity and wanted to catch the culprit.
They told me yesterday that only a mentally unsound man would do what the person did. They did not want to publicise the incidents to avoid misunderstanding and prevent them from being exploited. Such understanding and concern for multi-religious harmony and sensitivity in a multi-racial society makes Penangites proud. The state government would help to improve security in the area by installing CCTVs in the street opposite.
This sensitive act by the Jalan Telaga Air Mosque proves that there are many unsung heroes in Penang who work tirelessly and quietly to preserve, protect and promote religious harmony. Such goodwill and spirit is the principal reason for the confidence for Penang's future success and prosperity based on co-operation and mutual respect amongst all Penangites regardless of race and religion.
LIM GUAN ENG
—- BM Version —
Kenyataan Akhbar oleh Ketua Menteri Pulau Pinang Lim Guan Eng di Komtar, George Town Pada 8.2.2015
Ahli Qariah Masjid Jalan Telaga Air di Butterworth perlu dijadikan sebagai model keharmonian agama dan muhibah, dengan kesabaran mereka untuk menahan lelaki yang terlibat dalam perbuatan menghina masjid dengan membaling bungkusan dipercayai mengandungi daging babi ke dalam perkarangan Masjid Air Telaga dua hari lepas. Apabila saya melawat masjid petang semalam, saya terkejut ketika diberitahu bahawa ini bukan kali pertama tetapi merupakan kejadian berulang.
Kerajaan negeri mengulangi kecaman keras terhadap serangan jenayah yang tidak bertamadun ini. Jelas sekali pelakunya ini mengalami masalah mental kerana tidak mensasarkan masjid lain di kawasan yang sama, tetapi hanya Masjid Jalan Telaga Air dan insiden tidak hanya berlaku pada waktu malam tetapi juga pada siang hari. Ahli Qariah dengan sabar menunggu pelaku itu dengan meronda kawasan tersebut dengan polis.
Akhirnya mereka menangkap lelaki bermasalah mental ketika sedang mencampakkan bungkusan, dan terus dikejar oleh polis. Salah seorang ahli jemaah, Mohd Nasri bin Hassim, berani mengejarnya dengan motosikal dan kemudian menyerahkannya kepada polis yang mengikut di belakang. Suatu yang harus dipuji adalah kesabaran pihak masjid menunggu pelakunya dan tidak mahu membangkitkan perkara ini secara terbuka kerana kebimbangan mereka berkenaan sensitiviti agama dan mahu menangkap pelakunya.
Mereka memberitahu saya semalam bahawa perbuatan itu cuma dilakukan oleh seorang lelaki yang kurang siuman. Mereka tidak mahu menghebohkan kejadian untuk mengelakkan salah faham dan menghalangnya daripada dieksploitasi. Kefahaman dan keprihatinan terhadap keharmonian berbilang agama dan sensitiviti dalam masyarakat berbilang kaum membanggakan rakyat Pulau Pinang. Kerajaan negeri akan membantu untuk meningkatkan keselamatan di kawasan itu dengan memasang CCTV di seberang jalan.
Tindakan sensitif oleh Masjid Jalan Telaga Air membuktikan bahawa terdapat ramai wira tidak didendang di Pulau Pinang yang bekerja tanpa mengenal penat-lelah dan secara senyap-senyap untuk memelihara, melindungi dan menggalakkan keharmonian agama. Muhibah dan semangat seperti ini adalah sebab utama kepada keyakinan untuk kejayaan masa depan Pulau Pinang dan kemakmuran berasaskan kerjasama dan saling hormat menghormati dalam kalangan semua rakyat Pulau Pinang tanpa mengira kaum dan agama.
LIM GUAN ENG
—- Mandarin Version —
(附图)
槟城首席部长林冠英于2015年2月8日在光大乔治市发表声明:
北海红毛井路(Jalan Telaga Air )清真寺委员会应该被喻为真正的宗教和谐及亲善模范,他们守株待兔,终于捕获一名玷污清真寺的男子,该名男子两天前向清真寺的院了投掷一件包有猪肉的包裹。我昨晚拜访上述清真寺时,他们告诉我这不是第一次,之前也发生了很多次。
州政府重申,我们强烈谴责这种野蛮的犯罪行为。很明显的,干案人士有精神问题,因为他没有对区内其它清真寺下手,而只是针对北海红毛井路清真寺,上述事件也不是发生在晚上,而是光天化日之下。上述清真寺委员会已经等了很久,他们与警方一起在上述地区埋伏干案人士。
最后,他们终于逮捕了一名精神失常的男人,当时他正在丢掷包裹,警方也进行了追捕。其中一名委员会成员莫哈末纳兹里也勇敢地骑电单车追捕,然后把他交给随后而来的警员。值得表扬的是,清真寺耐心地埋伏等候干案人士,并没有公开这件事,因为他们担心引起宗教敏感问题,他们也想逮捕干案者。
昨天他们告诉我,只有精神失常的人才会做出上述事件。他们不想公开是因为要避免误会,也要阻止有心人士滥用这个课题。在这个多元种族社会,他们对多元宗教和谐与敏感问题的谅解及关心实在让槟城人自豪。州政府会协助他们在对街安装闭路电视,改善当地的治安。
北海红毛井路清真寺委员会的敏感作风也已经证明槟城还有很多无名英雄,默默地维护、保护及推广宗教和谐。如此的亲善精神是槟城未来成功及繁荣的基石,它建立于槟城人民不分种族、宗教的合作及谅解。
林冠英