Press Statement by DAP Secretary-General and MP for Bagan Lim Guan Eng in Kuala Lumpur on 16 July 2014.

Finance Ministry Must Explain Whether 1 Malaysia Development Bhd (1MDB) Will Go Bankrupt Or Even Insolvent If They Continue To Rely On An Asset Revaluation Gain Of RM2.7 Billion To Record A Profit Of RM 778 Million And Ignores The Rise In Total Debts To RM 42.3 Billion That Nearly Matches Its Total Assets Of RM44.7 Billion?
The Finance Ministry must explain whether 1 Malaysia Development Bhd (1MDB) may go bankrupt or even insolvent if they continue to rely on an Asset Revaluaton Gain of RM 2.7 billion to record a profit of RM 778 million and ignores the rise in total debts to RM 42.3 billion that nearly matches its total assets of RM 44.7 billion? When 1MDB finally submitted its much-delayed accounts for FY2013 ended March 31to the Companies Commission of Malaysia, after having changed auditors, 1MDB revealed once againthat it cannot make money without creatively manufacturing a paper profit from land revaluation.
1MDB's after tax profit of RM778.2 million (on revenue of RM2.6 billion) for FY2013 was the result of a land revaluation gain of RM2.7 billion, without which 1MDB would have lost RM 1.8 billion. The same trick was played out for financial year 2012 when 1MDB recorded an after-tax profit of RM 44.2 million, only after making gains of RM 569.9 million from revaluing its land assets.
1Malaysia Development Bhd (1MDB) is a strategic development company, established by the Ministry of Finance to drive investments and ensure sustainable economic development. Since the state investment agency was established in 2009, 1MDB has grown to become a sovereign wealth fund approaching the size of Khazanah (see below). Assets of 1MDB had reached RM 45 billion as at end-March 2013 as compared to Khazanah's RM64 billion.
What is of concern is the high debt of 1MDB, with total liabilities of RM 42.3 billon, which are larger than the RM 37.4 billion debt at Khazanah and RM 4.4 billion debt at EPF. 1MDB's annual debt service is RM 1.6 billion. There is also an impairment loss of almost RM1.2 billion from its acquisition of power assets. This raises serious concerns of its long-term viability, including the question whether the huge debts will finally make 1MDB insolvent or go bankrupt.
Further 1MDB needs to address questions about the frequent changes of auditors (three since 2009); long delay in releasing audited reports; hefty premiums paid for regional energy assets; cash parked in overseas investment institutions; and high interest rates paid for some bond issues (for example, 5.75% for a RM 5 billion government-guaranteed bond issue). Even though the Federal government's contingent liability is limited to RM5 billion, this is still a huge sum that must be accounted for in the public interest.
For this reason 1MDB must come clean not only to uphold transparency and accountability but to ensure that its management is professionally and competently run. Creative accounting techniques of relying on asset revaluation gains to record a profit must stop. Similarly, the Finance Ministry must ask the right questions on what are the efforts taken by management to reduce 1MDB's huge RM 42.3 billion liabilities?


Note: Khazanah's financial statement as at 2012; EPF's at the end- 2013; 1MDB at the end- March 2013
**BANK OF AMERICA MERRILL LYNCH GLOBAL RESEARCH ESTIMATES
LIM GUAN ENG
=======================================================================
民主行动党秘书长及峇眼国会议员林冠英于2014年7月16日在吉隆坡发表的文告。
财政部长必须出来解释,如果一马基金(1MDB)持续只顾着将27亿令吉的资产重估收益,转记录为7亿7800万令吉的盈利,却无视其总债务已经高达423亿令吉,几乎已经要追上其所拥有的447亿令吉总资产,那么,一马基金到底会否面临破产或甚至资不抵债的局面?
财政部长必须出来解释,如果一马基金(1MDB)持续只顾着将27亿令吉的资产重估收益,记录为7亿7800万令吉的盈利,却无视其总债务已经高达423亿令吉,几乎已经要追上其所拥有的447亿令吉总资产,那么,一马基金到底会否面临破产或甚至资不抵债的局面?当一马基金在更换稽查公司之后,姗姗来迟的将2013年3月31日的2013年年报呈交马来西亚公司委员会,这再次揭露了一马基金只能靠取巧的将土地重估当成账面盈利,否则就无法赚钱。
一马基金2013年财报的7亿7820万令吉税后盈利(26亿令吉的收入)是透过土地资产重估获益27亿令吉的结果。如果一马基金不是透过土地重估,则反而损失18亿令吉。一马基金也曾于2012年玩过同样的把戏,当时一马基金也是透过其土地资产重估所获得的5亿6990万令吉,才能获得4420万令吉的税后盈利。
一马基金是国家财政部成立的策略性发展公司,以掌管投资项目及确保经济永续发展。自这家国家投资臂膀在2009年成立以来,一马基金已经快速成长为直追国库控股(Khazanah)规模的主权财富基金(详见列表)。与国库控股的640亿令吉资产相比,一马基金在2013年3月底资产已经高达450亿令吉。
但让人担心的是一马基金的债务,其总债务竟然高达423亿令吉,比国库控股的374亿令吉及公积金局44亿令吉的总债务都还要高。一马基金的年度债务是16亿令吉,当中12亿令吉,大部份是接管能源资产时的亏损。这产生了一马基金到底能否长期生存的严重问题,当中包括一马基金会否最终资不抵债或走上破产一途。
而且,一马基金也必须回答一箩筐的疑问,包括为何一直更换稽查公司(2009年至今已经换了3次);姗姗来迟公布其稽查报告;区域能源资产的费用严重过高;现金存留在海外投资机构;一些发行债券,缴付利息过高(例如,发行50亿令吉的政府担保债券,利息高达5.75%)。即使联邦政府的或有负债(contingent liability)限制在50亿令吉,但这庞大的总数额在公众利益之下,必须要追究到底。
因此,一马基金必须解释的不只是其透明与公信,但也要确保其到底能不能专业及具竞争地妥善管理。一马基金必须停止透过土地资产重估获益作为账面盈利的会计取巧方式。同样的,财政部长必须确切的质问一马基金管理层到底有什么对策减少高达423亿令吉的巨大债务?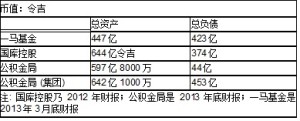 注: 国库控股乃2012年财报;公积金局是2013年底财报;一马基金是2013年3月底财报
来源:美国银行美林全球研究评估
林冠英