Press Statement By Penang Chief Minister Lim Guan Eng In Komtar, George Town On 27.3.2014.
The mysterious privatisation of Penang Port under a restricted tender raises serious questions of public interest, accountability and transparency. This follows the revelation in a written answer to my parliamentary question by Minister in the Prime Minister Deparment Dato' Sri Abdul Wahid Omar that the agreement between the successful bidder Seaport Terminal (Johore) Sdn Bhd was finalised in a supplemental agreement on 23 November 2013.
Unless a full public announcement is made by the Transport Ministry, this privatisation will be seen as just another piratisation exercise similar to the highway toll concessionaires. The refusal of the Transport Ministry so far to make any public clarification of how this privatisation exercise benefits public interest smacks of arrogance, secretiveness and mismanagement which is steeped in the BN ethos of reciprocal favours, patronage and conspiracy.
According to the Minister in the Prime Minister Deparment written reply on 24.3.2014 as attached :-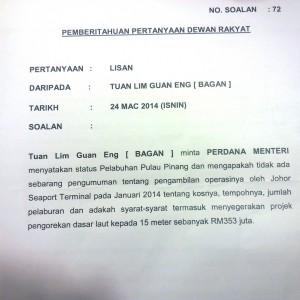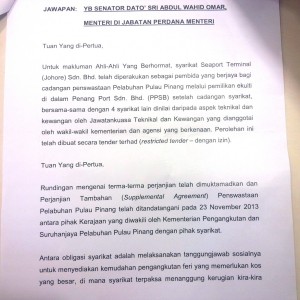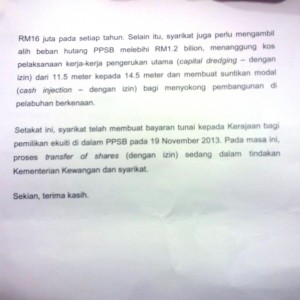 =====================================
Kenyataan Media Ketua Menteri Pulau Pinang Lim Guan Eng di Komtar, George Town Pada 27.3.2014.
Penswastaan Pelabuhan Pulau Pinang Secara Misteri Melalui Tender Terhad Menimbulkan Persoalan Serius Mengenai Kepentingan Awam, Kebertanggungjawaban Dan Ketelusan.
Penswastaan Pelabuhan Pulau Pinang secara misteri di bawah tender terhad menimbulkan persoalan serius mengenai kepentingan awam, kebertanggungjawaban dan ketelusan. Ini berikutan pendedahan dalam jawapan bertulis kepada soalan Parlimen saya daripada Menteri di Jabatan Perdana Menteri Dato' Sri Abdul Wahid Omar bahawa perjanjian antara pembida yang berjaya, Seaport Terminal (Johor) Sdn Bhd telah dimuktamadkan dalam perjanjian tambahan pada 23 November 2013.
Melainkan pengumuman penuh dibuat oleh Kementerian Pengangkutan, penswastaan ini akan dilihat sebagai satu lagi tindakan melanun harta rakyat sebagaimana yang dilakukan oleh syarikat konsesi tol lebuh raya. Keengganan Kementerian Pengangkutan setakat ini untuk membuat sebarang penjelasan awam bagaimana penswastaan ini bermanfaat untuk kepentingan awam jelas memperlihatkan keangkuhan, kerahsiaan dan salah urus yang merangkumi etos BN yang penuh dengan pilih kasih, politik naungan dan konspirasi.
Berdasarkan jawapan bertulis Menteri di Jabatan Perdana Menteri pada 24.3.2014 sebagaimana berikut:
=================================
槟城州首席部长林冠英于2014年3月27日在乔治市光大发表的文告
以限制招標的形式神秘地私有化檳州港口,在公眾利益、問責和透明度上已引起質疑
以限制招標的形式神秘地私有化檳州港口,在公眾利益、問責和透明度上已引起質疑。從首相署部长拿督斯里阿都华希奥马以書面回答回應我在國會作出的提問上揭露,與投標人柔佛海港終站(Seaport Terminal Johore)簽署的合約,已经于2013年11月23在附加協議下完成。
除非交通部完整地作出宣佈,不然這項私有化計劃將被视为和大道收費特許經營一样的另一項"大盗"計劃而己。交通部至目前為止仍拒絕公開说明,在国阵仍旧沉浸在互惠互利、官官相卫共謀,而导致囂張、隐瞒和管理不善的风气之下,这项私有化计划到底如何能惠及公众利益。
首相署部长拿督斯里阿都华希奥马上议员于2014年3月14日的回应,如下:
问题:峇眼区国会议员林冠英要求首相回应关于槟州港口有限公司的情况,和关于2014年1月槟州港口有限公司已被柔佛海港终站取得营运权一事,包括成本费用丶期限丶投资额和各项条件包括总额3.53亿令吉15尺深的海床挖深工程,为何都没有进行任何宣布。
答案:柔佛海港终站已成功得标,取得槟州港口公司私有化计划的拥有权。其公司联合另4间其他公司在部长部门和相关机构的代表基于技术和金融被审核。这项招标采用限制性招标形式进行。
合约上的条款已经过会谈作出最后决定,通部与槟州港口有限公司理事会和相关公司于2013年11月23日签署槟州港口有限公司私有化附加协议合约。
其中包括,相关公司义务执行社会责任,为渡轮服务上提供更高的成本。该公司每年被迫承担约1600万令吉的亏损。 除此之外,该公司也需要承担槟州港口有限公司超过12亿的债务,承担从11.5尺至14.5尺挖深海床工程的费用,和港口公司的资本注资。
至今,该公司于2013年11月19日已缴付政府现金,取得拥有权。现阶段,财政部和相关公司正进行股权转移的部分。