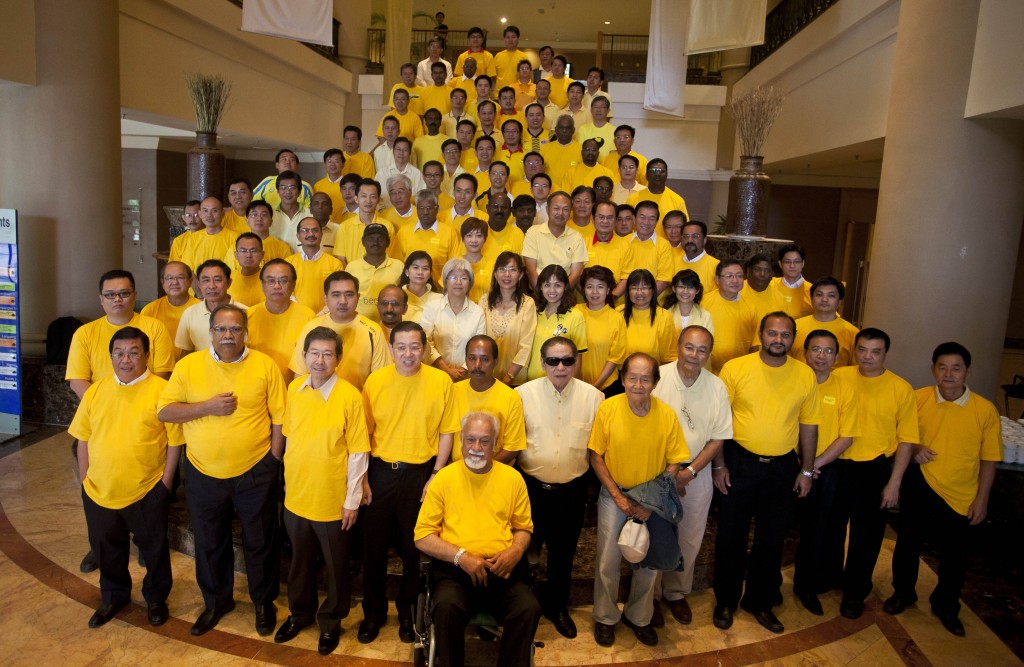 BN should stop destroying Malaysia's financial reputation with irresponsible statements like freezing the assets of those deemed risky to the nation's security because they participate in Bersih rallies calling for clean and fair elections as well as receive funding from non-profit foreign NGOs. Bersih had clarified that money the group received from two US organisations — the National Democratic Institute (NDI) and Open Society Institute (OSI) — were for other projects unrelated to the July 9 march.
DAP strongly condemns Deputy Finance Minister Datuk Awang Adek Hussin's irresponsible statement that Bank Negara Malaysia (BNM) can freeze the assets of those believed to be participating in activities if the police recommend so. Such actions are detrimental to Malaysia's efforts to establish itself as a safe haven for capital and investments.
Datuk Awang is the same person who announced that the Federal government had approved sports betting licenses in time for the 2010 World Cup. BN was embarrassed and forced to withdraw the sports betting licenses after the Penang state government announced the ban on sports betting, thereby destroying UMNO's arguments that of gambling is part of Chinese culture.
If assets can be frozen just for participating in a peaceful assembly or for receiving funds from non-profit foreign NGOs, then many innocent Malaysians and organisations will be unfairly victimised. Using this as a political weapon against opponents of BN would be a gross abuse of the provisions within the Anti-Money Laundering and Counter-Terrorism Financing Act allowed for the central bank to not only bar access to such funds but also trace both deposits and withdrawals of the offending accounts.
Would others involved in "illegal assemblies" like UMNO Youth chief Khairy Jamaluddin have their assets frozen? Why then were these provisions not applied against those suspected of corruption of accumulating extraordinary wealth beyond their means? For instance no such action was taken against those suspected of secretly taking out RM 888 billion in illicit money over a 9 year period.
BN government only has itself to blame for the negative image overseas, portrayed by the international news media for its harsh crackdown on the peaceful protest Bersih. So ridiculous was the crackdown that wearing yellow was sufficient cause for arrest. And yet Queen Elizabeth received the Prime Minister Datuk Seri Najib Tun Razak in a bright yellow dress two days ago in London.
The Bersih protest calling for clean and fair elections descended into chaos when the police fired tear gas and water cannons to disperse protestors. The documented beatings and recorded brutal treatment on video tape was completely unprovoked and put Malaysia on the same international platform as the repressive Arab regimes in the Middle-East.
The BN government should clean up Malaysia's image by owning up its mistakes such as firing tear gas into Tung Shin Hospitals, insulting the Hindus and the Indian community by calling the revocation of Bersih Datuk S. Ambiga's citizenship, detaining Datuk A. Samad Said because his poems is considered a weapon and apologising for the brutal crackdown.
It is good that Najib has admitted that the rally attracted 15,000 demonstrators and not the 5-6,000 demonstrators claimed by police. However this is not enough as more needs to be done such as withdrawing charges and releasing immediately all those arrested such as the PSM 6 including MP of Sungai Siput Dr Jeyakumar, for Bersih related activities.
The Bersih rally was a paradigm shift or a transformational event that attracted all Malaysians. In many of the Bersih stories told by ordinary Malaysians marching on 9 July, many amongst the 30,000 crowd was so outraged by the repression of the police as well as moved by the solidarity and support shown by other Malaysians that they felt part of the nation called Malaysia. Finally every one felt 1Malaysia regardless of race or religion or even political affiliation, whether one is rich or poor, male or female, old or young.
Even Marina Mahathir defiantly marched. Everyone marched because they wanted to be "Bersih!".
The 13th General Elections Will Be Decided By The Economy, The Choice Between The Economy For People Vs The Cronies.
The 13th General Elections will be decided by the economy, the choice between the economy for the people Vs the cronies. The Malaysian economy is not even as Tony Pua puts it, a tiger that has lost its roar. It is more like a cat that has even lost its meow.
The next elections will be fought by who can best deliver policies and solutions to those who suffer most. The bottom 60 per cent of the rakyat has an average household income of less than RM3,000 a month, while the bottom 40 percent lives on less than RM1,500 a month.
While commodity and food prices have increased alarmingly in recent times, real income, especially for the lower strata, has stagnated. This has resulted in a dire situation whereby the bottom 40 per cent of our population earns only 14.3 per cent of the total income while the top 20 per cent shares 50 per cent of the total income. In addition, household debts in Malaysia are now 77% of our GDP, which makes us the second highest in Asia after Japan.
What is sorely required are policies and actions that will directly affect those in the bottom 60 per cent especially those living on less with average household income than RM1,500 per month. These are the Malaysians who really need help. DAP remains strongly committed to minimum wage and to economic solutions that are sustainable, especially environmental friendly. We must ensure that resources utilised today must be available tomorrow.
Keynote Speech By DAP Secretary-General Lim Guan Eng During The DAP National Leadership Retreat In Seremban On 16 July 2011.

—- Mandarin Translation —–
民主行动党秘书长林冠英于2011年7月16日在芙蓉的"民主行动党全国领袖干训营"发表演讲:
国阵应该停止破坏马来西亚的经济名誉,勿再发表"冻结净选盟集会者与接受外国非政府组织捐款的人士的资产"这种言论。
国阵应该停止破坏马来西亚的经济名誉,勿再发表"任何人因参与净选盟集会,以及接受外国非政府组织捐款的人士,若被证实涉及威胁国家安全的活动,国家银行可冻结有关人士的银行户头"这种言论。净选盟已经澄清,他们从两个美国组织即国民民主研究院(National Democratic Institute)及开发社会研究院(Open Society Institute)接受的捐款,是用在其它活动,与709集会游行毫无关系。
民主行动党强烈谴责财政部副部长拿督阿旺阿迪发表不负责任的言论,他说,一旦证明有关人士参与上述活动而警方劝告,国家银行可以冻结他们的资产。这种言论对于标榜本身为"资本与投资天堂"的马来西亚是具破坏性的。
拿督阿旺就是在2010年世界杯期间,宣布联邦政府已经批准赌球执照的那位部长。在槟州政府宣布禁止赌球活动后,当时国阵被迫尴尬地撤回赌球执照,因此,这也反驳了巫统指"赌博是华人文化"的言论。
如果纯粹因为参与和平集会或接受外国非政府组织的捐款就被冻结资产,很多无辜的马来西亚人与组织将不公平地受牵连。国阵利用这种政治武器来对付异己,将严重滥用反洗黑钱及反恐怖主义资助法令,它不只允许国家银行阻止这类资金流入,也可以追踪有关账户的存款人与提款人。
其它像巫青团团长凯里那样涉及"非法集会"的人士是不是也会遭冻结财产?为什么有关当局不用这个法令对付那些累积财富多于应得收入、涉及贪污的人士?例如:当局至今还没有针对过去9年流出国外的8880亿令吉非法资金采取任何行动。
对于我们国际形象受损、被国际媒体描述为粗暴镇压净选盟和平集会者,国阵政府只能怪自己。镇压行动最离谱的一点是,穿黄衣也足以成为被逮捕的理由。最讽刺的是,两天前,英女皇还在伦敦身穿黄衣接待首相纳吉。
净选盟集会旨在争取干净及公平的选举,它在警方开始以催泪弹及水炮解散示威者时,升级变成混乱。录像记录皆证明警方是无缘无故殴打群众及发动暴力攻击,它令马来西亚登上与中东阿拉伯极政国家同等级的国际平台。
国阵政府应该勇于认错,承认自己发射摧泪弹进入同善医院、通过要求褫夺拿督安美嘉的公民权污辱印度社群、扣留诗人沙末沙益视其诗歌为武器,针对本身的镇压行动道歉,挽回马来西亚的形象。
纳吉承认约有1万5000名人士参与示威,而不是警方所说的5、6千人,这是一件好事。但是,这还不足够,他还必须马止释放那些还被扣留的人士、并撤销对他们的控状,例如社会主义党六人包括和丰区国会议员再也古玛,以及与净选盟活动有关的人士。
净选盟集会是一项范例的转型或是具变革意义的活动,它吸引了全体马来西亚人。这场3万人集会的参与者所述说的"709净选盟小故事"中,很多人都对警方的暴行感到非常生气,他们也对其他马来西亚人的互助互爱感到非常感动,也感觉到自己是马来西亚的一分子。最后,每个人都终于感觉到"一个马来西亚",不分种族、宗教、政治背景,也不管它他们贫富与否、也不论男女老幼。
就连玛丽娜马哈迪都毅然走上街头,每个人都走上街游行,因为他们都想要成为"干净"的一群。
经济是第13届全国大选的决定性因素,这是一场人民经济与朋党经济的抉择。
经济是第13届全国大选的决定性因素,这是一场人民经济与朋党经济的抉择。马来西亚经济甚至不如潘俭伟所说的,即一只无法吼叫的老虎,现在更像是失声的小猫。
下届大选,谁能为贫苦大众落实政策与方案,谁将胜出。我国底层60%人民的平均月收入不过3000令吉,最底层40%的每月收入更低於1500令吉。
当各种原料与食品价格节节高涨之际,底层人民的实际收入却原封不动,导致我国人口中的底层40%人民的收入比例只占总收入14.3%,但顶层的20%人民的收入却战占总收入的50%。此外,马来西亚的家计负债已经高达国内生产总值的77%,在全亚洲仅次日本,位居第二位。
我们现在需要的是可以直接影响底层60%人民的政策与行动,特别是针对那些每月家计收入少於1500令吉者,他们才是真正需要援助的人民。民主行动党坚持推动最低薪金政策,以及可以永续经营、友善环境的经济方案,我们必须确保今日所使用之资源,仍然能为下一代所用。
林冠英