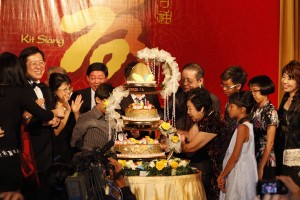 Tribute By Lim Guan Eng On Behalf Of The Lim Clan On The Occasion Of Our Father, Lim Kit Siang's 70th Birthday At Equatorial Hotel, Penang On 19.2.2011.
Tonight Kit's family, loved ones and dear friends gather to celebrate the 70th birthday of an exceptional personality, remarkable person and extra-ordinary man.
Lim Kit Siang is exceptional because of his many accomplishments, exacting standards, quiet courage and sheer endurance.
He is a remarkable person for his willingness to teach us by encouragement and example to do not only the right thing but to do it right. He has resisted temptations and withstood threats in equal portions that would have broken a lesser man.
He is extra-ordinary in that he remains an ordinary man with almost Spartan tastes and a moderate lifestyle, revelling in the simple pleasures of reading a book or spending time with his family.
How then does one acclaim a man who is a living legend? Recognised by every Malaysian for his tireless advocacy for justice and freedom. Acknowledged by friend and foe as an indefatigable fighter for a better Malaysia. And admired universally for his unquestioned courage, incorruptibility and integrity.
Shakespeare wrote that some are born great, some achieve greatness, and some have greatness thrust upon 'em.
Lim Kit Siang was all three and more. He also inspired greatness in others.
I want to touch on Kit's greatness that have been rarely explored, his ability to inspire others to scale heights and even attain greatness. Kit led both by example and also by empathy with those around him. A word or his mere presence sufficed. Somehow we who followed him were greatly comforted that he would be there for us to pick us up when we fall or to help us if we were in trouble.
The affection and love party leaders and members have for him is genuine. We may not agree always with him but we trust his judgment and idealism implicity. Many joined DAP because of Kit, those who did not stayed on in DAP also because of Kit.
Of course, there were a few who fell by the wayside. Greatness is not easy to live with. After all, for one who had a difficult time growing up under a banyan tree, I can understand how some eyes can be dimmed when they fail to live up to the ideals.
This is why we appreciate Kit more. With maturity we realize how important Kit helped in blazing the path, keeping the flame burning and lifting up flagging hopes whether in the best or worst of times. Most of all, Kit kept all of us in the right path.
Thank you Kit for inspiring DAP and us to greatness.
But I also want to address the man Kit was to us the son, the brother, father, the husband the friend and our moral compass.
Kit was a dutiful son. He stroved mightily to fulfill the dreams of his mother to achieve what she wanted for him. Like him, my grandmother never showed her love to him outwardly but we knew when she wanted to be around him as much as she could.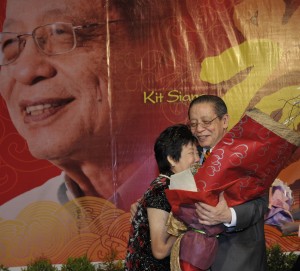 Kit was a loving husband. And my Mom returned his faith by making sure he need not worry about the family.
Kit was a wonderful father, the best one can wish for. Not just because he provided for us materially and a good education but because he taught us always the importance of principles, to distinguish between right and wrong and have compassion for the weak and unfortunate. His passion for what he did infected us all that we must have both the courage and the conviction to carry it through.
Indeed as the Nobel laureate and great American civil rights leader Martin Luther King once said,"The ultimate measure of a man is not where he stands in moments of comfort and convenience but where he stands in times of challenge and controversy."
Truly Kit embodied the value of serving others, of raising the soul by diminishing the self. That there is no greater calling than to serve your fellow men. There is no greater contribution than to help the weak. There is no greater satisfaction than to have it done well.
Kit taught us to grow by self-discovery and experience. We learned to value learning and he always reminded us that his voluminous library of books will be our greatest inheritance. He allowed us to decide our own path, not to shield us from mistakes so that we learn from them, and to be there for us when we are down.
But most of all Kit taught us not to hate but to love. Try not to hate those who taunt, torment and torture us, he said. Despite suffering two spells of incarcecration in Kamunting and Kajang, I do not hate the person who put me there.
For Kit taught us to love. Love each other and Malaysians. Never was that more evident as when he willingly let me go to jail. Which father would willingly send his son to the dungeons. I suffered in Kajang prison, but Kit suffered more. Which father would wish to see his son in jail and wish he could trade places with me.
From Kit we learnt to deal with successes with humility and failures with equanimity. From Kit we learnt that it is not our brilliance but our efforts that counts. And from Kit we learnt that success and wealth is meaningless if we lose our humanity and dignity.
I wish to thank Kit for teaching me how to be a man, a husband and a father. I will never forget that whatever I have now, I owe it to him.
But most of all, our family wishes to celebrate our father's birthday with many thanks to him for inspiring us to have faith in ourselves, give hope to others and love each other. Thanks dad for inspiring us to love. My God bless you with good health and our family and friends many happy years together.
LIM GUAN ENG