Press Statement By DAP Secretary-General Lim Guan Eng In Kuala Lumpur on 6.1.2013.
DAP accepts the resignation of DAP returning officer Pooi Weng Keong to take full responsibility for the computer glitch that resulted in the wrong results to be announced for the party elections of the Central Executive Committee(CEC) at the DAP National Congress on 15-16 December 2012. Even though this computer glitch caused a wrong posting, where Candidate No. 31 to 38 and No. 61 to 68 had exactly the same number of votes, Pooi as Returning Officer must bear responsibility. This error had caused Sdr Vincent Wu to be announced as being elected into the CEC when he was not, and Sdr Zairil Khir Johari should have been properly elected into the final 20th position.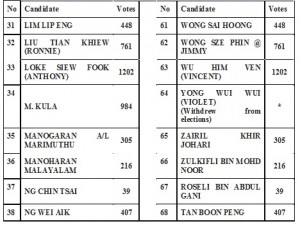 Candidates number 61-68 were wrongly given the same results as Candidates number 31-38. The actual results for Candidates no. 61-68 are: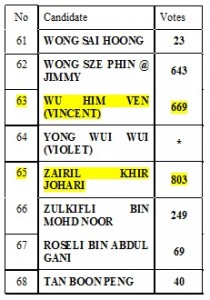 * Candidate no. 64 Yong Wui Wui (Violet) has withdrawn so votes inadvertently given to her were not tabulated
DAP National Chairman Karpal Singh is correct to say that Pooi had made an honest mistake and bona fide error. However in the interests of accountability Pooi has resigned as Returning Officer and also his other post as DAP Federal Territory state committee, which he was elected to. The party has accepted Pooi's resignation with regret.
When I was informed of this error after the party National Congress had ended, I wanted to ensure that the corrected results would be error-free as there can not be any more slip-ups. Subsequently a full internal audit was carried out by election expert Dr Ong Kian Ming and followed by an independent external auditor,TCMK Associated Chartered Accountants, to certify the final results as correct. Then only was a full CEC meeting called.
The whole verification exercise was hampered by the holiday period at year end causing delays in getting the independent external auditor as well as conducting a full CEC meeting of all members, as some were already on holiday. Nevertheless I wish to record my appreciation to all CEC members and party leaders who fully supported my recommendation that we admit the mistake honestly and our collective willingness to suffer public embarrassment to uphold the truth even though we were under no pressure from any quarter.
BN Not Only Refuses To Admit Mistakes But Also Refuses To Explain Its Mistakes Which Have Caused Public Losses of Tens Of Billions of Ringgit.
DAP is not surprised that the BN-controlled media has launched a ferocious attack against the DAP for DAP's honesty in admitting and correcting this mistake that seeks to uphold the truth. DAP is willing to pay the price for being honest and also being criticised by the public in the spirit that we learn from these mistakes. BN can laugh at DAP leaders for not knowing how to cheat but only know how to tell the truth. However DAP refuses to take lectures in ethics, integrity and morality from immoral BN leaders' whose mistakes caused losses of tens of billions ringgit to Malaysians.
What moral, political, ethical and legal right has BN leaders like MCA President Chua Soi Lek, Deputy Prime Minister Muhyidin Yasin and Minister in the Prime Minister's Department Tan Sri Nor Mohamad Yakcop to question DAP's integrity when BN not only refuses to admit its mistake but also refuses to explain the mistakes which have caused public losses of tens of billions of ringgit?
Everyone in Malaysia knows that Chua Soi Lek has no credibility and public standing to talk about morality. What right has Tan Sri Nor to criticise the DAP when his mistakes in speculating in the foreign exchange currency market when he was in Bank Negara in the 1990s has resulted in colossal losses of RM15.8 billion to the country.
What right too has Muhyidin to question the DAP when BN's own mistakes and failure to curb corruption within its ranks has caused endemic corruption in Malaysia? Losses from scandals such as the disappearance of RM52 billion bumi shares where no ordinary Malay, native Sabahan or Sarawakian received a single share have never been fully explained. That is why 28 million Malaysians are 3rdclass economic citizens following the expose of RM871 billion outflow of illicit funds or "black" money from 2001-2010 by the Washington-based financial watchdog 2012 Global Financial Integrity (GFI) Report.
This is the difference between DAP and BN. DAP will never learn how to cheat but will willingly suffer for upholding the truth and admitting mistakes honestly made.
Lim Guan Eng
—–BM Version —
Kenyataan Media oleh Setiausaha Agung DAP Lim Guan Eng di Kuala Lumpur pada 6-1-2013
DAP tidak akan menipu, bahkan sanggup merana demi menegakkan kebenaran dan mengakui kesilapan yang telah dilakukan.
DAP menerima perletakan jawatan pegawai pemilihan parti, Pooi Weng Keong yang telah bertanggungjawab sepenuhnya untuk kesilapan teknikal yang menyebabkan keputusan yang salah diumumkan sewaktu pemilihan parti untuk Jawatankuasa Eksekutif Pusat (CEC) sewaktu Kongres Nasional DAP pada 15-16 Disember 2012. Walaupun kesilapan teknikal komputer yang mengakibatkan paparan yang salah, di mana calon nombor 31 ke 38 dan calon 61 ke 68 telah mendapat bilangan undi yang serupa; Pooi sebagai pegawai pilihanraya mesti bertanggungjawab. Kesilapan ini telah mengakibatkan Saudara Vincent Wu diumumkan telah berjaya dilantik ke CEC, sedangkan beliau sebenarnya tidak; manakala saudara Zairil Khir Johari pula sepatutnya dilantik secara sah ke dalam CEC disebabkan kedudukannya yang betul pada tangga ke 20.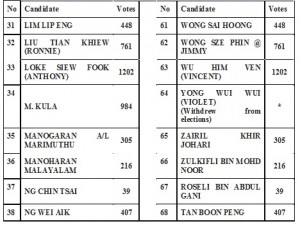 Calon-calon nombor 61 ke 68 telah dengan silap mendapat keputusan yang serupa dengan calon-calon nombor 31 ke 38. Keputusan yang sepatutnya diterima oleh calon-calon 61 ke 68 ialah: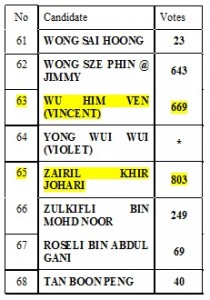 * Calon nombor 64. Yong Wui Wui (Violet) telah menarik diri, maka undian untuk beliau tidak diambil kira.
Pengerusi Kebangsaan DAP, Karpal Singh adalah tepat dalam mengatakan bahawa Pooi telah kesilapan yang tidak disengajakan tanpa sebarang niat jahat. Namun demi akauntabiliti Pooi telah meletakkan jawatan sebagai pehawai pilihanraya dan juga jawatan lainnya dalam Jawatankuasa DAP Wilayah Persekutuan. Pihak parti telah menerima perletakan jawatan beliau dengan rasa berat hati.
Apabila saya dimaklumkan tentang kesilapan ini setelah berakhirnya Kongres Nasional, saya mahu pastikan bahawa keputusan yang dibetulkan tidak lagi mempunyai sebarang kesilapan kerana tidak patut ada lagi sebarang kecuaian. Justeru sebuah audit dalaman telah dilaksanakan oleh pakar pilihanraya Dr Ong Kian Ming, diikuti auditor luar, TCMK Associated Chartered Accountants, untuk memastikan keputusan akhir tersebut tepat. Hanya setelah itu mesyuarat CEC diadakan.
Keseluruhan proses verifikasi sedikit terganggu dengan musim cuti hujung tahun yang mengakitbatkan sedikit kelewatan dalam mendapatkan pengaudit luar serta agak susah untuk mengadakan mesyuarat dengan kesemua ahli CEC, memandangkan ramai daripadanya sedang bercuti. Walau bagaimanapun saya ingin merakamkan ucapan terima kasih untuk semua ahli CEC dan kepimpinan parti yang menyokong penuh cadangan supaya kami mengakui kesilapan tersebut dengan jujur dan kerelaan kami bersama untuk menanggung malu di mata umum demi menegakkan kebenaran walaupun kami tidak menerima tekanan daripada mana-mana pihak.
BN bukan sahaja enggan mengaku salah malah tidak mahu menjelaskan kesalahan mereka yang telah mengakibatkan kerugian kepada rakyat bernilai puluhan bilion ringgit.
DAP tidak terkejut dengan serangan yang dilancarkan oleh media arus perdana yang dikawal Barisan Nasional hanya kerana DAP berlaku jujur dengan mengakui dan membetulkan kesilapannya demi menegakkan kebenaran. DAP rela menerima akibat daripada berlaku jujur serta menerima kritikan daripada umum demi untuk belajar daripada kesilapan. BN boleh mentertawakan pemimpin DAP kerana mereka tidak pandai menipu dan sentiasa bercakap benar. Namun DAP tidak akan mendengar syarahan tentang etika, integriti dan moral daripada pemimpin BN yang tidak bermoral; yang kesalahannya telah mengakibatkan kerugian bernilai puluhan bilion kepada rakyat Malaysia.
Apakah hak moral, politik, etika dan undang-undang yang dimiliki pemimpin BN seperti Presiden MCA Chua Soi Lek; Timbalan Perdana Menteri Muhyidin Yasin dan Menteri di Jabatan Perdana Menteri Tan Sri Nor Mohamad Yakcop untuk mempersoalkan integriti DAP sedangkan BN bukan sahaja tidak mahu mengakui kesalahannya malah enggan menjelaskan kesalahan mereka yang telah mengakibatkan kerugian bernilai puluhan bilion kepada umum?
Semua orang di Malaysia tahu bahawa Chua Soi Lek tidak ada kredibiliti dan kedudukan untuk bercakap tentang moral. Apa hak Tan Sri Nor untuk mengkritik DAP apabila keslahan beliau membuat spekulasi pasaran matawang asing ketika beliau berada di Bank Negara pada tahun 90'an mengakibatkan kerugian bernilai RM15.8 bilion kepada negara.
Apa pula hak Muhyidin untuk menyoal DAP apabila kesalahan BN sendiri yang gagal membanteras rasuah di kalangan pimpinannya telah menyebabkan gejala rasuah semakin merebak di Malaysia? Kerugian daripada skandal, seperti kehilangan RM52 bilion saham bumiputera di mana tidak ada seorang pun orang Melayu biasa atau orang asal Sabah dan Sarawak mendapat walau satu saham pun masih tidakj dijelaskan sehingga sekarang. Inilah sebabnya kenapa 28 juta rakyat Malaysia adalah golongan ekonomi kelas ketiga berikutan pendedahan laporan Global Financial Integrity yang berpengkalan di Washington tentang pengeluaran wang haram bernilai RM871 bilion sejak tahun 2001 sehingga 2010.
Inilah perbezaan di antara DAP dan BN. DAP tidak akan belajar untuk menipu tetapi lebih rela merana demi menegakkan kebenaran dan mengakui kesilapan jujur yang telah dilakukan.
LIM GUAN ENG
—-Mandarin Version —
民主行动党秘书长林冠英于2013年1月6日在吉隆坡发表声明:
民主行动党永远不会学出千,但是愿意在犯错后认错,捍卫真相、承担责任。
民主行动党接受行动党选举官贝荣强引咎辞职,他对本身在2012年12月16日的全国代表大会中委选举,因电脑技术错误所导致的选举成绩错误,负起全责。虽然这项电脑错误导致候选人的成绩被错误"剪贴",以致编号31至38的候选人与编号61至68的候选人票数相同。贝荣强身为选举官必须负起全责。这项错误也导致伍薪荣同志被错误宣布为中委,而再里尔同志本来应该被选入围20名中委。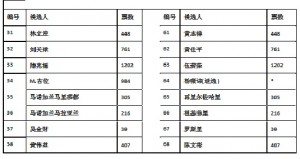 由上表可知编号 61至68的候选人,被错误"剪贴"上编号31至38的候选人成绩。其实编号61至68候选人的成绩为: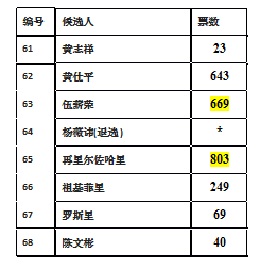 *注:编号64杨薇讳已经退选,因此得票不记录在案。
民主行动党全国主席卡巴星说贝荣强确实犯下无心之过,并没有欺骗成分。但是,基于问责原则,他已经辞去选举官以及行动党联邦直辖区州委一职。行动党遗憾地接受他的辞呈。
在党选过后,我已经知道上述失误,但是我要确保查证过的成绩绝对正确,再也没有错误。后来,整项选举成绩由选举专家王建民博士进行内部稽查,再由外部独立稽查公司核实最后的成绩,我们才召开中委。
整个核实过程中,我们寻求外部稽查公司协助及召开全体中委会议,由于遇上年终假日,时,因一些人正好休假而耽搁。无论如何,我在此感激全体中委及党领袖支持我的动议,那就是我们在没有任何压力的情况下,诚实地面对错误,捍卫真相,集体面对公众舆论。
国阵不只不愿意认错,也不愿意解释他们如何导致数百亿令吉损失的错误。
行动党对于国阵控制的媒体乘机发动新一轮的攻击,一点也不稀奇,既使行动党已经诚实地承认错误,并捍卫真相。行动党愿意为诚实付出代价,被公众批评,我们秉持知错能改的精神。国阵可以以讥笑行动党不懂得出千,只会讲真话。但是,行动党不愿领教那些导致我国人民损失上千亿令吉、不道德的国阵领袖关于伦理、廉正及道德的教训。
国阵领袖如马华总会长蔡细历、副首相慕尤丁及首相署部长丹斯里诺莫哈末耶谷凭什么道德、政治、伦理及法律的资格来质疑行动党的廉正? 国阵不只不愿意认错,也不愿意解释他们如何导致数百亿令吉损失的错误。
全马人民都知道蔡细历已经没有公信力及公共立场来谈论道德。丹斯里诺凭什么资格来批评行动党?他在1990年任职于国家银行时,因外汇投机而导致国家损失158亿令吉。
慕尤丁又有什么资格来质疑行动党?国阵本身也没有能力纠正本身的错误、也没有能力遏止贪污,导致马来西亚贪污横行。 正如价值520亿令吉的土著股权下落不明丑闻,普通马来人、沙巴及砂拉越土著一个股都没有分到,但是,从来没有人解释交待。为此,在美国金融监督机构全球金融廉正(GFI)报告揭发我国在2001至2010年期间,约有8710亿令吉黑钱外流时,2800万国人都成了三等经济公民。
这就是行动党与国阵的差别。 民主行动党永远不会学出千,但是愿意在犯错后认错,捍卫真相、承担责任。
林冠英