Challenges Tan Sri Nor Mohamed Yakcop To A Public Debate Whether The Extension Of The Concession Period For Penang Bridge By 17 Years And Butterworth-Kulim Expressway (BKE) By 11 Years In Exchange For A Toll Hike Freeze For 5 Years Benefits Penangites and Malaysians.
I wish to challenge Minister in the Prime Minister's Department Tan Sri Nor Mohamed Yakcop to a public debate on whether the extension of the concession period for Penang Bridge by 17 years and BKE by 11 years, in exchange for a freeze on on toll hike for 5 years on 5 highways including the NSE, benefits Penangites and Malaysians.
Tan Sri Nor attacked me in the New Straits Times today for practicing double-standards in opposing the revised deals that will defer toll fare hike for 5 years until 2016. I fail to see how this revision deal benefited the people and how I can be practicing double-standards when I am taking the principled stand in opposing toll operators benefiting hugely at the people's expense.
TOLL COMPENSATION WAIVER ~ REVISED CONCESSION TERMS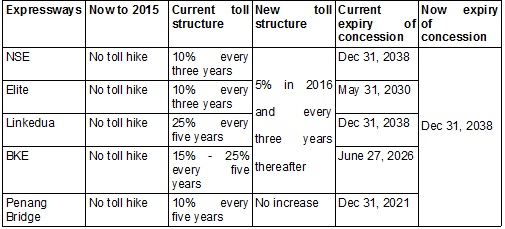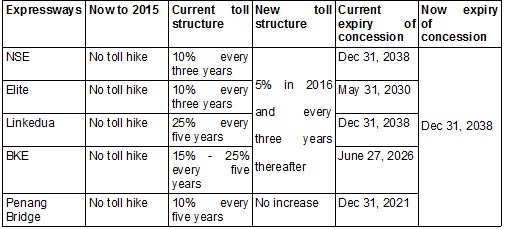 This revision deal above is NOT a win-win situation for both the government and the toll operator as well as the rakyat but clearly a win all solution for the toll operators. Penangites are unfairly penalised for the toll fare hike freeze for 5 years for Penang Bridge, NSE, BKE, Linkedua and Elite. Penangites have to pay an extra 17 years for Penang Bridge till 31.12.2038 instead of 31.12.2021 and for BKE an extra 11 years till 31.12.2038 instead of 27.6.2026, just to allow the 5 toll operators to defer the toll hike by 5 years. There is no extension for NSE or Linkedua.
What is most unconscionable and unfair to the rakyat is that the toll operators are reaping obscenely high profits where they have more than recouped their original investments of construction cost. In a written parliamentary reply of revenue obtained by toll operators until 31.12.2010, the toll operator for NSE spent RM 5,945 million to construct the NSE but has received RM 24,266 million in toll receipts and government compensation.
In other words the NSE toll operator has recorded a surplus of RM 18,321 million as at 31.12.2010 over his investment outlay. Is there any need for the NSE toll operator to collect any more tolls from the public much less increase toll fares? By right and in the rakyat's interest, toll collection in the NSE should be stopped immediately in view that the revenue returns are 3 times more than the original investment.
The situation is similar for Penang Bridge which has collected RM 1,859 million but spent RM 944 million on construction cost, enjoying a surplus of RM 924 million. For BKE, toll collection amounts to RM 340 million on construction cost of RM 256 million, recording a surplus of RM 84 million. Instead of paying until 31 December 2038, Penangites should not be paying any toll at all in the Penang Bridge and the BKE.
And yet Tan Sri Nor claims that this revision deal benefits the rakyat by freezing toll hike, when the toll hike remains but slyly disguised where its impact is not felt now, but the pain lengthened for another 17 years for Penang Bridge and 11 years fro the BKE.
If Tan Sri Nor is so confident that this revision deal benefits the people, then he should not fear to debate with me so that the people can see how this revision deal benefits them instead of the toll operators.
—– BM Translation—-
Kenyataan Akhbar Ketua Menteri Pulau Pinang Lim Guan Eng di Kuala Lumpur pada 28.11.2011
Cabar Tan Sri Nor Mohamed Yakcop Untuk Berdebat Secara Terbuka Berhubung Dengan Isu Sama Ada Lanjutan Konsesi Jambatan Pulau Pinang Selama 17 Tahun Dan Lebuhraya Butterworth-Kulim (BKE) Selama 11 Tahun Sebagai Balasan Pembekuan Kenaikan Kadar Tol Selama 5 Tahun Membawa Manfaat Kepada Rakyat Pulau Pinang Mahupun Malaysia.
Saya ingin mencabar Menteri dalam Jabatan Perdana Menteri Tan Sri Nor Mohamed Yakcop untuk berdebat secara terbuka berhubung dengan isu sama ada lanjutan konsesi jambatan Pulau Pinang selama 17 tahun dan BKE selama 11 tahun sebagai balasan untuk pembekuan kenaikan kadar tol selama 5 tahun di 5 lebuhraya termasuk lebuhraya utara-selatan (NSE) akan membawa manfaat kepada rakyat Pulau Pinang mahupun Malaysia.
New Straits Times hari ini telah melaporkan bahawa Tan Sri Nor telah mengecam saya kerana mengamalkan "double-standards" dalam bantahan saya terhadap semakan semula perjanjian tol. Saya tidak dapat melihat bagaimana semakan semula yang menangguhkan kenaikan tol selama 5 tahun sehingga 2016 ini dapat membawa manfaat kepada rakyat. Tambahan pula, saya tidak faham bagaimana saya boleh dikatakan sebagai mengamalkan "double-standards" apabila saya mengambil pendirian yang berprinsip untuk membantah syarikat-syarikat pengendali tol yang selama ini meraut keuntungan yang besar daripada rakyat.

PENGECUALIAN PAMPASAN TOL ~ SEMAKAN SEMULA TERMA KONSESI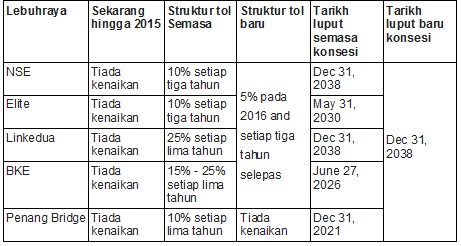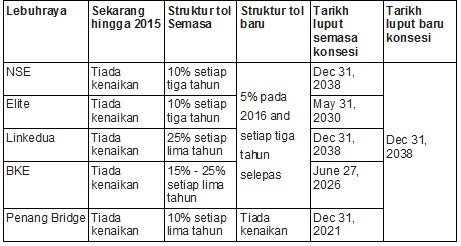 Semakan semula terma konsesi seperti di atas BUKANLAH satu keadaan "menang-menang" bagi Kerajaan, pengendali tol dan juga rakyat tetapi satu kemenangan yang besar bagi syarikat-syarikat pengendali tol sahaja.
Rakyat Pulau Pinang akan menerima hukuman yang tidak adil sebagai balasan untuk pembekuan kenaikan kadar tol selama 5 tahun bagi Jambatan Pulau Pinang, NSE, BKE, Linkedua dan Elite. Rakyat Pulau Pinang sekarang dihukum dengan lanjutan tol selama 17 tahun untuk Jambatan Pulau Pinang, iaitu sampai 31.12.2038 dan bukan tarikh luput asal 31.12.2021. Bagi BKE pula, tempoh tol ditambah 11 tahun kepada 31.12.2038 daripada tarikh luput asal 27.6.2026. Ini telah dilakukan supaya kadar tol untuk 5 lebuhraya di atas akan dibeku selama 5 tahun. Tambahan pula, tidak ada lanjutan tempoh tol bagi NSE atau Linkedua.
Yang paling tidak adil dan tidak berhati nurani, adalah hakikat bahawa syarikat-syarikat pengendali tol sudah pun meraut keuntungan yang besar di mana kos pelaburan asal pun sudah selesai dikutip.
Jawapan bertulis Parlimen mengenai hasil yang telah dikutip syarikat-syarikat pengendali tol sehingga 31.12.2010 telah menunjukkan bahawa syarikat pengendali tol NSE telah membelanjakan RM5,945 juta untuk pembinaan lebuhraya tersebut, manakala telah menerima sebanyak RM24,266 juta daripada kutipan tol dan pampasan kerajaan dalam jangka masa yang dinyatakan. Dalam erti kata lain, syarikat pengendali tol NSE telah mencatat lebihan sebanyak RM18,321 juta setakat 31.12.2010 daripada pelaburan asal.
Adakah perlu lagi untuk syarikat tersebut untuk mengutip lagi banyak tol daripada rakyat apatah lagi untuk menaikkan kadar tol? Sepatutnya, dan jika diambil kira kepentingan rakyat, kutipan tol bagi NSE patut dihentikan serta merta sedangkan hasil kutipannya sudah pun 3 kali ganda pelaburan asal.
Keadaannya serupa untuk Jambatan Pulau Pinang yang telah mengutip sebanyak RM1,859 juta dengan kos pembinaan RM944 juta. Lebihan yang dicatat sebanyak RM924 juta. Bagi BKE, tol yang dikutip berjumlah RM340 juta manakala kos pembinaannya RM256 juta, iaitu lebihan sebanyak RM84 juta. Rakyat Pulau Pinang bukan sahaja tidak sepatutnya terus dibebani tol sehingga 31 Disember 2038, malah tol bagi Jambatan Pulau Pinang dan BKE harus dihentikan serta merta.
Namun demikian, Tan Sri Nor mendakwa bahawa semakan semula perjanjian tol ini membawa manfaat kepada rakyat melalui pembekuan kenaikan kadar tol, sedangkan kenaikan kadar tol ini sebenarnyamenyamar disebalik lanjutan tempoh tol. Kesannya mungkin tidak dirasai sekarang, tetapi kesakitannya akan berlanjutan selama 17 tahun bagi Jambatan Pulau Pinang dan 11 tahun bagi BKE.
Jika Tan Sri Nor betul-betul yakin bahawa semakan semula perjanjian ini membawa manfaat kepada rakyat, beliau patut berdebat dengan saya supaya rakyat dapat memahami bagaimana semakan semula perjanjian ini akan membawa manfaat kepada mereka dan bukan kepada syarikat-syarikat pengendali tol.
—- Mandarin Translation —-
槟州首席部长林冠英于2011年11月28日在吉隆坡发表的声明:

挑战丹斯里诺莫哈末就槟城大桥及北海居林大道的特许合约,分别展延17年及11年以换取未来5年不涨过路费是否真正惠及槟城人及马来西亚人民,来一场公开辩论。
我谨在此挑战丹斯里诺莫哈末就槟城大桥及北海居林大道的特许合约,分别展延17年及11年以换取5条大道,包括南北大道在未来5年不涨过路费是否真正惠及槟城人及马来西亚人民,来一场公开辩论。
丹斯里诺莫哈末在今天的《新海峡时报》对我展开攻击,声称我在修定后的大道合约上,也即是将收费调涨推迟5年至2016年一事持有双重标准。我实在看不出到底这项新的修定合约如何惠及人民,我的立场是反对大道经营者以牺牲人民利益的方式大幅度牟利,这怎么会变成"双重标准"呢?
上述的修定合约,对政府、大道经营者及人民而言,都不是三赢的情况,反之,这很明显地只是对大道经营者最有利的解决方案。槟城人在5条大道,也即是槟城大桥、南北大道、北海居林大道、马新第二通道及中环公路的"冻结调整过路费5年"的协议下,被不公平地处罚。为了让5条大道经营者展延调涨过路费5年,槟城人被逼多还17年的槟城大桥过桥费,直至2038年12月31日,而不是原本的只需还槟城大桥过桥费至2021年12月31日。同样的情况也出现在北海居林大道,原本的特许经营权只到2026年6月27日,可是如今槟城人却必需多背起11年的大道包袱至2038年12月31日。反之,南北大道及马新第二通道的特许经营权却没有展延。
更不合情理及对人民不公平的是,这些大道经营者已经收取了大幅度的高利润,他们早已成功收回他们的原有建筑费投资。我在一次的国会书面回答中得悉,截至2010年12月31日为止,南北大道公司只花了 59亿4千500万令吉投资作建筑大道之用,却已收取了 242亿6千600万令吉的过路费及政府赔偿金。
换言之,截至2010年12月31日,相比他们的投资支出,南北大道经营者已经创下了183亿2千100万吉的盈余。南北大道公司还有必要向人民收取过路费,甚至是要调涨过路费吗?就事论事或站在人民的利益来看,南北大道应该立刻停止收费,因为他们已经收取超过原有投资3倍的盈利了。
类似的情况也发生在槟城大桥。槟城大桥公司只花了 9亿4千400万令投资在建筑费上,可是却已牟取了18亿5千900万令吉的过桥费,享受着9亿2千400万令吉的盈余。至于北海居林大道,总收费额已创下 3亿4千万令吉,而建筑成本只是 2亿5千600万令吉,记录了8千400万令吉的盈余。与其需要缴交过路费至2038年12月31日,槟城人民其实是根本不再需要缴交任何的过路费,不管是槟城大桥过桥费或北海居林大道过路费。
然而,丹斯里诺莫哈末在声称这项修定合约因为冻结调涨而惠及人民的当儿,事实上却是变相的起价,因为有关的起价依然存在,只是我们现在不会受到影响,而是分别将痛苦延长了17年(槟城大桥)及11年(北海居林大道)。
如果丹斯里诺莫哈末信心满满,认为这项修定后的特许合约是惠及人民的,那他应该勇于接受挑战,跟我来一场公开辩论,以让人民清楚的知道这项修定后的特许合约,到底是惠及人民还是惠及大道经营者。
林冠英